Halloween Cupcake Collars
by: Chica
I've got another set of Cupcake Collars for you guys, this time to celebrate Halloween! If you're looking for a fun and easy way to decorate your cupcakes besides the usual decorative baking cups
or fancy cupcake wrappers,
then our Cupcake Collars might be just what you need.
For instructions on how to use Cupcake Collars, please visit our dedicated site, CupcakeCollars.com, or check out one of our previous posts about them, like the Fall-themed or Fourth of July collar designs. Those posts have photos that will show you how easy it is.
Our Halloween designs are candy corn, Frankenstein's monster, and a pumpkin. Take a look at the cute cupcakes Jo and her daughter made with these collars!
I just love how the candy corn ones look when frosted in orange and then topped with a few real candy corns. And the kids can really have fun adding goofy faces to Frankentstein's monster and the pumpkin, using frosting, candy, black licorice,
or even bits of Fruit Roll-ups.
These collar designs are available over on CupcakeCollars.com, where you can purchase PDFs and print as many of each design as you like.
And as usual, because we love our loyal readers here at Chica and Jo, we're offering one of the designs from this release here, free! Find out which one at the end of this post.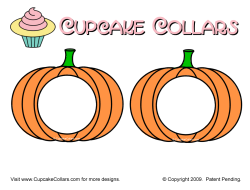 To get the rest of these fun designs (and many more!) please visit CupcakeCollars.com
And don't forget our easy technique for colorful, swirled frosting to really put your cupcakes over the top.
We'd love to see these Cupcake Collars in action, so if you use them this Halloween, please let us know in the comments! You can also add photos to our Flickr group or just e-mail them to us.
leave a comment: