Super Mario Brothers birthday party invitation
by: Jo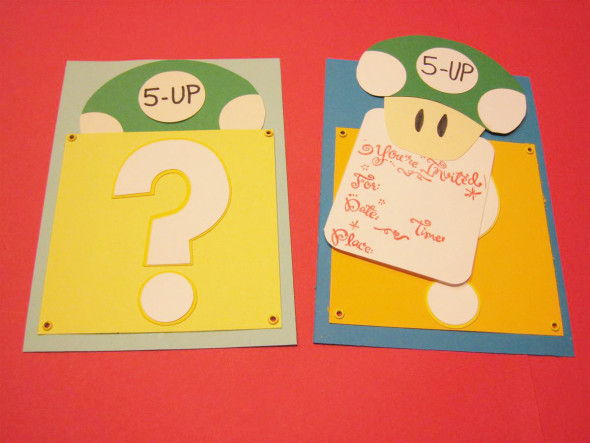 A good friend is planning a Super Mario Brothers birthday party for her son next month. I volunteered to help her out because I love making party invitations for kids parties
. She happily agreed to let me do the work for her, so I pulled out my Nintendo DS
and Super Mario game
to get some inspiration!  I decided to use the question mark box and the 1-Up mushroom to construct my invitation.
First, I selected my envelopes to make sure my finished invitation would fit.  I can't tell you how many times I learned this lesson the hard way!  Next, I cut a simple 5×7 rectangle (the perfect size for my envelope) out of blue card stock for my background.  For all of the paper used in this project, I used whatever I had available so you will see different shades of blue and yellow in my pictures.  I figured it doesn't matter since the invitations are all going to different places!
Next, I cut a 4.5 inch square out of yellow paper.  I used my eyelet setter
to attach it to the background paper.  I ran out of yellow grommets partway through so I also used yellow brads
.  Either works just fine.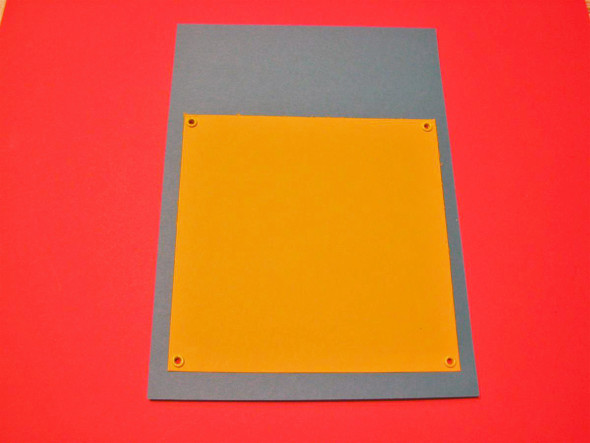 Now, it is time to make the question marks.  I used the Cricut Keystone set to real dial size 4 and cut a shadow image out of a different shade of yellow.  Then, I cut a basic question mark out of white.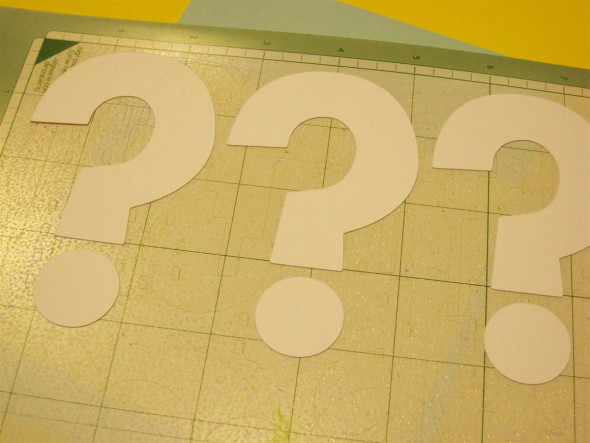 If you do not have this cartridge or even a Cricut, download our template to cut out your question marks.  You'll need the template for the mushroom later, too.
I then used my Xyron sticker machine
to adhere the questions marks together and to the box. A sticker machine is a must in conjunction with a Cricut, in my opinion.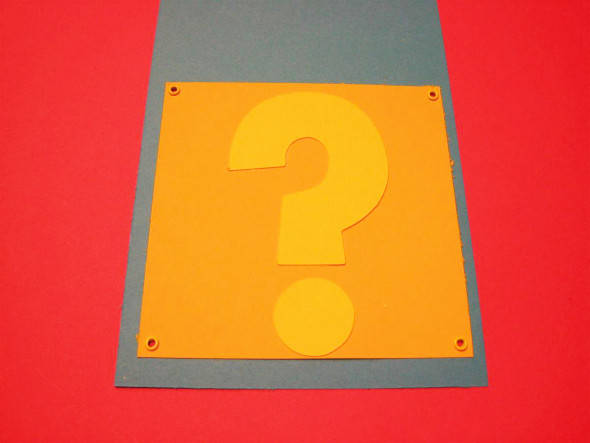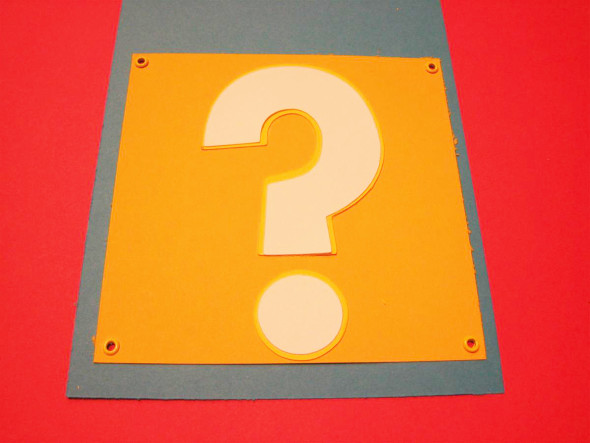 Now it is time to work on the mushroom insert!  First, you will want to download our Super Mario Invitation template and cut out the shapes. Then trace the mushroom cap onto green card stock and the mushroom bottom onto light tan card stock. Trace and cut out as many as you need of each, depending on the number of invitations you're making.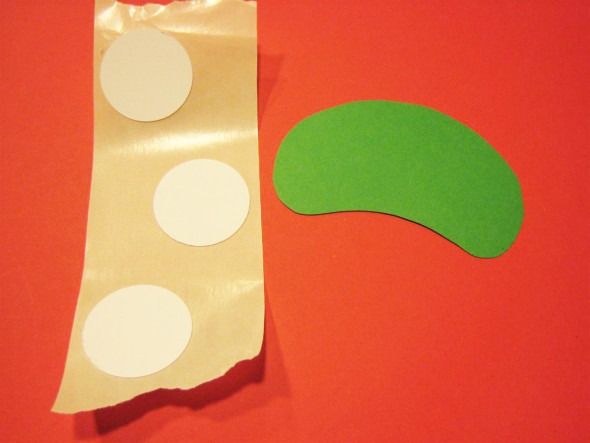 Next, use either a Cricut machine or a circle cutter
to cut out three 1.5 inch circles.  Adhere one of the circles in the middle of the mushroom cap and the other two equally spaced on either side.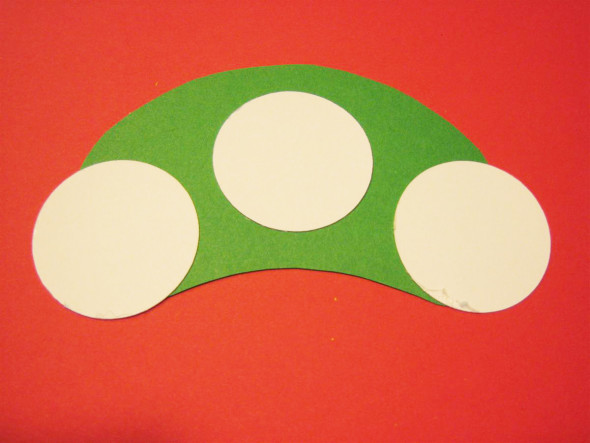 At this point, you will need to flip the cap over and cut the excess white along the edge to match the edge of your mushroom cap.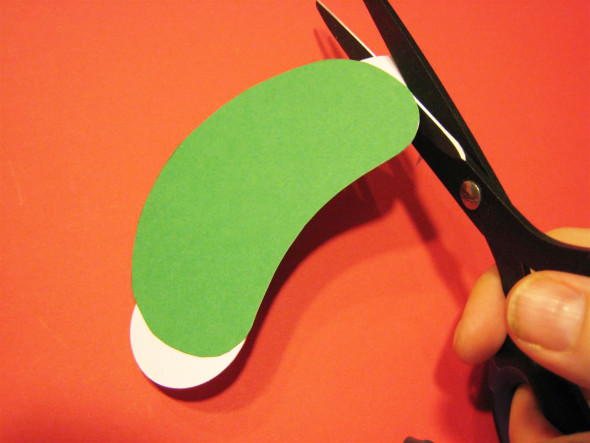 When you are finished, you should have a cap and a face piece.
Use a beaded line of glue along the top of the face to adhere it to the cap. Now, it is time to add the little details.  Since this is a 1-up mushroom, I wanted to write that somewhere on there. I chose to write "5-up" on the middle circle since my friend's son will be celebrating his 5th birthday.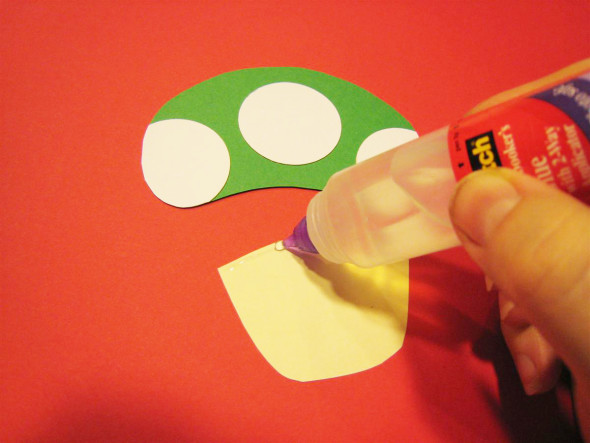 Next I drew narrow, black ovals for the eyes and that made all the difference. We were totally looking like Nintendo now!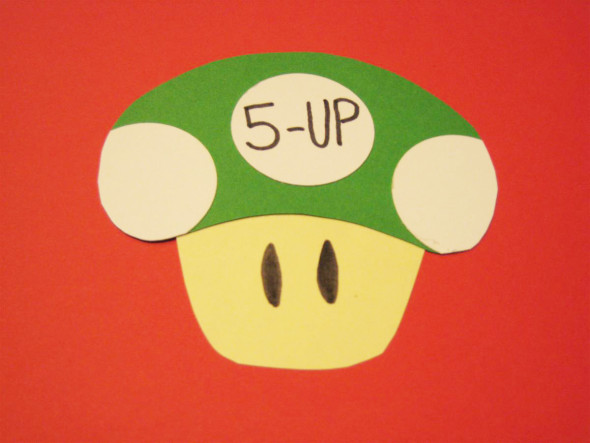 You might be wondering now where on earth the actual party information is going to go. Well, here is your answer and it happens to be the trickiest part of this project.  Take some white card stock and cut a rectangle approximately 4 inches tall by 3 inches wide.  The proportions here might be different for you.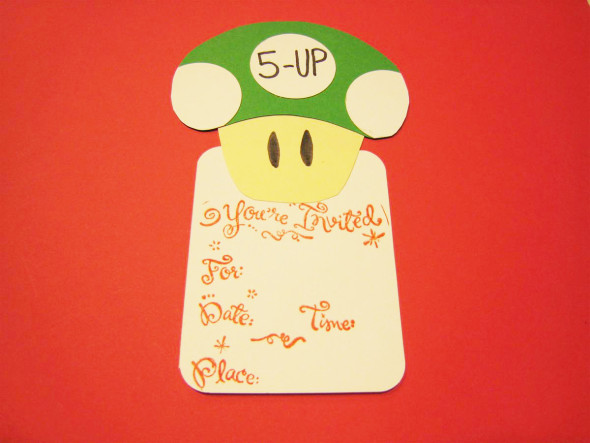 You want to be able to adhere the white box to the mushroom cap without the white poking out the bottom or top of the yellow box. The mushroom cap should also fit far enough down inside your yellow box so that the top of the cap does not come up over top of the blue background paper.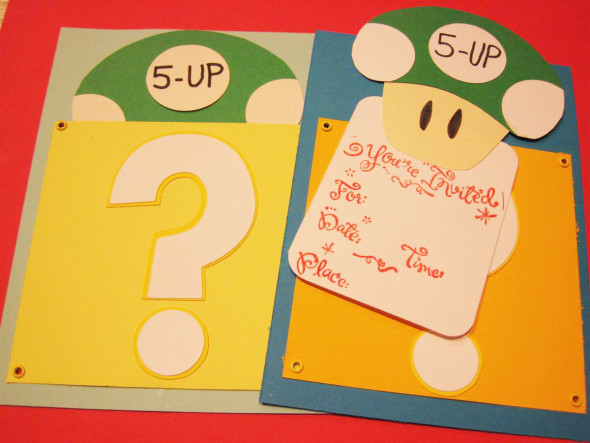 As you see in the picture above-left, I used an invitation stamp
to delineate: for, time, date, and place. You can hand write all of this information or you could type it on your computer and print it on heavier white paper. However you do it, make sure it fits onto the white card stock square with a bit of room to spare at the top for attaching the mushroom cap.
The birthday boy was very pleased with his invitations!  They were a lot of fun to make and I can't wait to attend his party. Now, back to that Super Mario Brothers game I was playing!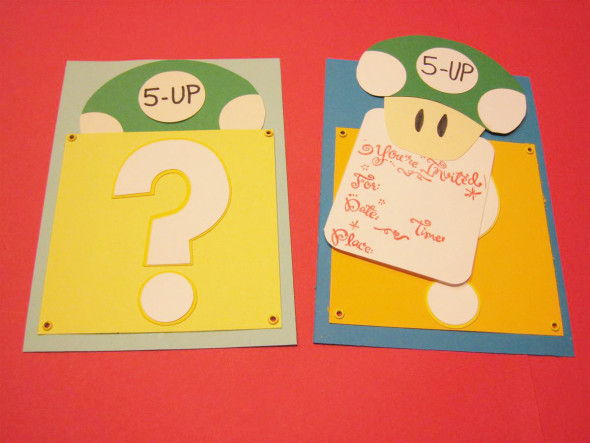 similar projects

leave a comment: