Fall-themed Cupcake Collars
by: Chica
If you liked the Cupcake Collars we designed for The Fourth of July, you'll love the new ones I've just created for the fall season. Cupcake Collars are a fun way to dress up your cupcakes, and this latest set is a great way to celebrate autumn.
Cupcake Collars are really easy to use, and can add a super cute touch to ordinary cupcakes. We have a growing collection of them available on our dedicated site, CupcakeCollars.com, where you can purchase the PDF designs for less than a dollar. Then print each PDF as many times as you like and make an unlimited number of collars.
But because we love you, our loyal Chica and Jo readers, we're offering one of the designs from this collection here, for free! Find out which one at the end of this post.
Our fall collection includes an acorn, maple leaf, and pumpkin. We love how they look when simply decorated with coordinating swirls of frosting.
If you're new to Cupcake Collars, here's a tutorial to show you just how easy they are to use.
Start by purchasing our PDF design templates from CupcakeCollars.com, then print out as many copies as you need onto white cardstock.
To protect the collars from the moisture of your frosting, and to make them durable enough to re-use again in the future, you may want to also laminate them. Laminating is really easy with simple laminating sheets or for even better results, use a thermal laminator machine.
Once your collars are printed and laminated, just cut them out with regular scissors.
To put a collar on a cupcake, just slip the cupcake into the hole and secure from underneath with a couple of pieces of household tape.
Just look how cute they are already!
Then you're ready to frost them using your favorite frosting in a matching color (or try our swirled frosting technique for an extra punch).
These cupcakes would be perfect for a fall-themed bridal shower, wedding, or anniversary party. Heck, they would be a fun and unexpected dessert to serve at just about any fall event you've got planned!
Now that you've seen how great these fall Cupcake Collars are, here's the free one that I promised you!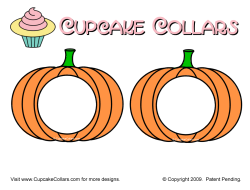 To get the rest of these fun designs (and many more!) please visit CupcakeCollars.com

similar projects

leave a comment: