My husband loves to tinker in the garage, and a result, he often get stains on his clothes. Those of you with kids can relate, I'm sure. So I handle it just like you do. I pre-treat the stained article of clothing and then wash it. And then I try really, really hard to make sure that the stain is gone before I toss it into the dryer. If I'm lucky enough to remember, I spend 10 minutes sorting through the pile of wet clothes, just trying to find the stained item. Most of the time, though, I forget to check, and if the stain isn't gone, it ends up setting in the dryer and the item is ruined. After ruining another shirt this week, I decided I needed to find a better way to remember.
I found the perfect solution over at This Little Project. The author, Jedda, shares her clever laundry "secret weapon", which she calls the Stainbuster Bag. She bought an inexpensive mesh laundry bag (easily found at a dollar store) and whenever something stained is going into the wash, she puts it in that bag. Then when it's time to move the clothes to the dryer, the bag sticks out like a sore thumb and reminds her to check for stains. This tip is just brilliant and I can't wait to try it out!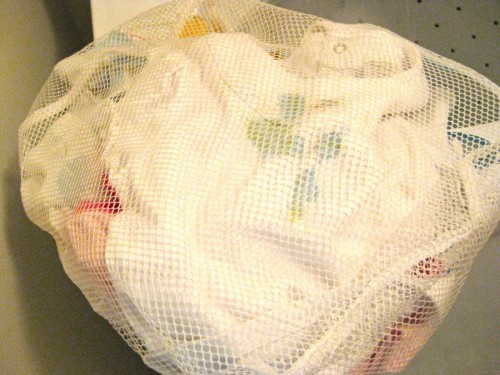 Be sure to check out Jedda's other amazing posts over on This Little Project. There are lots of fun and educational ideas for your kids, and tons of "little projects" for the family!
If you liked this, check out these similar projects: