Many a crafty book comes across my and Jo's desks, and sometimes they really stand out. That was the most definitely the case with our latest read, titled "Re-Bound: Creating Handmade Books from Recycled and Repurposed Materials"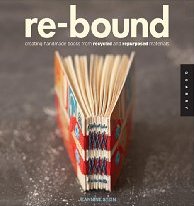 This book speaks to me on so many levels! The author, Jeannine Stein, uses ordinary household items to create handmade books that are truly works of art. "Re-Bound" is a how-to on making books from new and vintage recycled and repurposed materials such as potato chip bags, sweaters, cabinet cards, record albums, hot water bottles and gift cards. You heard me right — potato chip bags and hot water bottles! The book includes 16 projects, all with step-by-step instructions with illustrations. Each project features a different binding that even beginners can do, and there are tips and variations included for each one.
This book would be a great resource and source of inspiration for bookbinders and artists, but also for anyone who likes working with recycled materials and found objects. Many of the projects can be used as albums, so there's a lot of inspiration here for scrapbookers and for photographers and artists who are always looking for new ways to feature their work.
We recently had the pleasure of interviewing Jeannine about her book. We hope you enjoy hearing from the author about her amazing and fascinating work.
Chica and Jo:
Hello Jeannine! Thanks for talking with us today. To start us off, we'd love to hear about how you got into book binding, and where you learned the different techniques you illustrate so clearly and wonderfully in your book.
Jeannine Stein:
Hi, Chica and Jo! Thanks very much for having me here. I've been making books for about 17 years (and I've been crafting ever since I could hold a pair of scissors), and it really started with one class. The first book I ever made was a codex binding with sewn signatures, headbands, book board covers, and a rigid spine. It turned out pretty well for a first attempt, and from there I was hooked. I continued to take classes as well as learn on my own from how-to books, picking up various techniques. I've been very lucky to have had some fantastic teachers.
I encourage anyone who's thinking of making a book to just try it. It's not intimidating — you can make the simplest and most beautiful books from things around your house and using a very easy binding like a pamphlet stitch.
Chica and Jo:
The end results in your book are amazing to look at, and your choice of materials seems so obvious now that it's done, but we know it all had to start somewhere. What inspired you to delve into recycled materials and then to write this book?
Jeannine Stein:
I love to do fine bindings and work in traditional leather and bookboard, but while doing that I began to discover that exploring other materials offered a different challenge and satisfaction. I became inspired by flea market finds such as vintage textiles and photographs, and started making books with them several years ago — it took my work to an entirely new level. I also love modern graphics on things like food and product packaging, and found they're great for making books as well. At the same time I was doing this, I began to see fantastic work being done by other designers and artists who were turning existing items into furniture, clothes, accessories and lighting. I knew I wasn't the only one who was crazy about working with recyclables.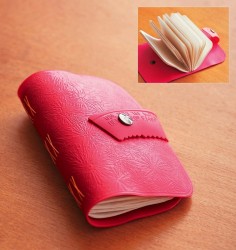 Chica and Jo:
The projects shown in "Re-Bound" are simply fascinating. We love how you've turned ordinary and mundane items into fun and quirky new books. You even made a book out of a hot water bottle. We never would have thought of that! What inspired you to give it a try?
Jeannine Stein:
I love hot water bottles—they've gotten me through quite a few chilly winters. Unfortunately one of my cats got a little too cozy with one and pricked it with his claw. I thought it would be a shame to just throw it out—the feel and color of the rubber are so wonderful and it's both sturdy and flexible—waterproof, too! The very top of the bottle, which has writing on it, made the perfect closure.
Chica and Jo:
Cats can be crazy! You certainly found the silver lining there.
Jo is a big fan of wool felting, so your felted sweater journal really appealed to her. Can you tell us more about how to select proper sweaters for use in a project like this?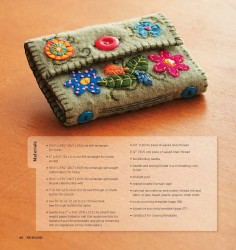 Jeannine Stein:
Recycled sweaters are great for making all kinds of things, but for felting you need to find ones that are 100% wool. Flea markets, garage sales and thrift stores are good places to pick up inexpensive sweaters if you don't have any at home that may be the wrong size or have small moth holes.
If the label says "superwash" it means the wool has been treated not to shrink, so avoid those. You want the wool to shrink and felt up and create a fabric that doesn't unravel when cut. My book contains directions for how to felt wool, or you can find instructions on the Internet.
Although solid colors are terrific to work with, I also like patterned sweaters. There's always an element of surprise once the sweater has been felted—a fair isle pattern, for example, won't be as detailed as in its original form, but will still look beautiful. Elements such as ribbing and cables are fun to incorporate into a design. From there, anything goes—you can embellish with embroidery, appliqué, beading, or needle felting.
Chica and Jo:
Your paint sample books that use hinges, nuts, and bolts are so creative. Chica loves to wander around the hardware store and look for inspiration. What's your favorite aisle to look in, and what's the most unusual new use you've come up with for one of your hardware store finds?
Jeannine Stein:
You have to use the jaws of life to get me out of a hardware store. Seriously, I can spend hours combing every single aisle for ideas. I find the plumbing aisle is especially good for things like copper piping and strapping and rubber washers and O-rings. I always find interesting metal washers, wing nuts and nails in the nuts and bolts aisle.
You can find some handy tools, too — those three-inch paint rollers are useful for applying glue, since you can cover a lot of ground quickly and spread the glue in an even layer.
I recently got an outdoor socket cover that I'm dying to make into a book. It has two little portholes that you can lift up, perfect for hiding a secret message or small photo.
Chica and Jo:
A socket cover? That's brilliant! We'd love to see how that one comes out. You certainly have a knack for finding new uses for items. The necktie closure on your game board travel book reminds us a lot of the dog collars we used as fasteners on some cute dog-themed memory books. Can you tell us some other fun ideas for making fasteners out of regular household items?
Jeannine Stein:
Dog collars… hmmm… I think I may have to borrow that idea! I love figuring out book closures — it's a fun design challenge, and really adds a lot to the overall look. I just made a book that uses a metal sewing machine bobbin for a closure: a ribbon attached to the back cover wraps around the bobbin, which is attached to the front cover. Leash clips make great clasps, and I'm always taking apart old, unused jewelry and recycling pieces into closures.
Watch straps are among my favorite things to use. I look for vintage ones at flea markets, and can usually find them for about a dollar. Attached with rivets, they lend an old-world feel to a book, almost like buckles on antique luggage. Old leather belts are good, too. And yes, even bra fasteners make great closures.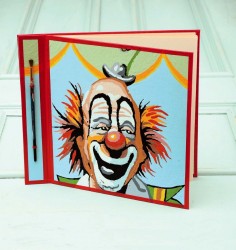 Chica and Jo:
Bra straps? That's hysterical!
The books you made out of paint-by-number canvases are incredible! You really can create wonderful works of art from just about anything if you remain open to everything around you. Is anything off limits?
Jeannine Stein:
You hit the nail on the head — pretty much anything will work if you keep your eyes and mind open. If you believe a book doesn't have to have flat covers and a rectangular shape, then the possibilities are endless. If you're not sure something will work, try it. Unless you're working with a priceless antique, what have you got to lose?
"Project Runway" is my favorite television show, and (no surprise here) the challenges I like best are ones that incorporate unconventional materials like car interiors, greenery, home furnishings and garbage. You can create similar challenges for yourself and see what you can make from a pile of junk mail or old table linens. As I always say, any day you can make a book is a good day.
Jeannine Stein:
We love that show, too. It's one of our absolute favorites, and we love those challenges. You would be great at them.
Thanks again for talking with us, Jeannine, and we can't wait to try out some of your fun ideas. We hope to see more wonderful ideas from you soon!
Jeannine Stein:
Thank you so much!
Well, everybody, wasn't Jeannine a delight? We're so inspired after talking to her, and I bet you are, too. Be sure to check out her book if you get a chance. "Re-Bound: Creating Handmade Books from Recycled and Repurposed Materials" is available for purchase at Amazon, Barnes and Noble, and a number of craft stores.
If you're interested in the other authors who contributed to the book in the gallery, they are: Norman Dixon, Charlene Matthews, Richard Troncone, Bee Shay, Dennis Yuen, Jennifer Kaiser, Susan Reardon, Holly Sar Dye, Andrew Borloz, Judi Delgado, Elaine Nishizu, Leslie C. Herger, Rhonda Miller, and Marcia Moore.
If you liked this, check out these similar projects: