Tips for collecting, peeling, and making crayons
by: Chica
You guys have seen our project post about recycling old, broken crayons into new shapes, right? Well, Jo and I are planning on giving a bunch of those recycled crayons to some kids at a local craft fair this weekend, so last weekend we found ourselves making a lot of them. And I do mean a LOT! Along the way, we learned a few new tips that I thought I'd share with you, in case you're planning on doing some bulk crayon processing yourself!
Tip 1: Getting a bunch of crayons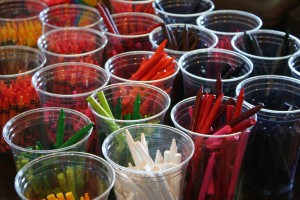 Ideally, you're doing this project because your kids have a bunch of broken crayons that they don't want to use anymore, but that you want to recycle into something new. However, these rainbow striped crayons that we make are so fun, that you might want to make them all the time, which means you'll need more crayons.
Kid-friendly restaurants are a great source of crayons, because they usually give two or three to each child diner, and the kids always leave them behind on the table. Take a coffee can to a restaurant and ask the manager or hostess if they'd mind collecting abandoned crayons for you. They'll probably be happy to help, especially if you're collecting for a school or non-profit.
Another great source for inexpensive crayons is a large store like Walmart, during "back to school" shopping season. You can often get a 24-pack of Crayola crayons
for as little as 25 cents. That will go a long way towards making fun new crayons!
Tip 2: Peeling the crayons
In order to make enough striped crayons to hand out to all the kids, we ended up having to peel something like 750 crayons. This was not, as you can imagine, an enticing task. We tried soaking a few of them in water to loosen the paper, but that didn't give very good results at all. Then Jo's husband, in all his brilliance, came up with a great idea for peeling the wrappers off the crayons.
His idea required a very specific tool, a Fiskars 12″ rotary paper trimmer.
He took the black, square, cutting mat "stick" out of the trimmer, and popped in two crayons to partially fill the space. These two crayons stayed in there the entire time. Then he put a third crayon on top, lowered the trimming arm, and gave it a slice. The crayon's label got sliced perfectly, and we could remove the entire thing with ease. Oh, this saved us SO much time!
Tip 3: Have more than one mold
Jo and I thought we could get by with just two molds, each making 10 crayons. We soon realized, though, that most of the time on this craft would be spent waiting for wax to harden, which was quite frustrating. We really wished that we'd picked up a few more silicone ice cube trays
the last time we were at IKEA. They're inexpensive and would've made the project go so much faster!
Tip 4: Cleaning the crayons and molds
Face it, dealing with melted wax is a messy job. There were wax drips everywhere by the time we were done. And cleaning the molds was no day at the beach, either. Then Jo remembered that she had a bottle of candle wax remover
tucked away in her pantry. She pulled it out and we found that it worked miracles! We were able to clean everything when we were done, and it was a life saver, for sure. If you don't have any wax remover on hand, you can also give Vaseline petroleum jelly
a try. It has the same petroleum base as the remover does, but in milder form. As I told you about last year, Vaseline is great for removing crayon from hard surfaces (but wax remover is even better!)
Your turn!
Have you got any tips to share with us about dealing with crayons, wax, and the mess they involve? Or any fun examples of homemade melted crayons? If so, please let us know in the comments!
P.S. If you've got leftover "ugly" colors of crayons that you don't know what to use for, check out our post on making fire starters for your campfire!

similar projects

leave a comment: