Many years ago, I was given a set of classic juggling balls
as a gift. It was challenging to learn how to juggle, but I'm glad I stuck with it. One thing I quickly discovered is that when you're learning to juggle, you really do need to use balls that have some weight to them, so that you can properly toss and catch them in the air. I was recently discussing juggling with my friend Eric (quite the juggler himself) and he told me you can make your own juggling balls out of tennis balls.
Normally tennis balls would be much too lightweight to use, but Eric has a trick for giving them some weight using — can you believe it — regular household caulk!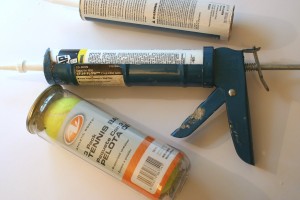 To start with, you'll need three tennis balls.
You can use any brand, and they don't need to be high quality or super bouncy. If you've got a tennis-playing friend who gets tired of tennis balls after they've lost their bounce, they would be perfect for this project, so ask him to save a few for you.
You'll also need some ordinary household caulk
and a caulk gun.
You can use absolutely any leftover caulk you've got around the house, and color doesn't matter.
Take a pointy craft knife
and poke it into the tennis ball somewhere along the seam. Cut a slit about 1/2″ long. The slit will hardly be visible, but if you squeeze the ball slightly, you'll see it open up.
Now shove the tip of the caulk tube into the slit in the tennis ball and pump the gun a few times to get some caulk inside. How much you use will depend on how heavy you want the juggling balls to be. A good weight range to aim for is three to six ounces. To ensure you have the same weight in all three balls, I highly recommend using a digital kitchen scale
that can measure in ounces. (Tip: if you get too much caulk in one, you can just squeeze it back out.)
When you have the ball filled to the weight you want, you'll notice that the slit you cut closes itself back up with no problem, and you really don't have to do anything else to seal it. As the caulk dries, it will seal itself up.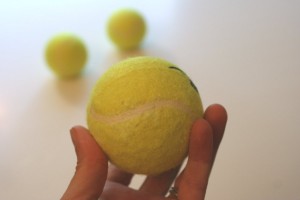 Now you've got your handy new juggling balls, so get out there and learn how to juggle. By the way, the tube that the tennis balls came in makes a really good carrying case!
If you liked this, check out these similar projects: