Since my daughter is older now and has made really good friends at her preschool, she is starting to want to go visit her friends at their homes. I know the parents of the children she is visiting, but they might not remember everything they need to know about my daughter. Instead of remembering to tell them everything or writing it down every time, I printed out some simple cards that are business card size with important information about my daughter. I guess you could say they are kid calling cards!
On my cards, I have her name, allergies, important phone numbers, medications, forbidden foods and a spot for some additional information. A lot of the information stays the same each time. For the other information that might change, like the medications, I left blank lines to quickly jot it down before her play date. I attached them all together with a quick application of the padding compound that we sell in our Amazon store. This stuff makes it so easy to make your own notepads!
I now have a set of these play date cards in my purse and my husband keeps a set in his car as well. Now when I arrive at a play date, I just tear off one of these informational calling cards and hand it to the parent. Every parent who has received one has loved it and appreciated it so much that he or she wants a set as well!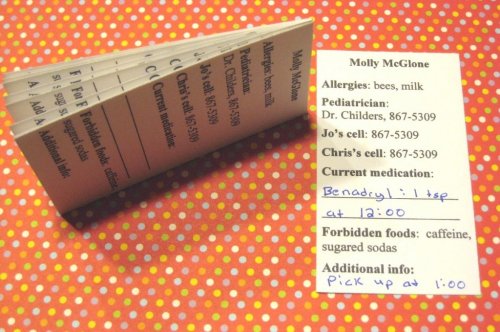 Feel free to use my template as a starting point to make your own.  This template uses Avery Standard Business Cards 8371 or 5371
.
If you liked this, check out these similar projects: