I remember when I was a kid, my mother had the prettiest flower arrangement in the living room that I was never allowed to touch. It was made of brightly-colored, nylon fabric flowers that got their shape from super-thin wire. They were delicate and intricate and arranged beautifully in a vase.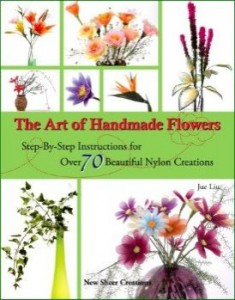 The memory of that flower arrangement came flooding back to me last week when I spotted a book called The Art of Handmade Flowers: Step-By-Step Instructions for Over 70 Beautiful Nylon Creations.
The book is a refresher course on the art of nylon flowers (also known as "stocking flowers"), which was trendy in the U.S. in the 70s, and then very popular in Japan. What goes around comes around, and nylon flowers are now making a comeback in today's crafty circles.
This easy-to-learn craft uses simple tools and inexpensive materials, combined with interesting techniques, to achieve stunning results. With the new colors and materials available these days, the possibilities are endless!
The basic materials needed are various wires, floral tape, nylon stocking material, and nylon thread. Some of the advanced techniques require acrylic paint, batting, and glue. Because nylon flower making is just being reintroduced in the U.S., supplies can be hard to find in local craft stores, but for an online solution, check out NewSheer.com, which stocks everything you'll need.
Because the flowers are made from regular nylon that's just like what your everyday stockings / pantyhose are made of, you can even use old or torn stockings to make these flowers. Boring brown probably won't make very pretty flowers, but keep an eye out for colors like white, pink, or black, and if they get a run in them, don't trash them just yet!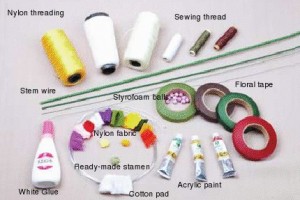 The book The Art of Handmade Flowers
first outlines the basic steps involved in making nylon flowers, which are:
make a wire loop
wrap wire loop with nylon
shape loops into petals or leaves
attach flower and leaves to step
arrange flowers and leaves
From there, the book takes you through tons of examples of various flowers, and shows you the steps required to make each one. Filled with colorful photographs, the book is an inspiration to flip through. Here are some of my favorite flowers from the book. Aren't they just gorgeous?
If you liked this, check out these similar projects: