Track and organize your car maintenance records
by: Chica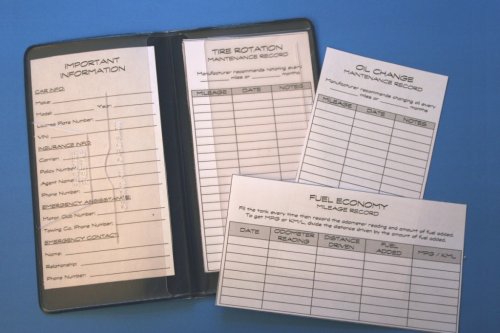 A responsible car or truck owner knows that any vehicle needs to be properly maintained in order to perform at its best. We all know that this means regular oil changes, filter changes, and other similar procedures. The problem is that most of us (myself included) have a tendency to forget or put them off. And when I do remember to think about it, I often forget what's been done and how recently. That makes it really hard to know when I'm due for something like a tire rotation. Those little decals the oil change folks put in the window aren't quite enough. I needed a better way to track and organize all of this information.
I knew right away that whatever record system I came up with, it needed to be easy to organize and small enough to fit easily in a glove compartment. The perfect solution was to use an old checkbook cover
. It was sturdy, just the right size, and had nice flaps for tucking papers inside. And with everybody moving towards home accounting software these days instead of paper,
it's pretty easy to find an extra checkbook cover laying around.
With the cover decided on, I next made a list of all the common maintenance procedures that my car needed. Oil changes and tire rotations were no-brainers, and I added others like spark plug inspection/replacement, chassis lubrication, and air filter replacement. I made a simple chart for each procedure, so that I could track each time I had a service performed, and I made them just the right size to fit inside the checkbook cover.
I even got inspired and made a chart for tracking fuel economy and a page for writing down all the important information you need at your fingertips in case of an emergency.
And of course I bundled it all into a free downloadable template for you so you can print out your own!
Just print out as many sheets as you want, cut them out, and tuck them into a checkbook cover.
I'm so happy with the results that I'm going to make a set for my Dad for Father's Day. Finally, a practical and useful Father's Day gift that he'll actually like!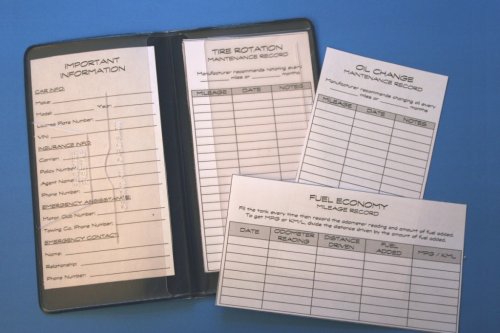 similar projects

leave a comment: