My daughter has been begging us since there was snow on the ground to let her have a campout in the back yard.  I stood firm on my "No camping out in the snow" rule, but now I must relent and allow her to pop some tents in the back yard.  I don't mind really, for it will be my husband out there sleeping on the ground. He is such a good man.  Since I am inviting so few children, I thought I would send out real invitations for this shindig.  My daughter was actually the inspiration for this idea when we were grocery shopping the other day.  She picked up a package of Jiffy Pop popcorn
and wanted to know what it was.
Hmmm… that could be a cute idea for a campout invitation.  A lot of kids her age haven't seen the wonders of the Jiffy Pop popcorn.
  I bought five packages and headed home to create an invitation. 
To create the invitation part, I made a simple design and used a couple of free patriotic fonts that I found online for my lettering and decoration.
Download and install the fonts:
"Celebrate" font used for fireworks
"Kingthings Flashbang" font used for top lettering
I measured out the top of the Jiffy Pop lid and made a design to match. I fit all of my party information within the 6.5 inch circle.  To make it easier for you all, I've included my template here for your use:
Download my Jiffy Pop invitation template:
Invitation template
Change the text on the template to fit your event.  Print the template out and cut around the circle.  Affix the circle to the top of the Jiffy Pop container with a bit of glue or double-sided tape. You can even add more decorations if you want.
One final note: Make sure that you don't decorate the lid too much so that the recipient can still remove the cardboard cover and make the popcorn!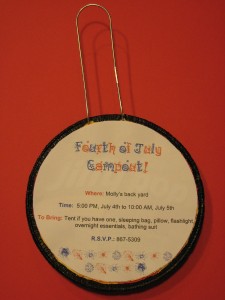 If you liked this, check out these similar projects: