Teddy bear making craft for kids
by: Jo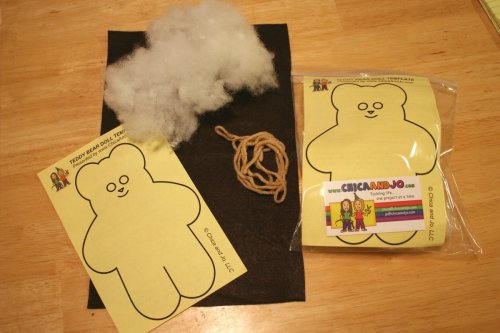 My sister-in-law is in charge of the bags handed to kids at a local benefit walk for diabetes. This year, she asked if Chica and I could come up with anything that could be included in the bags. She puts together 250 bags so we knew it had to be something easy we could donate in bulk. We decided to come up with a simple sewing project that would appeal to kids of various ages. We finally settled on a simple teddy bear shape that we would make with some dark brown felt.  In the kit pictured below, we included the template, step-by-step instructions, yarn, stuffing and felt.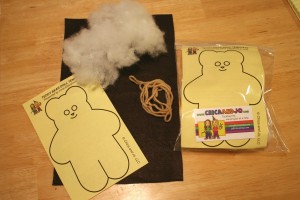 If you would like to make your own, here are the simple steps.  This is a great project to do with leftover scraps of felt and yarn.  The teddy bear pictured in the steps was made by my neighbor who is six years old.  This project was a little advanced for my four year old to do on her own.  However, she did like stuffing and decorating the bear I stitched together for her.
Download and print our teddy_bear_template.
Cut the template along the outer black lines.  Do not cut the line for the leg separation.
Trace the bear outline twice onto some felt.  We used traditional brown bear felt but you can use whatever color you like.
Cut the pieces from the felt.
Take a large-eyed needle and thread your yarn through.  We used a tan color but use any color that will coordinate with your felt.
Stitch around the edge of the bear.  Here, we used a straight stitch but you can use a whip stitch as well.  Make sure you leave an open spot to insert the poly stuffing .
Stuff the bear.  We used traditional poly stuffing for our bear but you could use anything you have on hand, including dryer lint!
Finish sewing the bear shut.
Sew a straight stitch to create two legs for the bear.  You can omit this step if you like the look of your bear without two distinct legs.
Decorate the bear's face.  The girls used pieces of leftover sticky-backed foam to cut out the facial features.  You can sew them on, color them on, use small buttons for eyes, or glue pieces on from your stash of scrapbook doo-dads. The possibilities are endless.
Now, you have a completed bear!  This project doesn't cost a lot for a group of kids to do, making it a great choice for vacation Bible school, Brownie troop, or a sleepover party.
If you wish, here is a link to donate to the American Diabetes Association.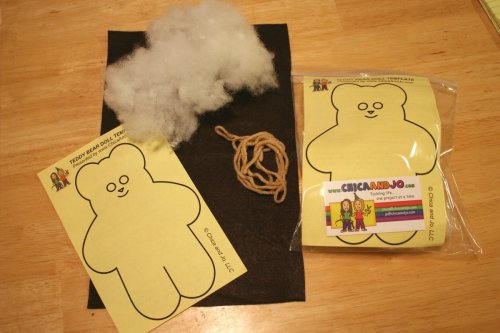 similar projects

leave a comment: