Using the padding compound that we sell in our Amazon store and the easy instructions we've provided for making your own notepads, you can create tons of fun and useful pads with all sorts of materials (remember Jo's adorable photo notepads?). One of our readers, Jody, recently put her own spin on it and we just love what she came up with!
Jody's mother is going to travel quite a bit this summer and really likes Sudoku puzzles. Jody was inspired by our notepads as well as our airline travel amenities kits, and put together a gift for her mom's birthday that included the puzzles. She really wanted to help her pass the time with long waits at the airport.
Jody saved about twenty Sudoku puzzles that were published in the local paper. For the cover of the pad, she used a piece of decorative paper (from an old bag) that she covered with clear contact paper to give it some added strength. For the back, she used a thick piece of card stock so that the pad was firm enough to use as a writing surface.
So cute and thoughtful. I'm sure her mom loved it. Thanks for sharing, Jody!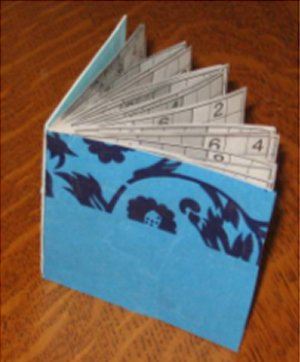 If you liked this, check out these similar projects: