This week on Chica and Jo, we have focused on all things travel.  I have to admit, one of the first things I think of when I am preparing for a long car trip is the snacks!  I actually have a couple of items that I only buy and eat when on a car trip.  For whatever reason, Poppycock is one of those items.  Beyond that, I usually try to pack some healthy items that are also hardy.
I was completely inspired by Michelle's post on Her Cup Overfloweth where she demonstrates the idea of using a basic divided plastic box container
to hold a variety of small snacks.  I can see this being a huge hit with my daughter and husband.  The visual variety is stimulating as well as delicious.  I can guarantee you that I will be making one of these the next time we hit the road this summer!
Be sure and check out Michelle's blog for other great ideas as well.  She hosts a Muffin Tin Monday that is always a lot of fun.  The idea is similar in that you make your child a lunch using a muffin tin as a divided tray.  I tried this with my daughter yesterday and I was shocked at how well it was received.  She even ate all of her fruits and veggies that I put in there before diving into the tin that had some M&M's!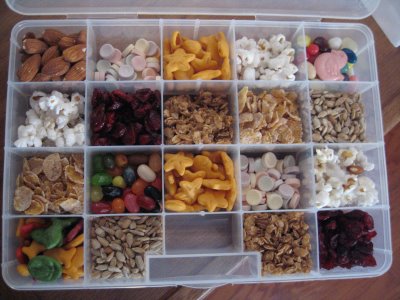 Update!
Chica loved this idea so much that she made a treat box for her husband for his birthday. He works out of his car and is always snacking during the day. He loved this combination of sweet and savory treats. Yum!
If you liked this, check out these similar projects: