When traveling on a long car trip, I like to have lots of non-electronic games on hand to pass the time. Don't get me wrong, I bless the portable dvd player
in our car as it allows for longer stretches of time between the inevitable, "How much longer?" question. I am also a big fan of the Leapster game system
for much the same reason. However, I feel that playing some classic car games are in order as well. These are fun for the kids as well as the adults.
USA Map / License Plate Game
The license plate game is actually one of Chica's favorites, and object is to see how many different state's license plates you see on your trip. We've created a downloadable map of the USA to help you play. When the kids see a license plate, they can find the state on the map and color it in. This will help their geography and spelling skills at the same time. You can also trace your travel route on a copy of the map and have them color in the states as you pass through them, so they can see how much closer they are getting to their final destination.
Click the image below to download our USA Map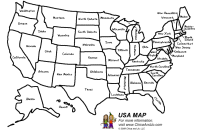 Tic Tac Toe / Dot Box Game
Tic Tac Toe is a simple game that even a toddler can enjoy playing.  They never seem to get tired of it!
One of my favorites has always been the Dot Box game.  It goes by a lot of different names (Chica calls it "pencil boxing") but it is one that I always enjoy.  Here are the rules for play:
Starting with an empty grid of dots, players take turns, adding a single horizontal or vertical line between two unjoined adjacent dots. A player who completes the fourth side of a box earns one point and takes another turn. (The points are typically recorded by placing in the box an identifying mark of the player, such as an initial). The game ends when no more lines can be placed. The winner of the game is the player with the most points.
– Courtesy of Wikipedia.com
If your kids aren't quite old enough to figure this game out, they can still have fun connecting the dots into fun shapes.
Click the image below to download our Tic-Tac-Toe and Dot Box Game sheet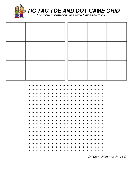 With this sheet, I like to print and laminate
just one of them and use dry-erase markers
to play the games over and over again.
Playing surface
Once you have downloaded and printed all of your games, you will need a hard surface for playing them.  You can either use a clipboard you already own or you can simply make one.  Just take a piece of heavy cardboard and attach a binder clip
to the top — instant clipboard! For this one, I also covered the cardboard in contact paper
to make it a bit more durable and definitely prettier!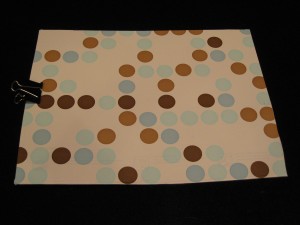 If you liked this, check out these similar projects: