One of our readers, Erin, was recently inspired by our post that featured a book about rejuvenating vintage jewelry. She turned some old pieces into a beautiful new necklace and was kind enough to share the details with us. We hope you enjoy her guest post today. Thanks, Erin!
I created this wonderful and simple necklace for a Mother's Day gift after being inspired by the book Rejuvenated Jewels: New Designs for Vintage Treasures (Quarry Books 2008) by Amy Hanna. I had a very pretty locket in my jewelry box that I loved, but the chain it was on was very dated and I didn't like it. I also had some other pearl beads from a broken necklace that I knew would match it well. Then I looked through my bead supply and found some nice pink tinted glass beads and I knew I had the makings of a beautiful new piece!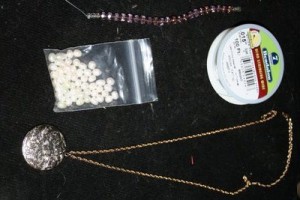 Once I had collected all the beads that I wanted to use, I cut a piece of bead wire
the approximate length of the necklace (making sure to leave an extra inch for attaching the latches). Then I used my jewelry pliers
to remove the locket from the chain.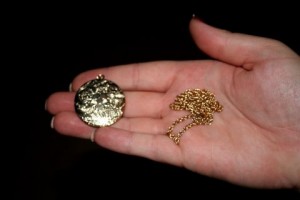 Then I used my bead design board
to lay out the project. Using a design board helps you measure the length of the necklace you're about to make and also lets you see what the finished product will look like. You also get a chance to make changes to the project before you begin stringing the necklace!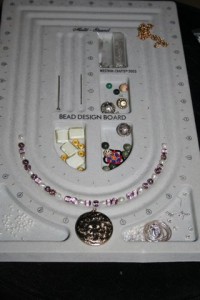 Now you're ready to string the necklace. It is easier if you add one of you latches first so your beads will not slip off the end while you string your necklace. To add the latch, take one crimping bead and run it to the end of the bead wire. Then run the wire through the latch loop and back into the same crimp bead.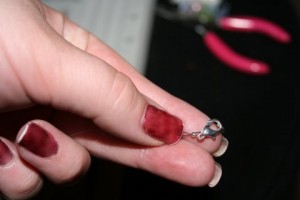 Use your jewelry pliers to close the crimp bead by squeezing it flat. You can now start adding your beads to the wire. Work from one end to the other and be sure to add the locket in the middle of your layout.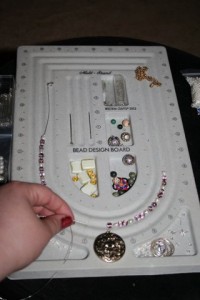 Once all your beads have been added you will repeat the process above to add the second side of the latch. The only difference is you will pull the extra string through the bead before closing it. Once closed, you will trim off the excess wire.
Now you have saved an otherwise useless piece of jewelry and turned it into a cherished new item that would make a fantastic handmade gift!
If you liked this, check out these similar projects: