Kentucky Derby party food recipes
by: Chica
If you're going to throw a Kentucky Derby party this Saturday (like Jo and I are) then there are three key things you need to have: a TV to watch the race, a system like Jo's for betting on horses, and food! I can't help you with the TV, but I'm here to help with the food. The best dishes to serve at a Derby party are traditional Kentucky recipes, and I've got three great ones (a main dish, a dessert, and a drink) to kick start your menu. Yum!
Chica's Hot Browns
A Kentucky tradition first created at the Brown Hotel in Louisville, Hot Browns can be made with turkey, ham, or a combination. Chica's recipe makes for a rich and delectable meal that will fill you right up!
1/2 cup butter (not margarine)
6 tbsp flour
3-1/2 cups milk (2% or whole)
6 tbsp grated Parmesan cheese (canned stuff works great)
salt and pepper to taste
pre-cooked turkey or ham, sliced or shredded (leftovers work great)
toasted sandwich bread
tomatoes, sliced and then cut in half
strips of bacon, slightly undercooked (it will finish cooking under the broiler)
shredded cheddar cheese
Melt butter in a pan over medium heat. Add flour and stir until well incorporated. Cook about 1 minute. Add milk and whisk quickly to avoid lumps. Add Parmesan, salt, and pepper. Cook on medium heat until it begins to boil, stirring constantly. Sauce will be thick like a batter.
Put turkey and/or ham between slices of toast on an oven-safe plate.
Drizzle 1-2 cups of sauce over top of sandwich, covering it entirely and covering the base of the plate.
Put two slices of bacon on top of sauce and four half-slices of tomato around the sandwich.
Sprinkle about 1/2 cup of cheddar cheese on top of everything. Place plate under broiler for 2-4 minutes or until cheese is bubbly.
Serve immediately. Be careful, for the plate is very hot!!
Jo's Kentucky Chocolate Nut Pie
For a truce slice of Kentucky's sweet history, you can't go wrong with the official Derby Pie (TM). If you can't get your hands on one in time, though, Jo's recipe for chocolate nut pie is a great substitute.
1/2 cup sugar
1/2 cup flour
2 eggs, slightly beaten
1 tsp vanilla extract
3/4 cups pecans, chopped
3/4 cups semi-sweet chocolate chips
1/2 cup margarine, melted
one pie crust (frozen, refrigerated, or homemade all work)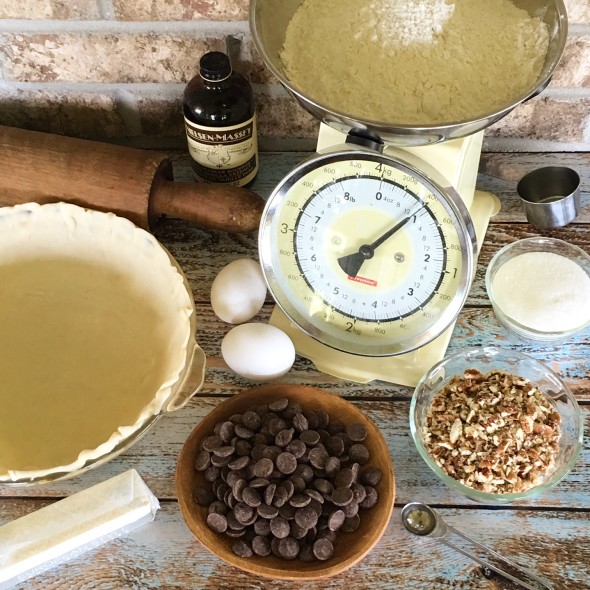 Preheat oven to 350 degrees F. In a bowl, mix all ingredients except except pie crust. Put pie crust into 9″ pie pan (see our tip for fluting pie crust). Pour mixture into unbaked crust and bake at 350 degrees F for 30 minutes.
Serve warm or cold. Tastes great topped with ice cream or whipped cream.
Mint Julep
The traditional Kentucky Derby drink, the Mint Julep is best served in a classic Julep cup
. It's a very refreshing drink for a hot day on the track!
simple syrup *
fresh mint
crushed ice
bourbon whiskey
Drizzle 1-2 tbsp of simple syrup into a chilled Julep cup. Drop in 3-5 leaves of fresh mint. Use a spoon or muddler
to bruise the mint and release the essential oils. Fill the glass with crushed ice and top off with bourbon whiskey. Garnish with a sprig of fresh mint.
* To make simple syrup, combine equal parts sugar and water. Heat just to boiling and stir to dissolve thoroughly. Can easily be made on the stovetop or in the microwave.

similar projects

leave a comment: