If you're anything like me, one look inside a scrapbook store and you're instantly in awe from the bounty of beautiful papers on every shelf. The designers keep coming up with more and more gorgeous colorful sheets and it's so inspiring that it just makes me want to sit down and create! Unfortunately, along with the rising selection, there are rising prices, particularly for some of the fancier papers. For instance, there are papers now that are coated with glittery dots and glossy outlines that make the paper shine so much that you can't help but run your fingers along it and smile. Gorgeous paper like this hardly needs embellishing, but can cost as much as two or three dollars a sheet. What's a scrapbooker to do?
Enter Deena over at Be Creative. With nothing but a bottle of Glossy Accents
(I love this stuff!) and a tiny bottle of Stickles glitter glue,
she found a way to transform an affordable piece of regular scrapbook paper into a gorgeous, embossed, sparkling paper at a fraction of the cost!
Check out her full technique on her blog. While you're there, be sure to browse around and see her other fun ideas and designs, like her illustration of a handy technique for changing the color of brads. So cool!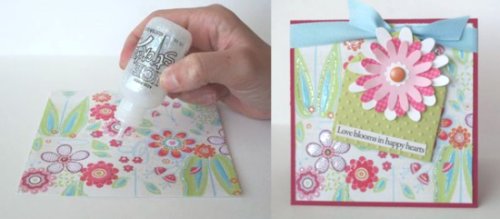 If you liked this, check out these similar projects: