Thanks to everyone who entered our Craft Green contest held in honor of Earth Day today. We loved seeing all of the creative and green entries and had a difficult time narrowing them down to just a few. We hope these winners will inspire everyone to look at common items around them in a different light. Chica and I really enjoy upcycling items that would normally be tossed or overlooked into useful or decorative things. Perhaps you shouldn't toss out that old faucet or pair of blue jeans, you never know what they could turn into! And without further ado, the winners are…
Grand Prize: Homemade Play Kitchen by Mama Kat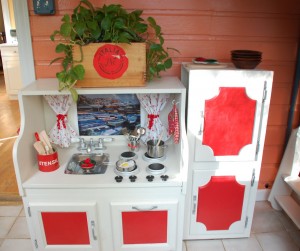 Mama Kat made this play kitchen for her daughter out of salvaged kitchen cabinets and lots of great finds from the thrift store. For under $60, she managed to build a beautiful, equipped kitchen that rivals any we've seen and is a shining example of "trash to treasure". I think my favorite touch is actually the curtains around the faux window! It's the small details that makes this play kitchen adorable! Visit her site to see lots more photos and some before shots to see how she created this fantastic play kitchen. Kathy wins her choice of Craft Green T-shirt designed by us and a product from the nature line at Galison.com. Fantastic job, Mama Kat. We love it!
Runner-Up: Trash Card by Susannah Leggatt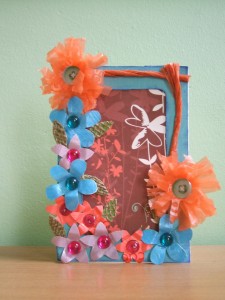 Susannah literally took trash off the street and made something worthy of sharing. We appreciate her ability to see beyond the trash factor to create something beautiful. Susannah writes, "Hi, I have justed completed a card, all of the flowers I made from old plastic bags and the leaves were made from an old hessian sack I found on a local park, the orange plastic string was in the gutter on my road. There seems to be so much rubbish these days. I do like to recycle it where ever possible." Susannah wins a $25 gift certificate to PlumParty.com, where she can buy lots of green party supplies or gift items.
Runner-Up: Denim rug by Susan Silva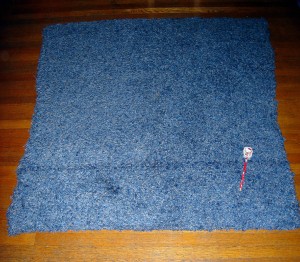 Chica and I love a good denim project so we were instantly intrigued by her knitting method. Susan writes about her project, "At my favorite recycling center in San Francisco (SCRAP), I found several rolls of denim strips, all cut on the grain (not the bias). I washed the strips first, which made huge tangles, but also made the strip edges soft and fringe-y. Total cost was around $7.
I then knitted the strips on large knitting needles in a Linen Stitch to make a soft, durable rug for my grandkids to play on. With a freezing basement under my hardwood floors, the rug keeps us super warm. So far I've been vacuuming it clean. When the time comes to wash it, I'll take it down to the laundromat and toss it in one of the giant $5 washers. The Linen Stich makes one side more flat and the other a bit bumpy, but both sides can be used. The finished measurements are approximately 43 inches by 46 inches. (I photographed it with a pencil to give some scale.) It was a big, heavy project–especially at the end–but well worth it." Susan wins a canvas organizer tote with our Craft Green logo on the front.
Winner of our link giveaway: Cathy Ives of www.greenecoservices.com
Cathy wins her choice of game packs for a baby or wedding shower from Shower in a Box.
We'd also like to take a moment to share some information about Saint Joseph Brownie Troop 463. Their leader wrote to us to let us know that the girls have spent the last 2 months collecting used, unwanted t-shirts to make into reusable shopping bags. The girls, ages 7-9, worked very hard and collected 500 t-shirts. They spent part of their Spring Break learning basic sewing skills to sew together their bags. This Saturday they will be handing out all 500 bags to shoppers at their local grocery store!! If you happen to live in Lagrangeville, NY, please stop by the A&P Supermarket on Route 82 to get your free bag and support these fantastic girls!
If you have won a prize and have not sent us your mailing address, please do so that we may send it to you immediately. We would also like to thank our sponsors again for the prizes: Plum Party, Shower-in-a-Box and Galison. You can order your own Craft Green products at: http://www.cafepress.com/craftgreen. Happy Earth Day and happy crafting!
If you liked this, check out these similar projects: