My second baby is due in July and I have two friends having their first babies in a couple of months. My friends have asked me lots of questions about the whole process since I am on baby #2. One of the questions that they both asked was, "What will I really want to take to the hospital?" This got me to thinking about my first delivery that resulted in a three day hospital stay and what I really wanted/needed while I was in labor. This exercise also made me prepare a bit better for July. I came up with a list of items that I really needed and used while there last time, and that I wanted to be sure to have with me this time around. It made quite a neat labor and delivery survival kit! Chica came up with an adorable bag design to hold everything (see her tutorial here), so now I can make some cute survival kits to give to my pregnant friends as gifts.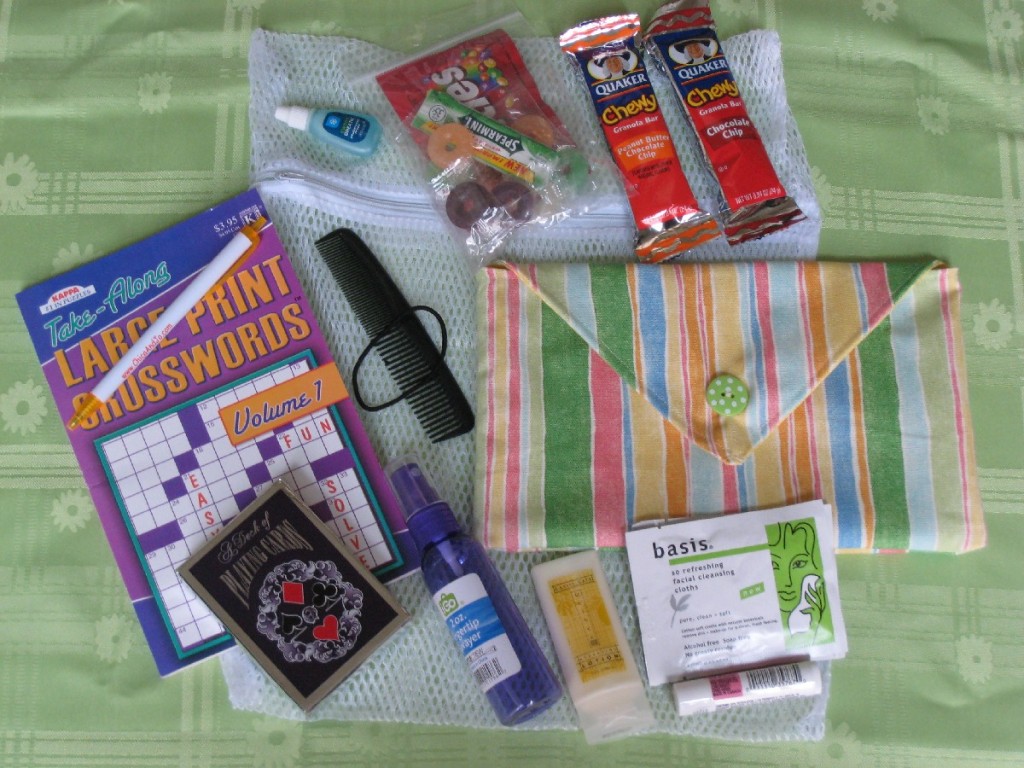 Please note, these are just small niceties for the mom and dad to be.  This is not meant to include things you will want for the new baby or your larger items:
Puzzle book (Crossword or Sudoku): There's a lot of waiting for the parents to be.
Deck of cards: Also good for passing the time.
Pen: For filling out forms and working your puzzle book.
Laundry bag: I didn't think of a small laundry bag to take soiled items home and I wish I had!
Facial cleansing cloths: Showering doesn't happen for a while so these cleansing cloths will help mom feel refreshed.
Lotion: Hospitals tend to be a little dry.
Lip balm: To combat dry lips.
Skittles: A little big of sugar for Dad while he is waiting.
Granola bars: Another small snack for Dad.
Hard candy: Often, your doctor will let you suck on hard candies while you are in labor.
Gum: Tooth brushing also might have to wait a while so some breath freshening gum is in order.
Breath drops: If the gum is too much for mom to tolerate, some simple drops will do the trick.
2 oz. spritzer bottle: Fill with cold water to spritz your face during labor. Very refreshing.
Hair tie: Very helpful for keeping your hair back during delivery.
Comb: To help pull your hair back for delivery.
If you liked this, check out these similar projects: