This past weekend was my daughter's zoo birthday party. We all had a fantastic day at the zoo and enjoyed Chica's zoo animal cupcakes immensely. In addition to petting animals, having cupcakes, and opening presents, we gave treat bags to the party guests. Treat bags are quite important in kid world. I know my daughter is always excited to receive a small treat bag at the end of a party. Since her party would be "over" before they visited the actual zoo, I wanted to give the kids a treat that would be easily portable for the rest of the day. Chica volunteered to sew some bags for the kids (since there were only eight of them) so I just had to pick a bag design that would work. I settled on the simple concept of drawstring backpacks. They would be lightweight enough for the kids to carry and the bag would be part of the gift.
Again, Chica far exceeded my expectations when she presented me with adorable giraffe themed backpacks. Each pack had an embroidered giraffe on a giraffe print fabric with the kid's name embroidered below. (For details, visit Chica's complete tutorial on how to make these drawstring backpacks.) The kids were thrilled with the packs! They loved having something so grown-up to carry and that had their names proudly displayed.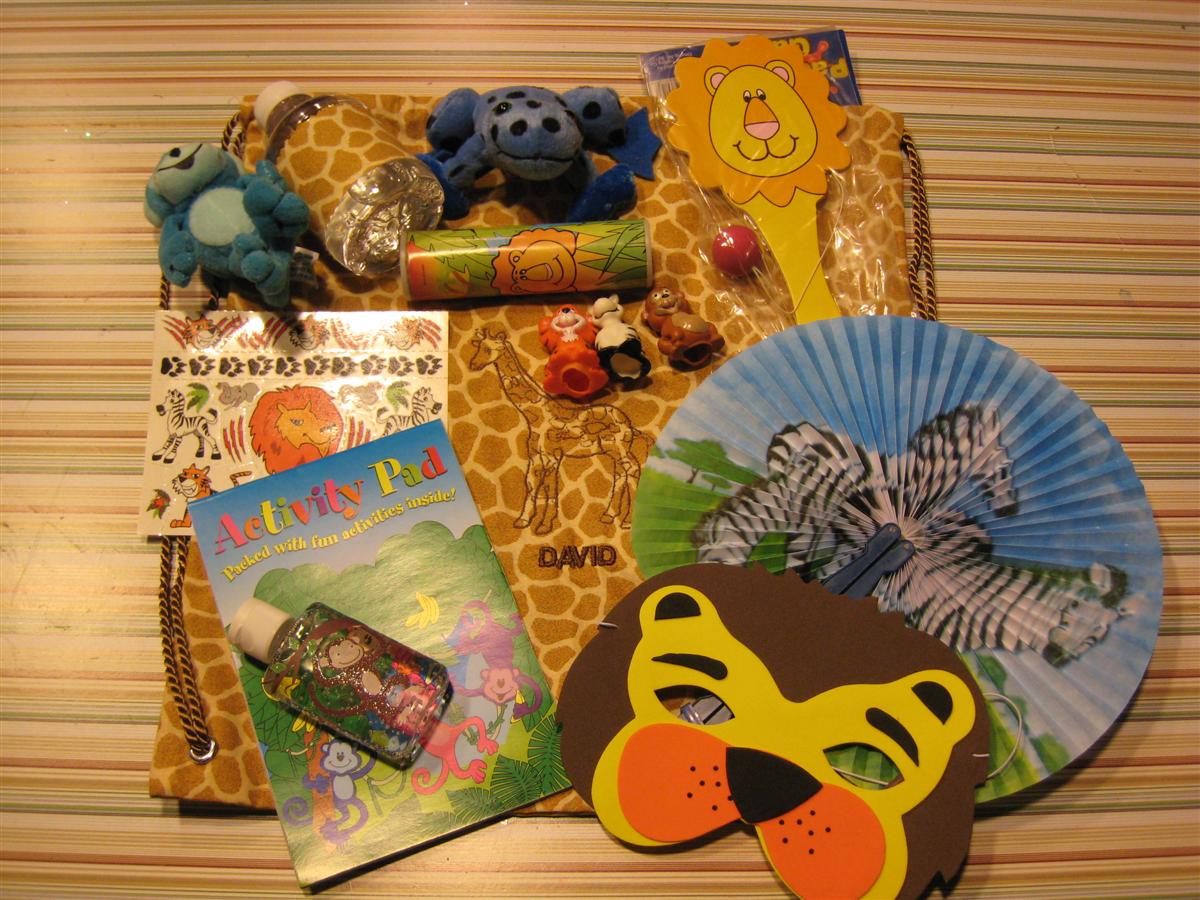 Here is a list of items I included in the packs with links to where I bought some of them online:
Bottle of water: I included a small bottle so it wouldn't weigh too much and then used the scrap material to make a coordinating band around it. Later in the afternoon, this was the favorite thing in the bag!
Trail mix (not pictured): A small bag of trail mix was also appreciated when the afternoon munchies hit. Saved the parents a little money from having to buy a snack.
Binoculars (not pictured): This might have been the favorite item in the bag. The kids liked hanging them around their necks and felt like real adventurers.
Plush zoo animals: The monkey's tail could wrap around things.
Paddle ball: Just be careful the kids don't turn on each other with these things!
Kaleidoscope: Always a favorite of mine.
Pencil toppers: These would have gone nicely on some colored pencils to use with the activity pad.
Tattoos: For whatever reason, kids seem to love tattoos.
Activity pads: I wish I had thought to throw in a small box of crayons or the colored pencils!
Hand sanitizer: I used an idea from one of our readers to make customized bottles with monkey stickers. This was another essential in the bags that was especially useful at the zoo!
Animal masks: We had lots of terrifying animals running around the rest of the day!
Folding fans: I was surprised at how much the kids enjoyed playing with the fans.
If you liked this, check out these similar projects: