My mother's purse is a disaster area. Things go in there never to be found again until she decides to buy a new purse. She loses receipts, gift cards, stamps, coupons, small children… all inside of her purse! Now, no one wants to be like her mother so I have adopted a strict clutter-free policy within my own purse. I like to quickly find what I am looking for and I have a hard enough time making myself keep a receipt so I am diligent about having one spot to put those pesky pieces of paper. Today, I would like to share a few of my favorite tips and products that make my purse pretty manageable. I am hoping mom reads this and follows some of my advice!
Wallets
I've tried lots of wallets since I first started carrying a purse oh so many years ago. My wallet needs have changed over the years. First, I just needed something to hold cash and change. Then I started collecting cards such my library card, my driver's license, my student ID, etc. that required lots of different holders. Now I find myself wanting to have organized receipts, a place for a few coupons and gift cards, a cash area, lots of pockets for credit cards, and a way to hold it all without being huge or having things fall out.
I think I finally found the answer to my wallet organization problems, the Baekgaard Hold Everything wallet
. The yellow one I currently have has been used so much that it is beginning to show signs of wear. Yes, I could make it last longer but I am honestly dying to try another fun color for spring so I asked Santa for a lime green one and he delivered! I am just getting ready to move everything over into the new wallet.
So, why this wallet in particular?
It looks good and comes in a huge variety of unique colors.
It zips! All the sides are closed so I can put anything in there and it won't slip out or stick out along the edge.
It has a bill holder on either side. I keep my spending cash on one side and cash I owe others on the other. I also use the other side to hold checks that need to be deposited and a blank check since I don't carry my entire check book.
It has card holders on either side as well. I like to put my frequently used cards on the side with my spending cash and the less used ones on the other.
The pockets that form between either side of the change purse in the middle are great for holding receipts. I put all of my receipts on the lesser used card side and on the other, I put gift cards, stamps and coupons that I need to remember to use. The two sides would also be great if you need to frequently separate business receipts from personal ones.
It acts as a stand-alone purse. Often, I find myself just grabbing my cute wallet from my bag and heading into the grocery store. It looks like a cute clutch when carried by itself.
You would think with all of my raving about this wallet that I owned stock in the company, but I assure you I don't! This is just the first time that I have found a wallet that really met all of my needs in a fashionable way. So much so, I wanted one exactly like it to replace my worn out one, another first for me!
Cosmetic and more bags
I only carry a lip gloss in my purse as far as make-up goes. However, I have found that the
LeSportSac makeup bags I inherited from my grandmother work great for corralling all of those small, random items I find as must-haves in my purse such as: Crystal Light packets, eye drops, lotion, tissue packs, hand sanitizer, bandages, etc. If I put all of these small items into one of these bags and place that in my purse, I am not digging around in the bottom of my large purse looking for them. This also makes it really easy when I want to go from one purse to another. They also last forever! I know Grandma must have bought this particular one in the late 80′s. Of course, any small zip bag will work for this purpose but I happen to like the sentimental value to me as well as the durbaility. I've even put these in the washing machine a few times with great luck.
The inside of my actual purse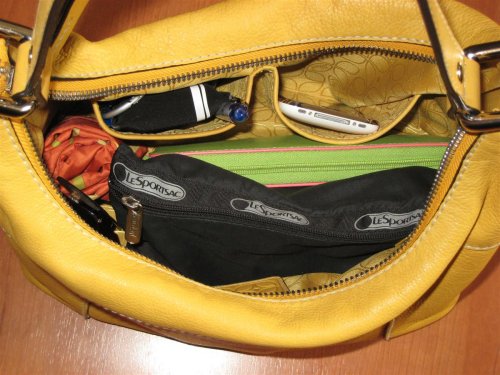 I assure you, I unzipped my purse and took this picture. Neatly tucked inside you can see my essentials: iPhone, pen,
Flip video,

Envirosax, sunglasses, Baekgaard wallet
and my
LeSportSac. All of these items are easily accessible and quick to transfer from one purse to another. My system works for me and I am hoping some of the ideas might help you contain the clutter within! Please let me know in the comments below if you have found any great products or tips on keeping a purse organized.
If you liked this, check out these similar projects: