We all need greeting cards and if you've got even a touch of craftiness in you, you've probably made them by hand before. Handmade cards are also perfect projects for beginning crafters or impatient ones, because they are small and can be done in a short amount of time. The materials you can use to make cards are as endless as the occasions to give them.
What's sometimes hard to come by, though, is inspiration. I love to look at sample cards to get crafty ideas. My mind starts whirling around and I sit at my craft table and I just create, create, create! One of my favorite inspiration sources is a book called 1,000 Handmade Greetings: Creative Cards and Clever Correspondence
(Quarry Books, 2009)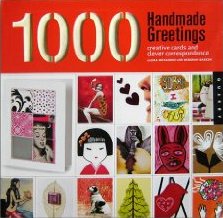 This book is jam-packed with ideas… one thousand of them to be exact! There are over 300 pages of full-color photographs showing every category of card design you can imagine. The book doesn't show you how to make each card (it would require several volumes for that!) but it just shows each card in its colorful glory, and tells you the artist who made each. Even though I swear I've looked at every page of the book before, whenever I open it up to flip through it I find more that I'm sure I've never seen. This book is a great source of inspiration when you have "crafter's block" and just need to kick start your creative brain and come up with new ideas.
The cards are grouped into several categories in the book, so you can go straight to the type of craft you are interested in. As hard as it was to do, I've selected two of my favorites from each category to share with you.
Fine art cards
#0007 – Janelle Genovese
This quirky card would be perfect for a bridal shower, and I love the bright colors and bold lines.
#0017 – Anna Herrick
Simple strokes of watercolor can have a huge impact on a card like this. It's calming and bold at the same time.
Collage and mixed media cards
#0146 – Victoria Smith for Constance Kay
Hands down my favorite card in the entire book. I love the quirky saying, the 3D embellishment, and the simplistic cleverness. I'm "nuts" about this card!
#0162 – Su-Queen Teo
What a great way to show off a collection. This photograph of vintage bottle caps lets the recipient of your card enjoy your collection too.
Hand-printed, stamped, and stenciled cards
#0470 – Barbara Fiocchi
Are you kidding me with the cuteness? What a great way to celebrate baby's first Christmas!
#0484 – Victoria Cole
The simplest of shapes become an extravagant design when adorned with bits of curled ribbon. This is so fun and unexpected.
Quilled, origami, and cut-out cards
#0600, 0603, and 0604 – Leslie Lewis Sigler
These charming little dresses on adorable wire hangers are just dripping with cute. What a wonderful use of patterned paper, too.
#0634 – Ellen Jantzen
I can't figure out just how this fish card was made, which just makes me love it more. The unusual shape and crazy design are over the top!
Photographic cards
#0657 – Joel C. Adamich
This collage effect with multiple photos really turns a photograph into art. I could easily frame this one and hang it on the wall.
#0658 – Richard Tuschman
This tiny little horse and bare tree branches are mystical and magical and draw me in instantly. I really love the added textures in the photo, too.
Print gocco cards
#0709 – Design des Troy
I adore this simple Christmas card with patterned ornaments. It's so modern and elegant, and the clean lines are refreshing.
#0728 – Gillian Beck
The snarkiest card of the lot, for sure, this card really gets the point across. I crack up every time I see that little bridge!
Letterpress cards
#0791 – Lisa Zuraw
This nostalgic-looking print would be a delightful invitation to a little girl's birthday party. So sweet!
#0805 – Gleena.com
What an amazing image. It reminds me of vintage seed packs or English gardens. Elegance in bloom.
Sewn cards
#0830 – Jannie Ho
I love the fabric and paper combination here. I just want to eat this cupcake right up!
#0859 – Belinda Moon
The purposefully off-center stitches around this owl really make him pop, and I love the blue patterned fabric. Jo would love to get this card.
Now aren't you inspired? Whether you have this great book
or not, get out your craft supplies and scraps and make some handmade cards for a special occasion — or for no occasion at all!
If you liked this, check out these similar projects: