One of our favorite booths at the CHA show was the Hero Arts booth, where we were lucky enough to do a make-and-take hosted by Jennifer McGuire. She is an incredibly talented stamper who teaches classes regularly and is on the Hero Arts design team. After meeting her, we started reading her blog, and we've been enjoying it immensely.
All of her posts share great ideas, like decorating a simple white card with patterned punched circles and hearts in a way that looks just amazing. Jennifer also offers fantastic how-to videos, including one for shadow stamp kissing, which is a technique I'd never seen before but I absolutely love. And if you want to have a little craft room envy, be sure to check out the video and photos of her incredibly organized scrap room. I'm so jealous!
The idea I love the most, though, is the one for decorating a card with tiny scraps of ribbon. I always hate to throw bits of beautiful ribbon away, but I never knew what to do with them before. This solution is simple, easy, and just plain perfect.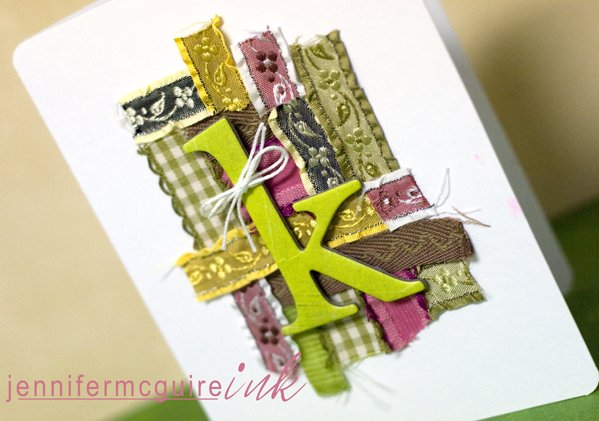 If you liked this, check out these similar projects: