Jo's favorite hot chocolate recipe
by: Jo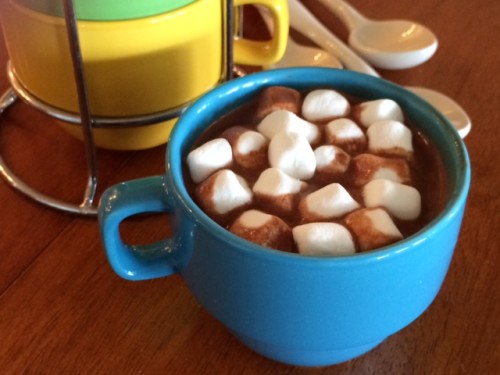 I love hot chocolate. I love it so much, I made my family trek around Zurich to find a place called Cafe Schober, that was featured on Passport to Europe with Samantha Brown
. Apparently, they had the most wonderful cup of hot chocolate and I wanted to try it, since I was in the neighborhood. We did find it and I was not disappointed. The hot chocolate was creamy and rich and topped off with at least two inches of homemade whipped cream; so thick, it was almost like a custard.
I have tried many recipes over the years and some of them are quite good but this most recent recipe is now my new favorite to make at home. I made a double batch and used a smaller-bottomed, tall, soup pot and it took a lot longer to heat and cook than the recipe states. I would advise using a large-bottomed pot to shorten the cooking time.
Rich 'n' Thick Hot Chocolate
Courtesy of Southern Living Magazine,
January 2009
2 tsp cornstarch
4 cups milk, divided
2 (3.5 oz.) dark chocolate bars (at least 70% cacao), chopped
1/3 cup honey
1 tsp. vanilla extract
Pinch of salt
Homemade whipped cream (optional)
Whisk together cornstarch and 1/2 cup milk until smooth. Cook remaining 3 1/2 cups milk in a large, nonaluminum saucepan over medium heat until bubbles appear around edge of saucepan (about 4 minutes; do not boil). Whisk in the chocolate, honey, vanilla extract, and salt until blended smooth. Whisk in cornstarch mixture. Bring milk mixture to a light boil, whisking frequently (about 4 minutes). Remove from heat. Let cool slightly. (Mixture will thicken as it cools.) Serve immediately with homemade whipped cream, if desired.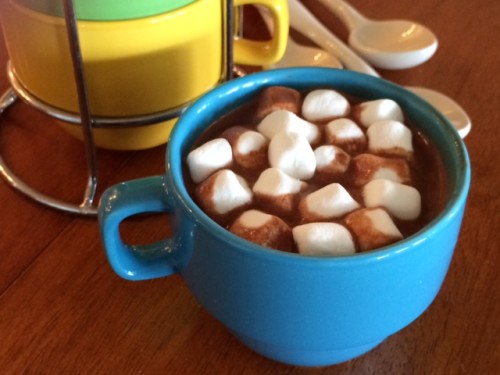 similar projects

leave a comment: