Create a Christmas keepsake with kid handprints
by: Jo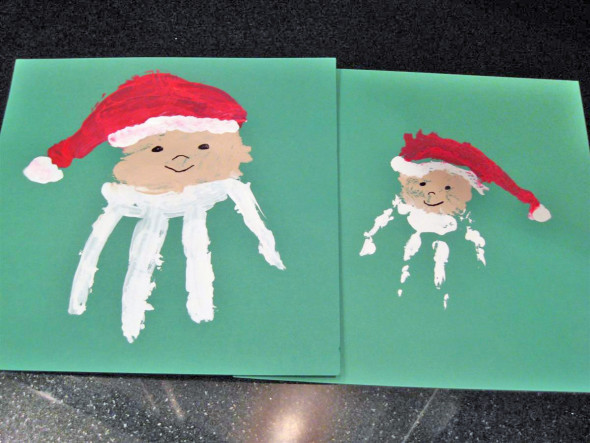 One of my favorite sources for kid crafting inspiration is my daughter's preschool teacher. She comes up with so many great ideas for the kids to do and I always try to repeat some of the best ones at home. This time, she had the kids make ornaments for the classroom tree.
My daughter loved this project because it involved painting her hand. First, I gathered the three colors of paint I needed: red, white and a skin color. Then, I picked out green paper and found some q-tips to use as the paint brushes. Easy and soft to use and disposable.
I started by paiting her fingers white and then the tip of her thumb white as well.
Then, I added the red across the bottom of her palm and the rest of her thumb for Santa's hat. Fill-in the main portion of the palm with a skin color for his face and you are almost finished. At this point, I went back over the white I already did and then added a white fur trim to his cap to fill the gap between the red and the flesh color.
Once all the paint has been applied, simply press the hand firmly onto the paper. After the Santa hand thoroughly dries, use a Sharpie to add eyes, nose and a mouth. Now, you can either cut a circle around the handprint and hang it on your tree or I like the idea of scanning the image in to use as the cover to your Christmas cards.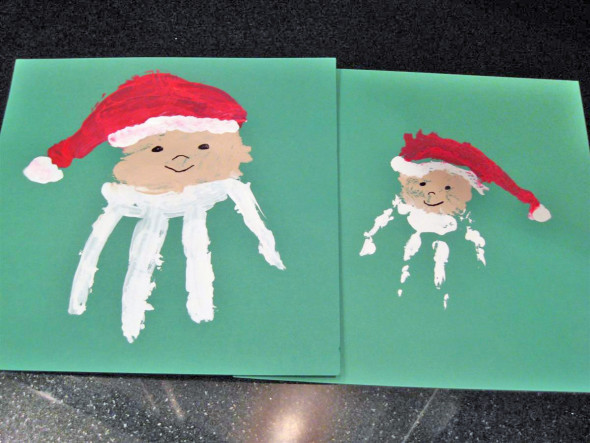 similar projects