"The stockings were hung by the chimney with care, in hopes that St. Nicholas soon would be there…"
That famous line from the "Twas the Night Before Christmas"
poem rings true this time of year in houses everywhere, as kids and adults alike hang their stockings up to be filled with goodies on Christmas morning.
We don't all have fireplaces or mantles, but even if we do, sometimes hanging a stocking can be a bit of a challenge. Here are some tips to help you out this year.
Choosing a good stocking hanger

Many folks buy ornamental stocking hangers to put on their mantle, but take note that not all hangers are created equally! Most of you will be searching for the heaviest hangers you can find, so that they can support the weight of a full stocking, but actually the shape of the hook is far more important than the weight. Do NOT choose a hanger with a stubby little hook that barely sticks out. This design has no leverage and won't support much weight.
Instead, choose something with a longer hook, and preferably one that curves back under itself. This sort of cantilevered design will give you far better support and with the right hook, you'll find you can hang stockings that weigh several pounds. Here are some better examples of stocking hangers:
Attaching temporary hooks to the mantle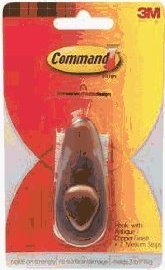 All you need to hang a stocking on a mantle is some sort of hook. You probably don't want to hammer a nail into your beautiful mantle, but you can accomplish a similar result with a simple adhesive hook. The folks at 3M make this super easy with their Command (TM) adhesive hooks
These are super sturdy and stick like crazy, but also remove in seconds, leaving no residue behind! I've had great luck with these, and I use them on my mantle every year to hold stockings, then I just remove them after the holiday. (These are so great that I once used one to hang a picture on the wall in an apartment I lived in for a year. It never fell, and after a year on the wall, it removed perfectly cleanly!)
Hang stockings on walls and doors
Don't have a fireplace? No problem! Just hang the stockings on the walls or doors. The Command hooks I just described work great on any flat surface. My sister has no mantle, so she hangs her family's stockings on the wall by the Christmas tree every year, with a couple of small hooks.
These hooks are available in a variety of colors and finishes now, and you can match them to your interior. Jo has a fireplace for her family's stockings, but she likes to hang extras on some of the doors in her house. This is a particularly fun and easy way to decorate the bathroom door, closet door, or kitchen pantry door with a cute little stocking. So festive!
I hope you enjoy these tips and here's hoping Santa puts lots of goodies (and no coal
) in your stocking this year. If you have any other clever ideas for hanging stockings, we'd love to hear them!
If you liked this, check out these similar projects: