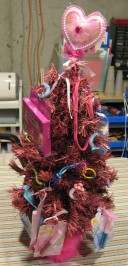 For the past couple of years, the large company where Chica and I have our day jobs has hosted a miniature tree decorating contest. After being displayed in the local office building, the trees are sent to the local children's hospital for the kids' enjoyment. It has been such a welcome success in the past, we decided to do another tree this year. Keep in mind that it's more than just a tree — you try to make the trees almost a gift. Most of the entries have some little presents attached to them that the kids can keep after the holiday is over.
Since Chica has a niece and I have a daughter, we are tuned in to all things girly, so we decided to make a pink tree adorned with all things princess-like
. We started by removing the burlap bag from the base and then painting the plain, green tree pink. We used a can of hot pink spray paint and then a little spray glue
on the tips to add the necessary glitter
. (One day, I need to write an entire post on glitter because I love it so!)
Once the tree dried, we wrapped the base in some hot pink feathery ribbon that I happened to own already. Then, we had fun decorating with make-up, hair accessories, nail polish and small toys. My favorite was stringing the hair ties together to make a garland for the tree. We topped the tree off with two magical wands.
This was a fun and easy project, and made a great gift for a deserving child in the hospital. If you don't have the opportunity to make a tree like this for a charitable organization, consider making one for a child on your Christmas list, and watch his or her eyes light up at the delightful surprise!
If you liked this, check out these similar projects: