When we moved into our new house four years ago, I felt the need to buy us new Christmas stockings to celebrate our first Christmas in the new house. Until that time, we had just used basic store-bought models. I knew I wanted handmade personalized Christmas stockings that looked like my grandmother made them and that would last a long time. Stockings are my favorite part of Christmas so I also like a bigger stocking to hold all the little toys and tangerines!
So, I was so happy when I found Aunt Joy. AuntJoy.com will make your stocking just how you want it. You can pick from so many different designs, materials and layouts. Pick which way the toe points and how you want your name to appear. She also has fantastic designs for baby's first Christmas stocking. You can buy stockings from her site or

visit her eBay store to find a premade style that she will add your name to and ship quickly.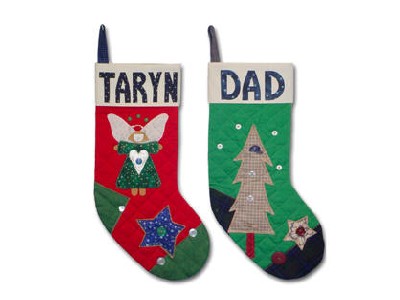 If you liked this, check out these similar projects: