How to host a chili cook-off party
by: Chica
Jo and I have a tradition every fall of welcoming the colder weather by having a huge chili cook-off party with all our friends. Party guests each bring a pot of their favorite homemade chili recipe and everyone samples them all and chooses their favorites. We always plan the party for the same time of year that Oktoberfest events are traditionally held, and we lovingly call our cook-off "OctChiliFest". Whenever you have it and whatever you call it, a chili cook-off is a unique way to get together with friends and have a fun, food-filled party that everyone will love.
Having held this party for about 10 years in a row now, we've gathered quite a few tips and ideas that help make it run smoothly, and I'd like to share them with you.
TIP #1 – Invite everyone, but pressure no one
Because all your guests will bring the food for this party, your costs as party host are minimal, so make the guest list contain as many people as you have room for. The more the merrier with this kind of party. Encourage your guests to bring a pot of chili to enter into the contest, but don't make it required or pressure them to participate. As long as you end up with at least 6 or 8 chili entries, you'll have a great contest, so don't worry if not everybody brings some. Our crockpot-inspired chili cook-off invitations are a really fun way to invite guests.
TIP #2 – Equipment is key.
Ask each participant to bring his or her chili in a slow cooker for easier serving. Have a couple of power strips and/or extension cords on hand so that you can easily plug in all those cords so that all the pots of chili can stay hot during the evening. And if you expect to have more than 5 or 6 crock pots going, you probably want to split the electric load onto two extension cords that are plugged in to two different circuits in your house. Otherwise you might overload the circuit and trip the breaker (we learned that lesson the hard way!) Keep in mind, too, that some guests will bring a ladle to go with their chili, but it's a good idea to have some extra ladles on hand for those who forget.
TIP #3 – Have the party outside if possible.
If weather permits, have the party outside. Get a couple of long folding tables (or several card tables) and line them up along the house or deck for people to put their chili on. Having the tables outside will let you have more room for all those slow cookers, and give everyone plenty of space. The best part about having the chili outside is that it will keep the inevitable dropped ladles and chili drippings off your carpet and on the grass instead!
TIP #4 – Keep the entries anonymous during tasting.
Your guests will find it much more fun if you keep the entries as anonymous as possible, so label them with numbers instead of names. Our chili pot labels make this super easy to do. Everyone will chat about how chili #5 is too spicy or chili #2 has a great flavor. It's much more exciting when you don't know who made what!
TIP #5 – Have lots of sample cups and spoons.
You want to encourage everyone to sample as many chilis as possible, and the best way to do that is to have a bunch of 2-ounce plastic portion cups. Combine that with plenty of plastic spoons and you'll see that everyone can easily get one or two bites of each chili and be able to sample them all easily.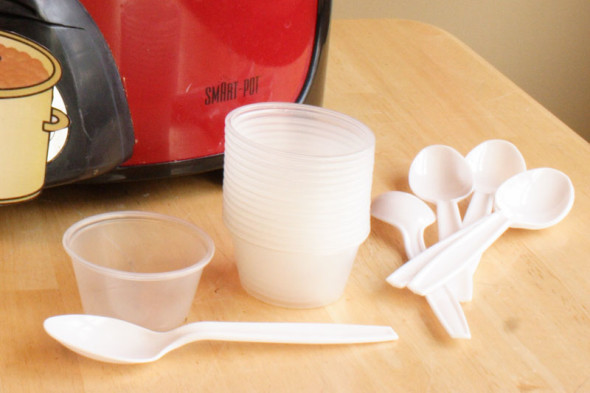 TIP #6 – Don't bring out bowls until the end Once the sampling is over, many people want to go back and have a full serving of the chili they liked the best. So it's a good idea to have some regular plastic bowls on hand for bigger servings later in the evening. However, don't bring them out too early, or people will fill up on one or two chilis before they get a chance to try them all.
TIP #7 – Decide on your voting system.
This isn't just a party — it's a contest — and you need people to be able to vote! The simplest approach to take is to have people sample all of the entries, select their favorite, and write that number on a slip of paper and put it in a bowl. However, this approach requires that everyone who votes must sample every chili in order to be fair (how can you say this is the best if you haven't tried them all?). For smaller groups, that might work well, but when you get more than 10 chili entries involved, not everyone will be able to sample them all, and if they do they might not be able to remember which one they liked best! In this case, you'll need a voting ballot that allows you to sample one chili and then score it individually, then move on the next chili and the one after that, and sample as many as you can. The winner will then be the chili with the highest average score for each category. We've come up with a system we really like for chili cookoff voting.
TIP #8 – Consider making sample trays
We find it can be difficult to manage scoresheets, a pen, a spoon, and samples all at once, so we came up with DIY sample tasting trays that really fit the bill.
TIP #9 – Have prizes for the winners.
People will be much more compelled to participate if you offer some great prizes for the winning chili. In the past I've had prizes such as gift certificates for local restaurants (Chili's is a fitting selection), chili-themed serving platters or sauce bowls, a mini Crockpot, or cooking equipment like a cutting board or mini food processor. I've even played up the Oktoberfest side of the party and given customized beer steins that declare their owner the chili champion of the year. You can also design a custom T-shirt for the winners that they will be proud to wear for the rest of the party.
My favorite prizes, though, and the ones the guests have loved most, are the ones that come with bragging rights. I recently started a new tradition of adorning the winners with medals from Crown Awards. They have a perfect chili pot medal, which I engraved on the back with the year and event name.
I also did a little extra this year and got the winners engraved wooden spoons from a really cool shop I found on Amazon. What a practical, yet personalized gift for the chili cookoff winners!
TIP #10 – Don't forget snacks and kid food.
As great as chili is, your average person doesn't want to eat chili all night long with nothing else. To help cleanse the palate and keep everyone's interest, offer a few snacks like a veggie plate, cornbread, crackers and cheese, cookies, or cupcakes. And if you're going to have kids at the party, remember that they won't all like chili, so a platter of hot dogs and fries or tater tots will go a long way towards making them happy.
TIP #11 – Have a variety of drinks on hand.
Of course you'll need to provide soda, water, and juice to your guests. If you think you might have a lot of really spicy chili entries, you might even want to have some milk available, for calming those fiery tongues! My friends and I tend to play up the Oktoberfest aspect of our party once again by having a wide variety of unusual beer on hand, which is also fun to sample throughout the evening.
TIP #12 – Save time and start with our printables!
If you like these ideas but need some help with the details, you might want to check out our Chili Cookoff Printables collection that's available on Etsy.
This collection has tons of coordinating printables that will help you make:
TIP #13 – Don't forget the decorations.
And for one last bit of inspiration, here are some fun decorations to add to your party. I love these festive chili pepper dishes for condiments like cheese and sour cream, and decoration is easy with chili pepper garland and chili pepper confetti. And who doesn't love a pinata?

similar projects

leave a comment: