My daughter went to the bowling alley the other day with her aunt and cousin and not surprisingly, came home with a few treats that she bought out of those 25 cent machines. We opened all of the little plastic containers and removed the prizes inside. I walked the containers over to the trash to pitch them and then stopped. Interesting shape, cute package but what could I do with them? Instead of tossing them, I placed them on my desk where they languished for about a week.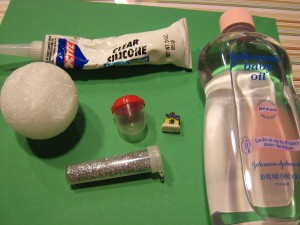 My inspiration came when my daughter and I were visiting my mom. Every time we go over there, the first thing she wants to play with is my mom's nice snowglobe. She loves to shake it, watch the snow fall and then shake again. Unfortunately, it is glass and heavy so we must be very careful with it. However, we wouldn't have to be careful if I made snowglobes out of the plastic vending toy containers! They were the perfect size and shape to make my daughter some personal, not-as-breakable snowglobes!
I relayed my thought to Chica and she said that her Girl Scout troop used to make them. All I needed was some silicone sealant
, glitter and some oil or water. Here's what I did:
First, I found a cute snowman miniature ornament
leftover from last Christmas. I clipped his hanging string off and measured to see if he would fit in the container. The lid was a little taller than I would like so I used an old styrofoam ball to elevate the snowman a bit.
Next, I applied the silicone sealant
to the bottom of the foam and to the bottom of the snowman. I pressed the foam down into the lid and then placed the snowman. Now, all I had to do was wait!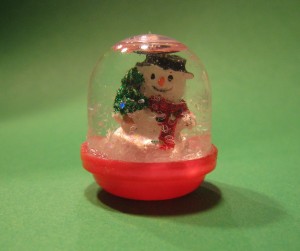 Finally, after waiting almost the required 48 hours to dry, I put some glitter into the bottom half of the container and then filled the container with baby oil. The oil makes the "snow" fall slower and in such a tiny container, I wanted it to fall as slowly as possible. You can also just use water or I have heard of people using a mixture of water and light corn syrup. I held the filled container over the trash can to put the lid on since the snowman will displace some of your baby oil. Flip it over and you have a miniature snowglobe!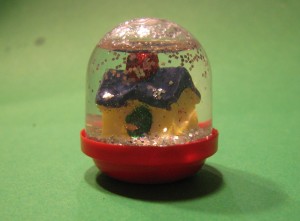 The seal on these containers is pretty tight but since my toddler would be playing with it, I decided to add a bead of silicone sealant
along the outer edge of the lid to make it more water tight. Of course, if the worst happens, it's not that big of deal because it is plastic, has a such a small amount of oil in it. I presented my daughter with her own personal snowglobe and she loves it!
If you liked this, check out these similar projects: