I seem to have a slight obsession recently with vinyl wall art. It started out with a little fix in my daughter's bedroom. Then, it grew exponentially when I found some adorable robots at the local craft store. The walls in my husband's office were bare so I bought two of them and surprised him by hanging them on the walls before he came home. Being the geek he is, he loves his new robots.
After the success in my daughter's room and my husband's office, I hit the internet to see what else was available. I stumbled upon the site, vinywallart.com. I couldn't resist all of the cute designs they had. I even did a freezer paper stencil with their adorable owl. I liked the stencil so much, I decided I had to have the real thing! The hardest part was deciding where I wanted the art and then what color. There are so many color options on the site, it's hard to pick just one. I ended up with a white owl and white Russian nesting dolls. The image above makes them look grayer because I had to adjust the contrast so you could see them. Both of these are in my kitchen, which is a pale yellow like the Russian doll picture. When you walk in the room, you don't immediately notice either of them. The owl is above the doorway leading out the the hall and the dolls are above the window looking into our sunroom. They make me smile every time I see them. Isn't that what art is supposed to do?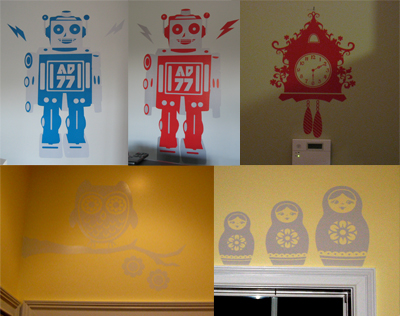 The last one I bought, the cuckoo clock, is definitely not subtle. It's on the wall directly inside our front door. I went with bright red because I wanted the high contrast and my front door is red. I had been looking for something to go there for quite some time and I am thrilled with my final selection.
I think my next one is going to be this
tree I found on ebay. I can picture it on the wall in my mudroom with hooks placed on the branches to hang scarves and hats.
If you liked this, check out these similar projects: