Make your own custom notepads
by: Chica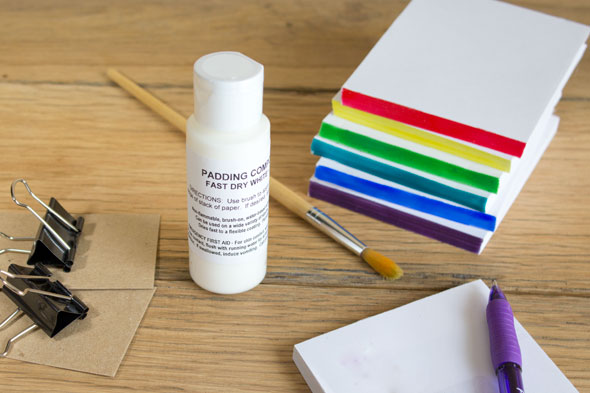 I've always wondered how to make my own custom notepads, and recently I'll learned the trick. The key is a special type of glue called padding compound and it's a simple adhesive that you apply to a stack of paper to turn it into a notepad.
We have had endless fun making custom, personalized notepads and doing various fun projects with it, and are still coming up with new ideas for more. It's so easy to use, too.
First, take a stack of paper — any color, type, or size you want — and tap it on the table so that one side is as flat as it can be. If you want your notepad to have a sturdy back, add a piece of cardboard, cut to the same size, to the bottom of your stack.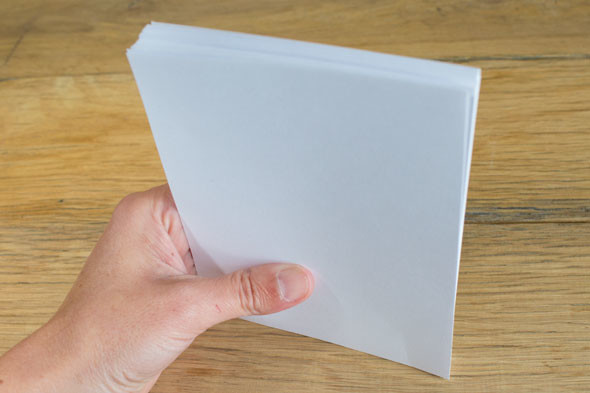 To keep the end of the paper firm and tight, add a piece of cardboard to each side and secure with a couple of binder clips.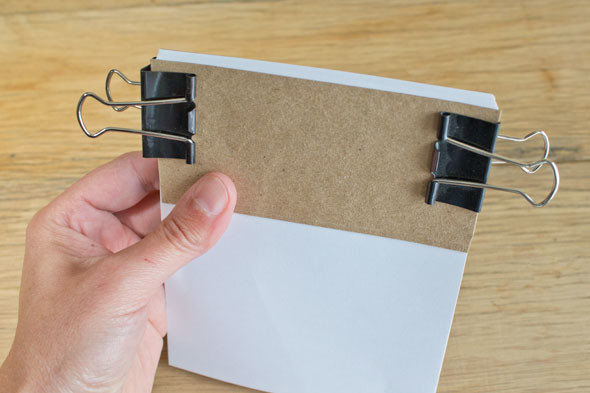 Use a small brush to apply the padding compound liberally along the edge of the pad. In just a few minutes' time, it will dry to a smooth, flexible, non-sticky finish. If you have a particularly large notepad and would like extra strength, you can also apply a second coat.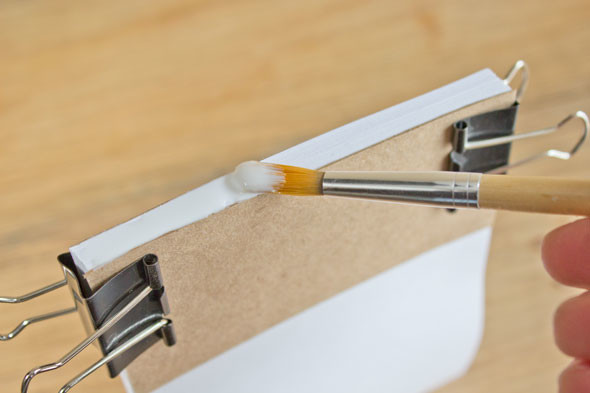 And just like that, you've made your own custom notepad! The padding compound makes a wonderful, flexible bond that will hold the pages tight. And when you're ready to remove a sheet, it will peel off smoothly and cleanly.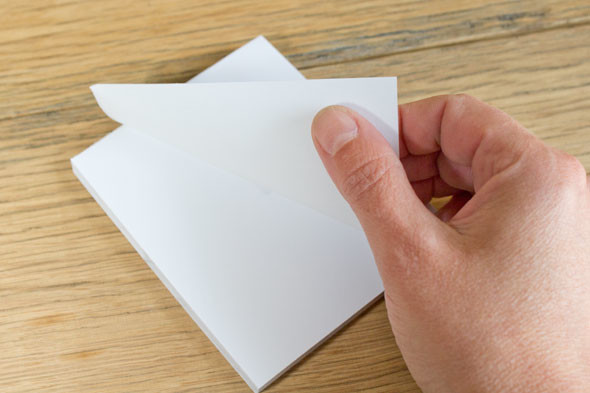 Pretty easy, huh? So where do you get padding compound? Well, it's pretty industrial stuff, and most places only sell it by the quart or gallon. Since it takes such a tiny amount of the compound to make a notepad, that would practically be a lifetime supply, which may be a bit much for the typical crafter. Fortunately for you, we sell more reasonably-sized 2oz bottles of padding compound in red and white, available in our Amazon store. One bottle is enough to make dozens of notepads. (See our estimation guide below to see how much coverage you can get from one bottle.)
But it gets even better! Our white padding compound can be tinted with ordinary acrylic craft paint to create custom colors. Just mix a small amount of paint into the compound to get the color you want. Just don't add too much paint, or you'll compromise the strength of the compound. And remember that it will dry darker.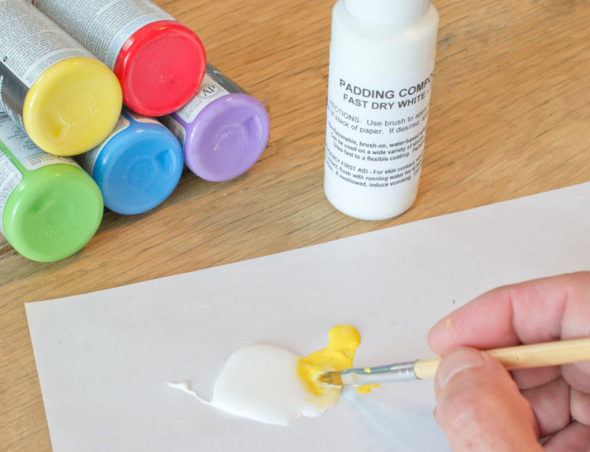 With this trick to make your own colored padding compound, you can make a rainbow of notepads. With the wide variety of acrylic craft paints available, you'll be limited only by your imagination.
You can make so many types of notepads using this compound. From DIY mat stacks for scrapbooking to scratch pads made with recycled paper from the office, you'll have fun making your own notepads. If you're looking for a unique gift idea for a high school graduate or newlyweds, get a stack of new $1 bills from the bank and glue them into a pad. They'll enjoy tearing off the money one bill at a time when they're away at college or on their honeymoon.
We also love bundling our business cards into a stack. My Honey is always scattering his business cards all over his truck if they're loose, but making them into a pad keeps them collected and easy to access.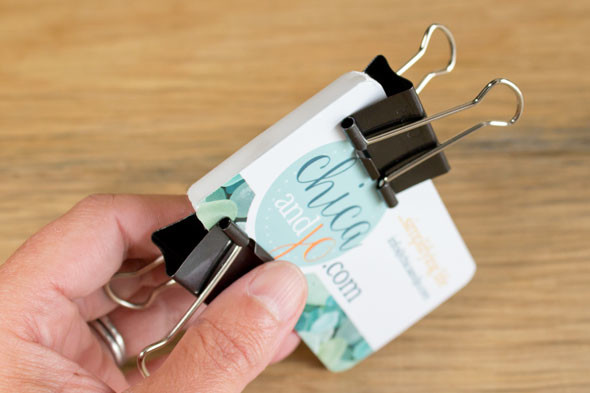 Jo and I enjoy keeping our cards bundled as well, and everyone is always delighted when we pull a card off the stack to hand them.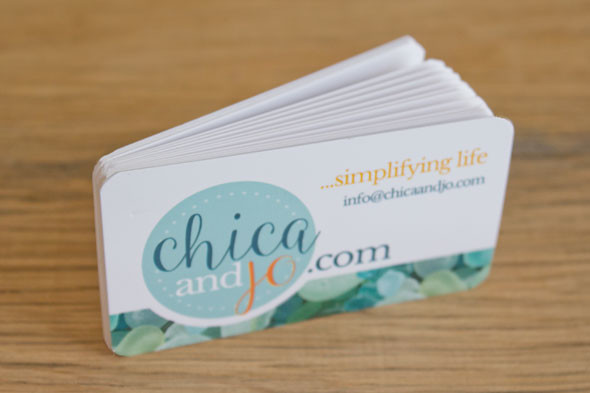 We've got a several other tutorials with custom notepad ideas, such as our printable grocery lists, the gin rummy scoresheets I made for my Grandma, and the custom photo notepads I made with my niece's photo.
You may also be wondering how many notepads you can make with one of our 2oz bottles. To help you out, we've done some testing, and found that one 2oz bottle of padding compound will cover about 120 square inches of surface with one nice thick coat. Trust us, that will last a long time!
To help you with the math, we've made the following chart. You just need to measure the width and thickness of your stack of pages and look them up in the table below to get an estimate on how many you can make. For example, if you're making notepads out of a quarter sheet of paper, measuring 4″ wide notepads that are 1/2″ thick, you could make about 60 notepads.
(You heard me say estimate, right? Actual coverage will vary depending on individual application style!)
HOW MANY
NOTEPADS
CAN I MAKE?
HOW THICK IS THE NOTEPAD?
0.25″
0.5″
0.75″
1″
1.25″
1.5″
1.75″
2″
HOW
WIDE
IS
THE
NOTEPAD?
2″
240
120
80
60
48
40
34
30
2.5″
192
96
64
48
38
32
27
24
3″
160
80
53
40
32
27
23
20
3.5″
137
69
46
34
27
23
20
17
4″
120
60
40
30
24
20
17
15
4.5″
107
53
36
27
21
18
15
13
5″
96
48
32
24
19
16
14
12
5.5″
87
44
29
22
17
15
12
11
6″
80
40
27
20
16
13
11
10
6.5″
74
37
25
18
15
12
11
9
7″
69
34
23
17
14
11
10
9
7.5″
64
32
21
16
13
11
9
8
8″
60
30
20
15
12
10
9
8
8.5″
56
28
19
14
11
9
8
7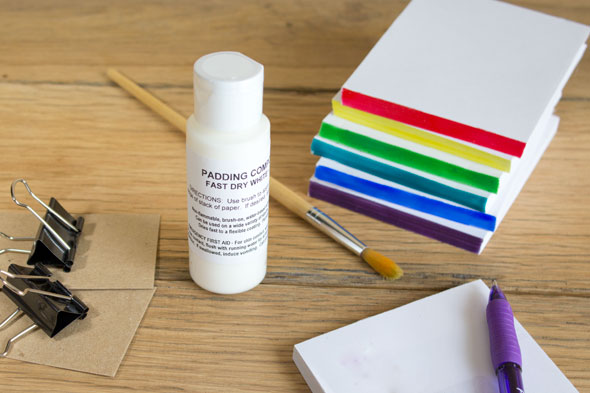 similar projects

leave a comment: