Halloween is coming up soon and I can't wait! There's so much fun to be had on this holiday and I enjoy acting like a kid and eating candy for a week.
There's also a lot to do to prep for Halloween. By the time I decorate the house and yard, come up with costume ideas (I still don't have an idea for this year!), buy or make our costumes, and buy candy and pumpkins, sometimes I find that actually carving those pumpkins into jack-o-lanterns can be so messy and time-consuming that I have to admit — there have been years when I skipped the carving entirely!
But then I found the quickest, easiest, and coolest pumpkin carving idea ever. Take a look at my vomiting jack-o-lantern.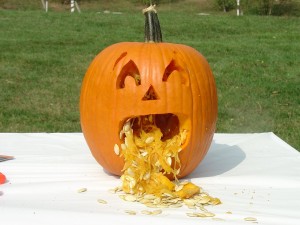 Kids and adults alike will go crazy over this jack-o-lantern, especially when they find out it took you less than 10 minutes to do! Here's how:
The first time-saving step is to NOT cut a hole in the top of the pumpkin. It's not necessary with this design.
The second time-saving step is to NOT scoop out all the seeds and guts from the pumpkin. You'll need them to stay there for this effect.
Use a kitchen knife or pumpkin carving kit to carve out the eyes and nose on your jack-o-lantern. Then cut out a large round hole for the mouth.
Now move the pumpkin to its final resting place, such as your porch, steps or sidewalk. You won't be able to move it easily after you complete the next step, so be sure you have it where you want it.
Finally, the fun part — stick your hand inside the mouth and grab a handful of seeds and goo and pull it back out, dropping it in a trail along the way.
So fun and so gross! And best of all, SO FAST!
I once participated in a pumpkin carving contest at a community picnic and did this design. I was done in 5 minutes, but everyone else toiled for an hour or more on their designs. And I won first place

If you liked this, check out these similar projects: