I love houseplants. My husband and I love houseplants so much we built a special room to hold all of them when we designed our house. Ironically, we only love houseplants that don't require lots of constant attention. To survive in our house, you have to be a fairly drought-tolerant plant! However, I do have an indoor blueberry bush
and a dwarf lemon tree
that do better if they have a bit more water.
It was while dining at a local Mexican restaurant that I saw a great idea for providing water between our "once every one to two weeks" regular waterings. They had used wine bottles shoved into the dirt to provide a slow drip of water. My husband was skeptical, he said it would gush out and be gone in a matter of minutes. I, on the other hand, wanted to try it because it looked cool and I had a container of old wine bottles I had been saving for a reuse project at some point.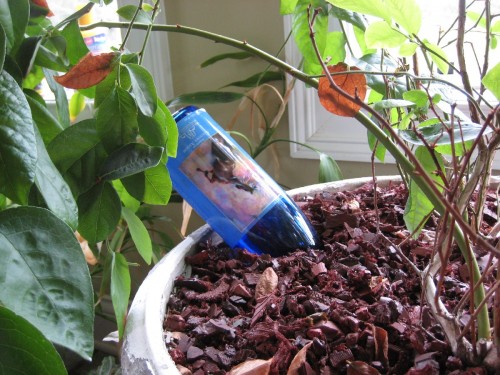 I used a regular-sized bottle in my blueberry bush and simply filled it with water and flipped it upside down quickly and shoved the bottle neck into the dirt. Then I timed how long it took for it to empty out. My timing told me it took somewhere between 6 and 8 hours for it to completely empty into fairly dry soil, which was a nice slow drip. So, now I fill a couple of attractive wine bottles with water when I think of it between waterings and let them drip into my two water-needy plants.
If you liked this, check out these similar projects: