Colorful swirled cupcakes
by: Chica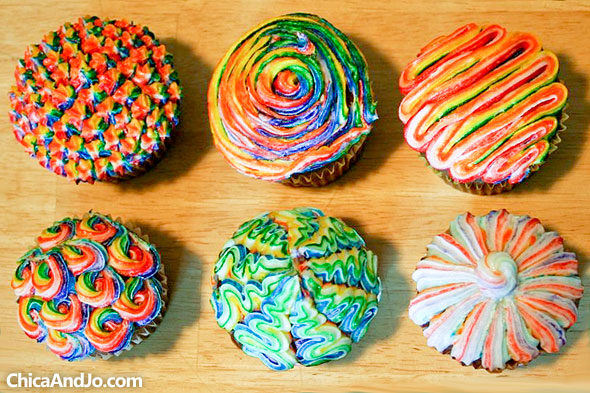 With as many ways as there are to decorate cupcakes, they can be really boring if you just slap some plain icing on them. I like to make them fun and interesting, and one of my favorite ways to do that is with colorful, swirled icing.
Rather than mix food coloring into the icing, I use it to paint the decorator bag, creating a result so crazy and cool that you won't believe you got it from such a simple technique. Let me show you how!
The first things you'll need, of course, are cupcakes and icing! This technique works best with white decorator's icing (see my recipe at the end of this post). You can use any white frosting you want (the whiter the better). As for equipment, you'll need some disposable icing bags, a star-shaped icing tip (I like size 18), and optionally an icing bag coupler (this allows you to swap tips easily). You'll also need a few small, clean paint brushes and some paste or gel food coloring in various colors. (It must be paste or gel. Liquid won't work.) Finally, grab a tall drinking glass, which will help to hold the bag for you.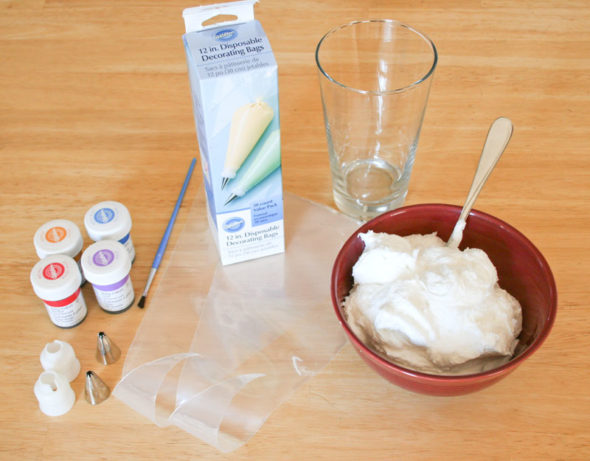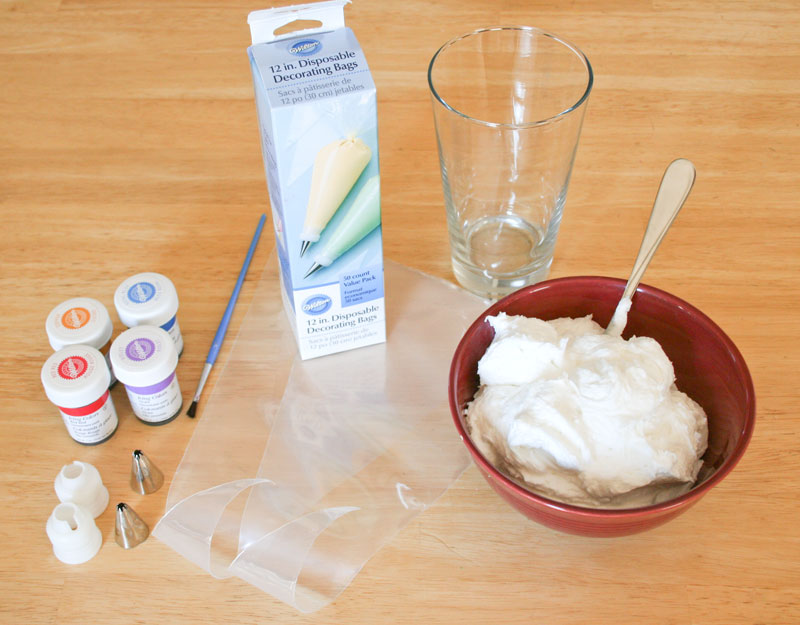 The best part about this technique is that you can choose any colors you want and can customize it to the occasion. You can use orange and black for Halloween, red and green for Christmas, or pink and blue for a baby shower. A rainbow of colors makes for a fun child's party treat (like Jo's Candyland party) and can even look tie-dyed. Using team colors will make a great addition to any sporting event, from a child's soccer game to a tailgating party.
You'll be painting from 4 to 6 stripes of color for your icing, but you can repeat colors, so you really only need at least 2 different colors (up to 6 max).
Okay, now for the actual technique! Attach the star tip and coupler to the disposable bag and flip the end of the bag out to form a cuff, so that you can reach the inside easier. Here's where the glass comes in handy, as it serves as a holder for the bag. Put the tip of the bag in the bottom of the glass and let it stand upright.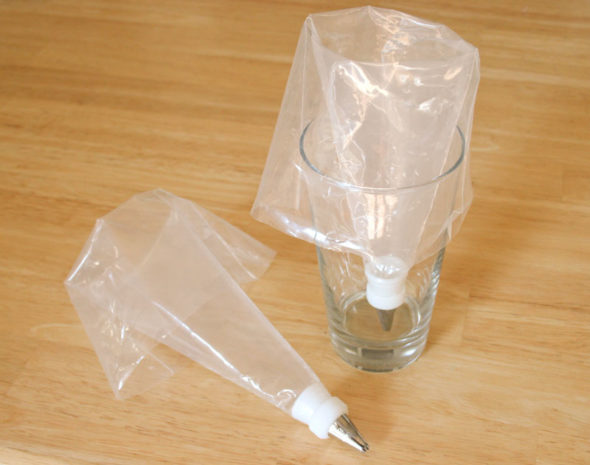 Now use the paint brush to paint stripes of color on the inside of the bag, starting at the tip and going up about 3-4 inches. Each stripe of food coloring should be fairly thick and about 1/2″ wide.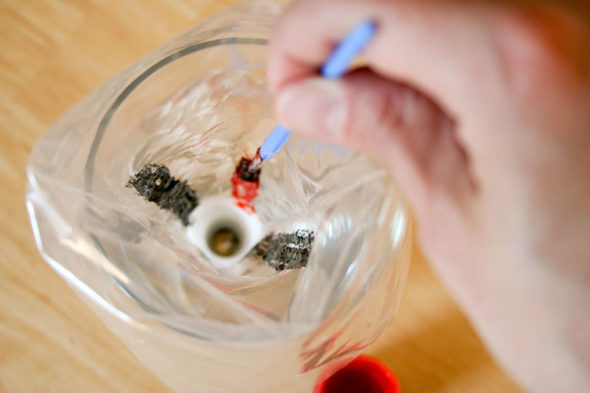 If you are using 2 or 3 colors, paint two stripes of each color, alternating them. If you are using 4, 5, or 6 colors, paint one stripe of each color. Be sure to leave some space between each stripe.
For a rainbow effect, add six stripes of color — red, orange, yellow, green, blue, and purple.
Now scoop a bunch of white icing into the bag with a spoon.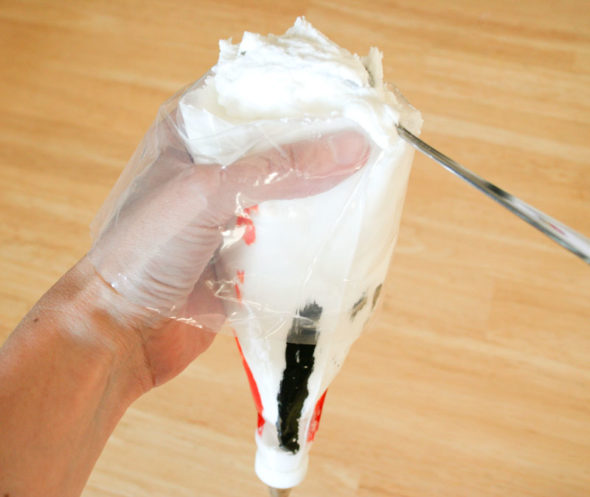 The stripes of color will be very easy to see now.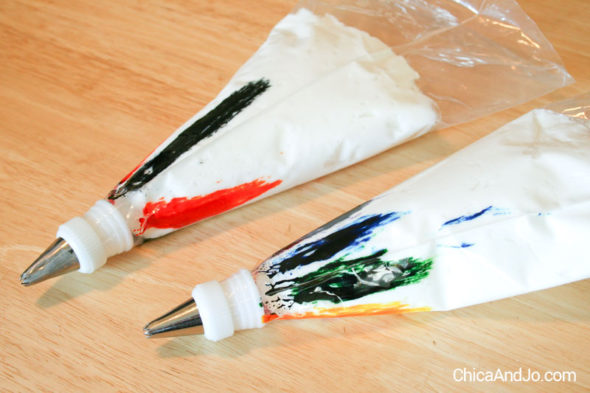 Twist the top of the bag to close it and squeeze icing out of the tip until it no longer flows white, but starts to show the colors you used. Pretty cool, huh?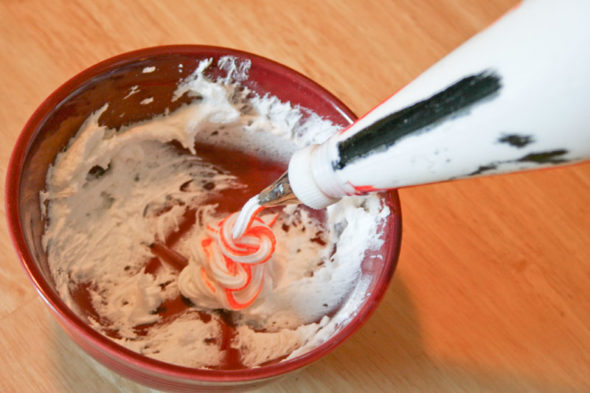 Now for the fun part! Squeeze the icing out onto the cupcake in any design or pattern you want. Here are some example patterns to get you started.
Idea #1: Squeeze small stars all over the top of the cupcake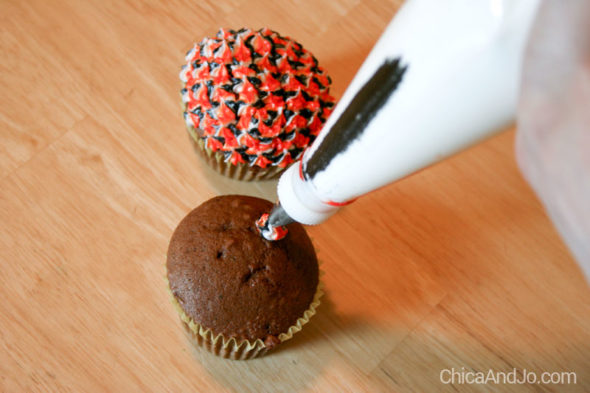 Idea #2: Start in the center and make a giant spiral out to the edges.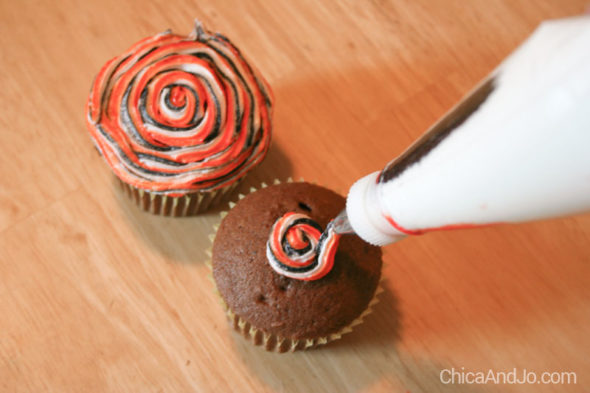 Idea #3: Cover the top with small, swirling, rosettes.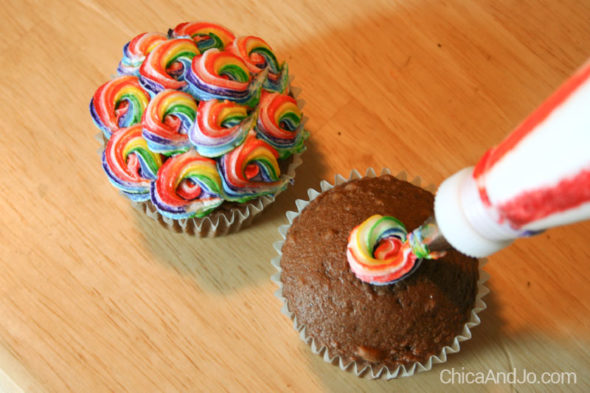 Idea #4: Start at one side and make a zig-zag back and forth.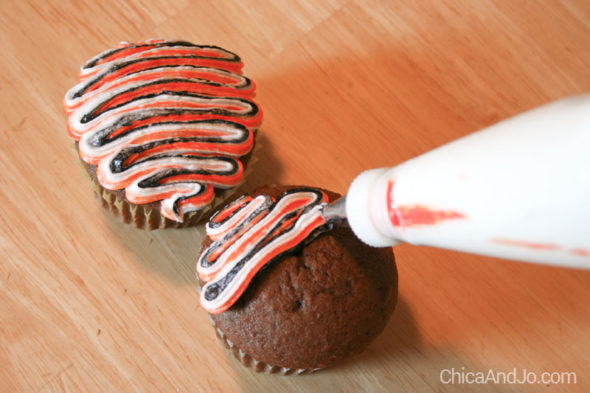 Idea #5: Make zig-zag segments that start on the edge and work towards the center, getting smaller as they go. Keep adding segments until top is covered.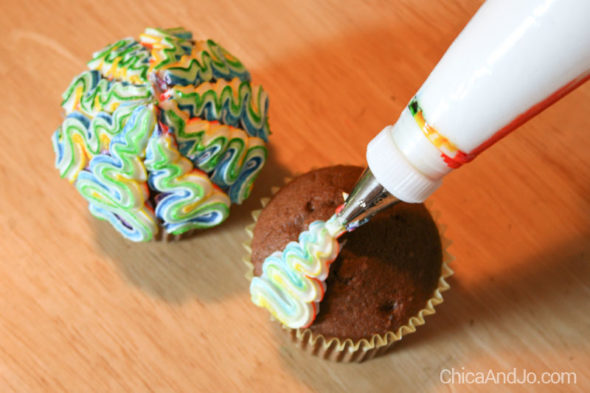 Idea #6: Cover the top with wiggly lines that resemble ruffles.
I'm always pleased and surprised by the finished cupcakes!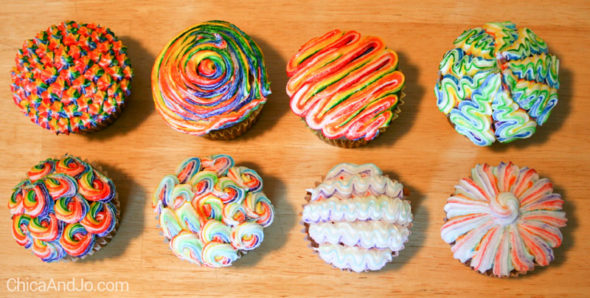 You can see that the color starts out bolder and fades as you do more cupcakes. Eventually you'll run out of icing in the bag, but unfortunately you can't just keep adding more, because your color will get all used up. You'll need to start with a clean bag each time you need more icing (which is why I like the disposable ones) and paint fresh stripes on it. You should be able to get about a dozen cupcakes out of one bag of icing.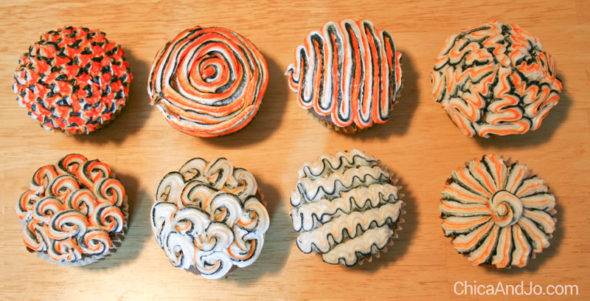 Chica's decorator's icing recipe:
One 2lb bag of confectioner's sugar
2/3 cup shortening
1 tsp vanilla
approx 3/4 cup water
Add sugar, shortening, and vanilla to the bowl of a stand mixer (I absolutely can not live without my KitchenAid
– especially for icing!). Add about 1/2 cup of water and begin mixing on slow speed. Add additional water as needed until the icing is the texture you like. Be careful not to add too much at once! (If you do, just add more sugar). Finding the right texture takes a little practice; too thin and your decorations won't be firm, but too thick and you won't be able to squeeze it out of the bag.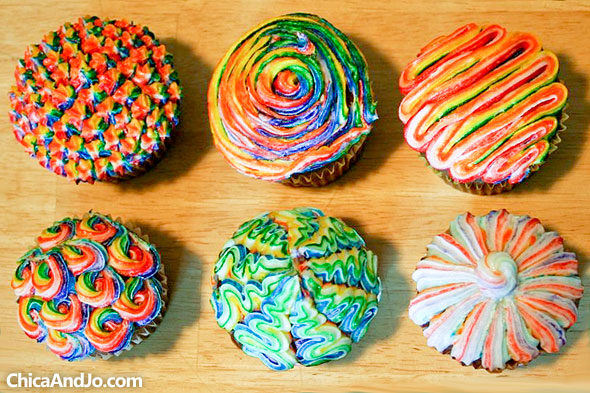 similar projects

leave a comment: