My home has a pretty typical split stairway leading to the second floor — it has 7 stairs in one direction, then a little landing, then another 7 stairs in the other direction. It's a nice compact staircase, but it leaves you with an incredibly huge expanse of wall there at the landing.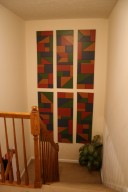 My wall is twelve feet high and 6.5 feet wide, which is a huge amount of blank white space that's hard to decorate. I struggled for months, trying to come up with an idea. The solution I fell in love with was to stretch my own custom canvases to paint and hang on the wall.
Before you get too scared at the idea of painting your own artwork, rest assured that anybody can do it, and the design can be very simple. The key to this project isn't the art, but it's the idea of the canvases and their placement, which breaks up the vast expanse of wall into an enjoyable view that's both bold and subtle at the same time.
Take measurements
Before you can begin making your canvases, you need to take lots of measurements and see exactly how big your space is and how big your art will be. Your measurements will vary from mine, but I will tell you about the process I used to determine my sizes, to give you an example of how it's done.
My wall is 12 feet high and 6.5 feet wide, and I knew I wanted about 1 foot of space on the top, left, and right sides, and about 2 feet of space on the bottom. I also knew I wanted six panels, split into two rows of three, and I wanted about 4 inches of space between each panel. By the time I did all the calculations, I ended up with the decision that my canvases would be 16″ wide and 55″ tall.
Make the frames
Making the frames themselves only requires a minimum of carpentry skills. You'll need wood, of course, and the craft/trim lumber section of your home improvement store will have everything you need at affordable prices. I suggest you go with long pieces that are about 1/2″ thick and 1.5″ wide. Cut the wood to the length you need for each side. In my case, that meant two 16″ long pieces and two 52″ long pieces. Miter the corners so that they fit together snugly, and secure each corner with a flat L bracket, screwed in with short screws.
Stretch the canvas
You will need a piece of canvas for each of your frames, and it should be 2-4 inches wider and longer than the finished frame size. You need this extra canvas so that you have enough canvas on each side to wrap around the wooden frame and staple to the back. So for my pieces, I knew my wood was 1/2″ thick and I wanted another 1/2″ on the back, so I would need 1 inch extra on each side. This meant my six panels of canvas should each be 18″ by 57″.

Take this measurement into consideration (and multiply it by the number of panels you're making) when purchasing your canvas, so that you make sure you get enough to cut out all the pieces you'll need.
You can buy large rolls of canvas from your local art supply store or from numerous online resources (our favorite source for rolled canvas is MisterArt.com).
I prefer primed canvas, which takes paint better and is

easier to work with. You'll need quite a bit, but you should be able to get a nice roll for around $50. I used C. R. Daniels Caroline Primed Canvas 72 in. x 6 yds
.
Once you have your canvas cut, simply lay it face down on the floor or a large table, and put the wooden frame on top. Use a sturdy staple gun
to attach the canvas to the wood frame, putting a staple every one to two inches. When you get to the corners, fold the canvas a

bit (think "hospital corners") to make a nice finished edge.
Attaching the canvas all the way around the frame and you'll see that it gives the frame extra strength and support and it should retain it's square shape with no problems.
Finally, attach a sawtooth picture hanger

to the middle of the top of your canvas so that you can hang your art when it's done.
Paint the design
Now for the fun part — the painting! Let your imagination go wild here. You can do something elaborate or simple, and you can make it match your house's decor. You can use paints of any sort, or even mixed media or fibers if you want. You could even paint each panel in a single solid color, and end up with a colorful and creative decoration for your wall. Just make it your own, and you're sure to love it.
For my design, I decided to go with simple geometric shapes. I drew out my design first and played around with the colors and got it just the way I liked it. I only made three different design patterns, and made two canvases of each pattern. I then avoided repetition on the wall by hanging one of each pair upside down, so it didn't match.

If you like my design and want to use it, here is a downloadable template for you to print out and use.
To paint my design on my canvas, I first sketched the lines in with pencil and a ruler, and then painted the blocks of color using ordinary acrylic paint.
When all the colors were dry, I masked off the outlines with blue painter's tape
and filled them in with a small brush and black paint.
When you paint your canvases, be sure to apply paint all

the way around the sides of the canvas so that the white is completely covered. This will make a much more finished product that will look good on your wall without framing.
The result
Now just hang your canvases on the wall and admire the result. You'll find that the giant expanse of wall is gone and interesting artwork has replaced it. I've gotten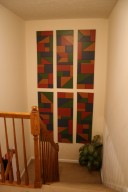 more compliments on this art than on any other decoration in my home, and I couldn't be happier with the results.
The best part is that I can take these panels with me if we move to a new house — and they don't have to be hung in the same way next time. I could easily hang any number of them next to each other on a wall in a hallway, dining room, or over a tall fireplace. I could even hang them horizontally instead of vertically next time if I want to.
Don't be afraid of art and don't be afraid of stretching your own canvases. You can do it with not a lot of work and fantastic results!
If you liked this, check out these similar projects: