Recycle wine corks to give a plain basket new life
by: Chica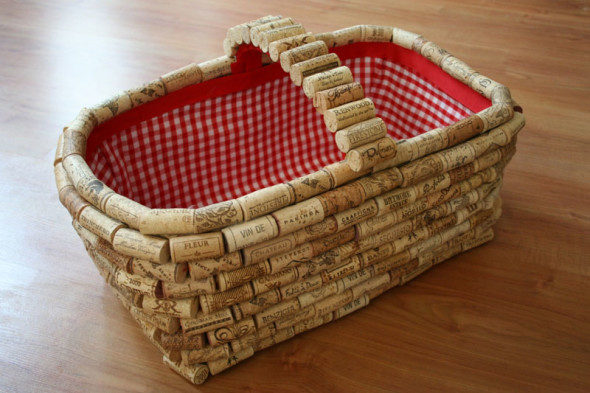 When some friends of mine moved recently, they were eager to get rid of as much as they could to avoid having to pack it and move it. They had a giant bag full of corks they had saved, and asked me if I wanted them. I was eager to add them to my own cork collection and vowed to actually use them for a project. As luck would have it, I set them on a shelf next to a plain old wooden basket and inspiration struck. I could cover that boring basket with corks and make a charming and creative new picnic basket! If you can operate a hot glue gun, you can do it too.
If you're reading this post, you've probably already got a ton of corks you've been saving, and you'll need several hundred of them for this project, depending on the size of your basket. If your collection is still growing, though, and you need some ideas for how to get more corks in a hurry, here are some suggestions:
Ask managers at local restaurants or bars – Restaurants go through plenty of wine in a day, so ask nicely and they'll probably be more than happy to save some for you. This is a great way to get a wide variety of corks, too.
Visit local wineries or tasting shops – Depending on where you live, you might have several wineries in your area. If they offer tasting parties to visitors, they'll go through a lot of wine corks and would probably be glad to save them for you for a fun project.
Believe it or not, nursing homes and assisted living facilities are great resources for corks. According to a good friend of mine, they drink a lot of wine there!
When choosing your basket, pick something with smooth sides that's very plain and ordinary (so that you won't feel bad about covering it). I chose a pretty standard wood basket that I picked up at a farmer's market, full of veggies. It is very lightweight but sturdy. This basket worked well because the sides are flat and smooth, it has a nice wide opening and the handle is wide and flat. It also helped that the corners were slightly rounded.
You'll also need glue gun and a LOT of hot glue.
If you want to line the basket, you'll need some fabric and ribbon.
My basket had a very thin top edge that was rather ugly, and I wanted to cover it with a nice row of corks. Getting a round cork to stick to the edge wasn't going to work, though, so I used a utility knife to cut a groove out of the cork.
Once you have a piece cut, dry fit it to make sure it will work, then squirt some hot glue into the groove.
Then place the cork on the top edge of the basket and hold it in place a few seconds until the glue dries. Keep working your way around the edge until it's covered.
Note that when you get to the corners of the basket, you'll get a more streamlined look and a better fit it you cut the ends of the corks off at an angle, and mitre them against each other.
With the top edge finished, you can start applying more corks to the side. Start right under the row you already have, and use a liberal amount of hot glue so that the corks have plenty of sticking power.
Continue covering the sides, row by row.
When the sides are completely covered, turn the basket on its side and take a look at the bottom. Depending on the basket you chose, you may or may not want to cover the exposed bottom with something.
Since my basket was so thin, I decided to cover the bottom with sheets of cork board tiles, which matched the theme. I just hot-glued them in place.
Note that we have not glued anything on to the handle yet – we're using the handle a lot to hold the basket, so let's save it for last.
You may want to line your basket to make it even prettier. I got a piece of cute red-and-white gingham fabric and sewed the corners up to make a rectangular lining that fit my basket. I secured the bottom of the lining in place with a dab of glue in each corner, then liberally applied glue around the top edge, securing the cut end of the lining to the basket.
I then used some red grosgrain ribbon (again, applied with hot glue) to cover the edge of the fabric, making sure that the ribbon was right next to the corks. I also glue some ribbon to the underside and sides of the handle, to make it match.
For the final touch, I glued some corks along the flat handle of the basket. This may not be possible with all basket types, but it worked for mine and I loved the effect.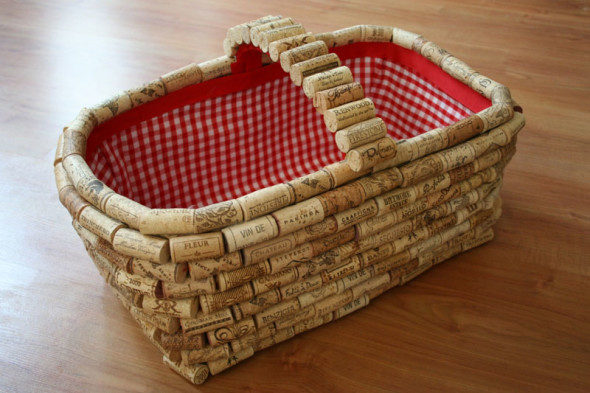 Oh, one more thing… Now that you've hot-glued to your heart's content, you might find that your project is covered with those spider webby hot glue threads that take forever to pick off. Be sure to check out my post about how to get rid of them!
What I've created here is an adorable basket that looks great displayed on a shelf or also makes an incredibly charming picnic basket for a romantic evening. This technique could be applied to lots of different styles of baskets, though, such as:
Cover small baskets with corks and use them to hold flower arrangements for table centerpieces at a vineyard wedding reception.
Fill a cork-covered basket with wine, cheese, and bread and give it as a housewarming gift for a wine-loving friend
Hosting a wine tasting in your home? Cover a shallow basket with corks and use it to hold things like name tags, wine charms, wine review tags, corkscrews, or even used corks!
Decorate your kitchen with a cork-covered basket that can hold your fruit, veggies, keys, or change.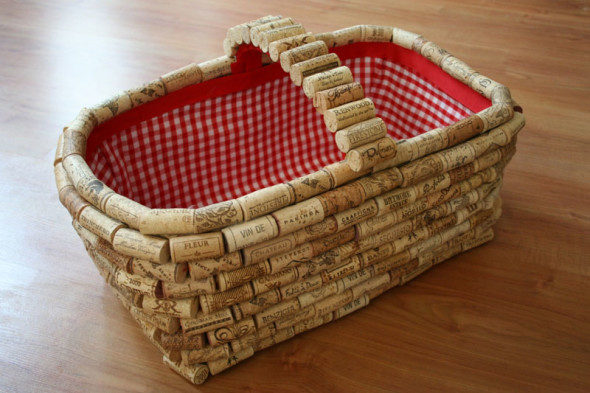 similar projects

leave a comment: