Create fun covers for boring Post-it® notes
by: Chica
My day-to-day life (both work and personal) depends heavily on Post-it®
notes, and I use them for all sorts of reminders. I have one set of personalized note pads with my business information and one set with personal information. I've even taken to carrying them in my car or backpack, because they are so handy for quick notes that I need to leave here or there. The problem with carrying them around, though, is that the sheets get messed up as they are tossed about and handled. Then I saw an idea for solving this problem by covering the notepads in a way that not only protects them, but also makes them look so cute I can hardly stand it!
Gather the supplies
The first thing you'll need is a pad of Post-it® notes, of course! They are available in a variety of colors
and sizes, but the measurements in these instructions will assume you are using typical 3″x3″ pads of 100 sheets, which are about 3/8″ thick. (Once you get the technique down, you can use other sizes of pads and adjust my measurements accordingly)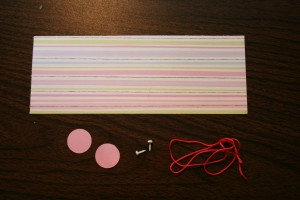 You'll also need a piece of decorative paper or card stock that is cut to 8″x3″. This will be the cover for your notepad. Card stock will make a sturdier cover, but regular scrapbook paper will fine too.
(By the way, if you're like me and make a lot of 8″x8″ scrapbook layouts with 12″x12″ paper, you'll see that this project is a GREAT way to use up that little 4″x12″ scrap that's left over. I have tons of those in my scrap box!)
Use a circle punch
or circle cutter
to make two 3/4″ circles out of coordinating card stock.
Select two mini brads
that match your paper.
Find a piece of embroidery floss
(or other thin string) that matches your paper and cut a 12″ length of it.
Now that you've got everything together, we're ready to get started.
Make your template
If you're going to make more than a couple of these, the easiest way to get your measurements right every time is to make a template.
The easy way: Just download and print our free template.
The harder way: Make your own. You'll start with a plain white piece of 8″x3″ paper or card stock. Using a ruler and a pen, mark a line 1-1/4″ inches from the right side of the paper. Then move to the left another 3/8″ and mark another line. Make a third line 3″ to the left of the last one, and a fourth line 3/8″ to the left of that. That's all you need for a nice reusable template that will make your measuring so much easier from now on.
Score the paper
Lay your template face up on your table. Put your printed cover paper right below it, face down, making sure it is aligned perfectly with your template. Place your ruler along one of the lines so that it covers both sheets of paper and use a bone folder to score the cover paper. Continue until all four lines are scored on the cover paper. (See how much easier that was than measuring over and over?) Then fold the cover paper along each of the score lines.
Attach the Post-it® pad
Peel the backing off the pad, exposing the sticky area of the last sheet, and stick the pad to the cover. Wow, that was easy, wasn't it?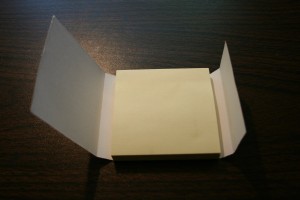 Attach the fasteners
Start by poking a tiny hole in the center of each of your circles and pushing the brad through it. Do not fold back the brad yet, just leave the legs straight. Now take your floss or string and tie one end around the legs of one of the brads, in a nice knot.
Take the circle/brad that does NOT have the string attached and poke it through your cover stock in the middle of the 1-1/4″ portion of the cover. Fold the legs of the brad back to secure it in place.
Close the cover on the pad and then take the other circle/brad (the one with the string attached) and find a nice place for it on the cover, being sure to align it with the other circle that you've already attached.
Poke the brad through the cover and fold the legs out on the back to secure it in place.
Now take the length of floss or string and loop it in a figure 8 around the two circles a few times, then trim off whatever is left. The string can be wound and unwound repeatedly to open and close the cover.
The results and some example uses
Isn't the finished product SO CUTE?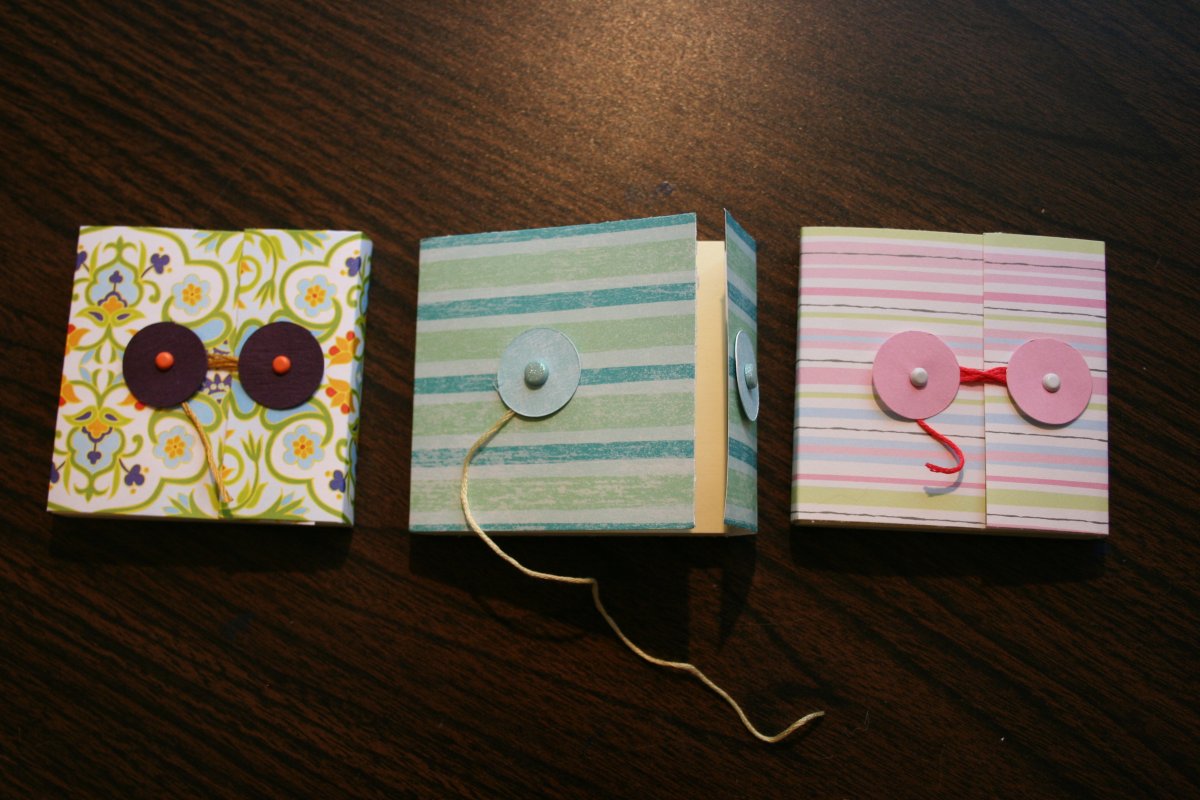 In no time, you can make a bunch of these with hardly any supplies. Obviously they're great to make for yourself, and you can stash one in your:
purse
glove compartment
backpack
desk drawer
But these are so cute that they can serve more purposes, including:
They make great party favors, whether it's for a bridal or baby shower, luncheon, or even a wedding. Imagine cover stock printed with a photo of the bride and groom!
Let your kids use school-themed cover paper to create fun teacher gifts that their teachers can actually use!
Kids love anything sticky, and Post-its are no exception. Hand out a stack of these during a play date or birthday party and the kids will have a ball.
Cover them with Christmas paper and use them as stocking stuffers
Make them into useful Thank You cards. Next time you receive a gift, write a few grateful words on the first page, pop the whole thing in an envelope, and rest assured that the recipient will be delighted. I wish I had thought of this idea back when I got married!

similar projects