Ribbon-embellished blankets
by: Chica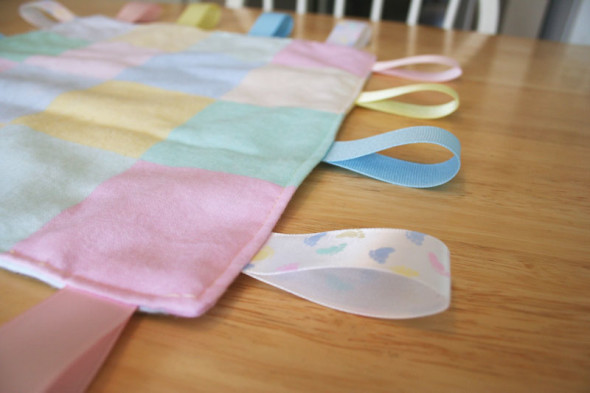 Ever notice how you can give a baby a stuffed toy and the first thing he does is go straight to the soft, ribbon tag? Tags are fascinating to babies and they love to play with them and put them in their mouths. So why not make a blanket with lots of ribbons on it, so that the baby can focus on what she loves most? It's easier to do that you might think.
The material for your blanket should be something soft and baby-friendly. My favorite materials to use for this are microfleece, and flannel, because they are super soft and thin enough to sew easily. You could use regular fleece too, but be ready for a battle with your sewing machine when you get to the part where you're sewing several thick layers of fleece and your thread wants to break!
For the ribbons, you can use any ribbon you like, as long as it's made of fabric and baby-friendly. I prefer satin and grosgrain ribbons. You can use just one color or mix and match the patterns of ribbon for the effect you want. My favorite ribbon width to use is 3/4″, but you can use variations. This is a great way to use up extra bits of ribbon leftover from scrapbooking!
You'll also need some straight pins,
thread, a sewing machine,
and scissors
for this project.
Figure out how big you want your blanket to be and cut two layers of fabric 1″ bigger than that. In other words, for a 12″ blanket, cut two pieces of fabric 13″x13″ (Fig 1). That will give you a seam allowance of 1/2″ on each side.
Cut the ribbons into 6″ lengths. You'll need to put one ribbon about every 2 inches along each side of the blanket. For a 12″ blanket, I use 4 ribbons on each side (16 total).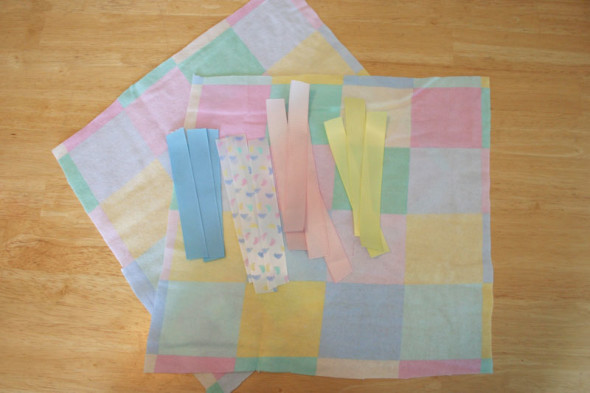 Lay one piece of material face up on the table. Take a ribbon and fold it in half and pin it on top of the fabric so that the folded edge is towards the middle and the two cut ends are touching the end of the fabric. (This may seem wrong, but we're building this blanket inside out, and it'll all work out when we flip it later.) Be sure to put the pin at least an inch away from the edge of the fabric so that it won't get in the way of your sewing.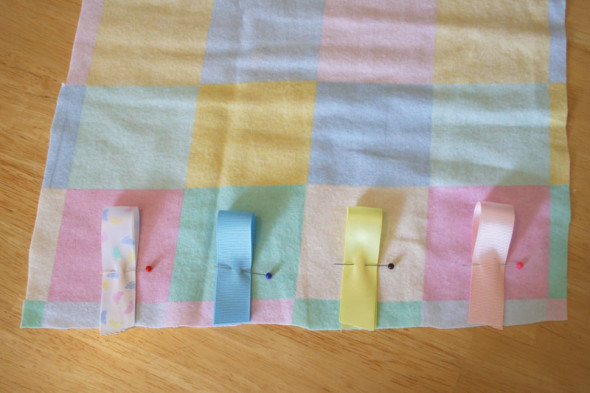 Keep pinning ribbons along one side, spacing them about 2 inches apart. Now do the same thing for the other three sides. When you get to the corners and find that two ribbons overlap, don't worry; just pin them down together.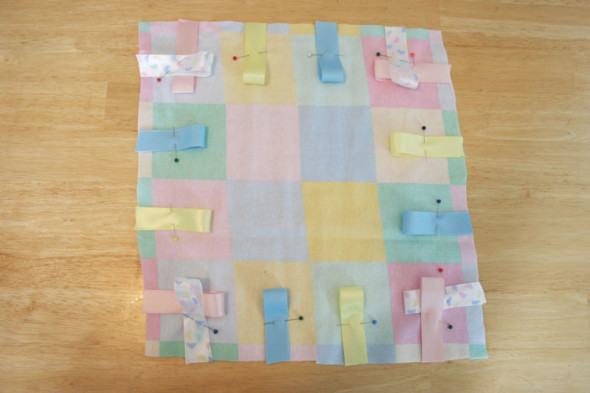 Now lay the other piece of fabric face down on top of your pinned piece, aligning the edges. Secure with a few more pins. Take this to the sewing machine and sew around all four sides, about 1/2″ in from the edge, making sure you catch both ends of each ribbon as you go. However, be sure not to sew ALL the way around — leave a gap of about 2 inches open — so that you can flip the blanket inside out.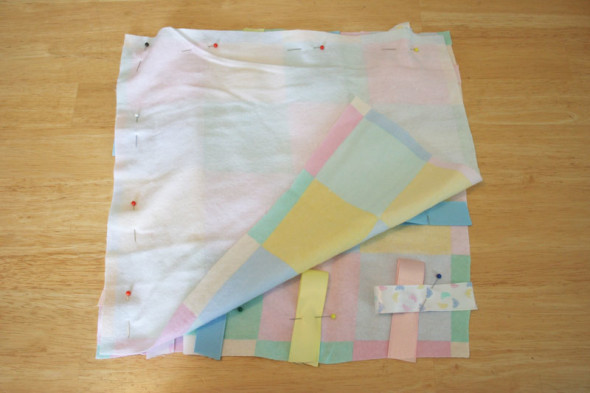 When you're done, take your scissors and snip the point of fabric off of each corner, but be careful that you don't cut the stitches. This will keep your corners from being too bulky when you flip it.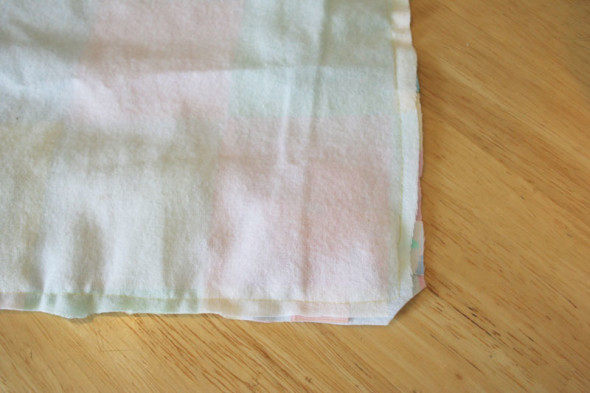 Carefully turn the blanket inside out by pushing it through the little gap you left in the stitching. Be very careful, because there are lots of sharp pins inside! You can remove all of the pins as you see them. You'll notice that the one ribbon that was next to the stitching gap is still loose, because you didn't sew it down.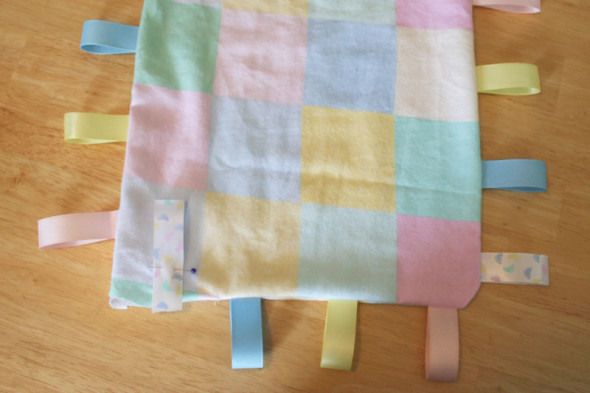 Remove the pin from this ribbon, too. Fold the edges of fabric along the gap inwards and tuck the ends of the loose ribbon inside.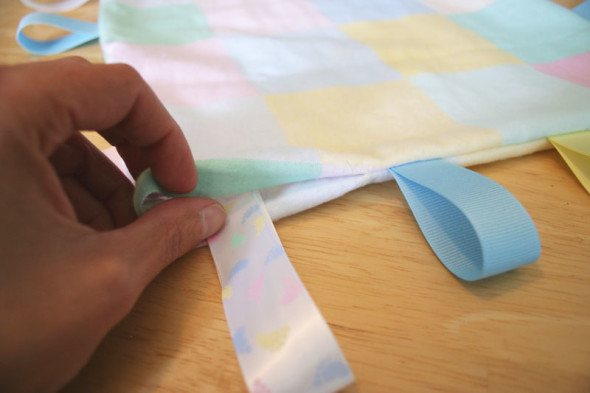 Pin it in place, being sure to go through all layers of the fabric.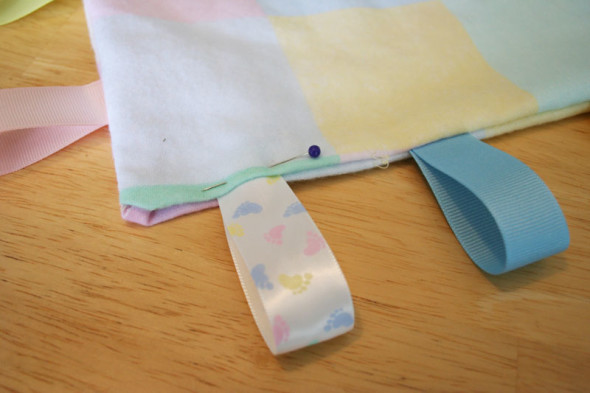 Now one more trip to the sewing machine. This time, you'll want to sew as close to the edge of the fabric as possible, and all the way around. This row of stitches will serve several purposes: it will close the gap you left for flipping, it will secure that last loose ribbon in place, it will add extra strength to the stitches holding the ribbons in place, it will help keep the blanket flat, and it will look pretty!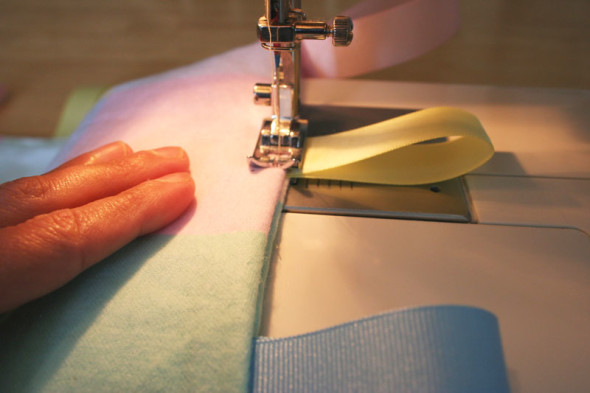 And now you're done!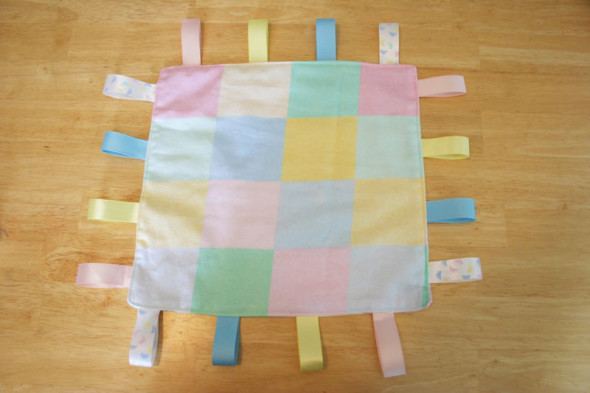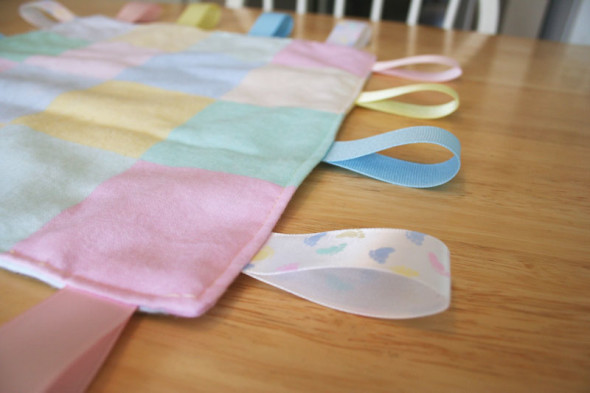 similar projects

leave a comment: