A good friend of ours, Gretchen Sheridan, has been kind enough to share her card making talents with us and you, our readers.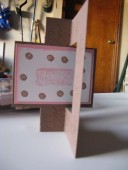 She does a combination of painting, inking, stamping and scrapping to come up with her one-of-a-kind creations. I've given a few of her cards to friends and family and the recipients are always pleased with the homemade touches.
One of our favorite ideas Gretchen showed us was her swinging card design. We asked her how we could make them ourselves and she kindly shared her technique with us in this easy-to-follow downloadable tutorial.
Click here for Gretchen's tutorial on how to make your own fold out greeting cards.
To see more of Gretchen's unique designs, be sure to visit her blog.
If you liked this, check out these similar projects: