Make campfire starters
by: Chica
My husband and I love to camp, and if there's one you thing you have to have for a successful camping trip, it's a fire. We learned long ago that the availability of dry kindling will vary from campsite to campsite, so we now come prepared with our own homemade fire starters. These little gems will light every time, and make starting quick, easy, and free of frustration. They are safe to carry, environmentally friendly (a great way to recycle otherwise-wasted products), and non-toxic.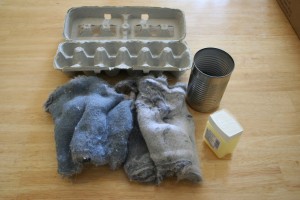 There are two different types of fire starters that I make, depending on the supplies I have on hand. However, both styles have two key ingredients in common: paper egg cartons and dryer lint. These are both items that are usually discarded without a second thought, but this is a great way to reuse them and keep them from the landfill.
The paper egg cartons (don't use the foam or plastic ones) have twelve perfectly sized compartments and are made of a material that is easy to light. The dryer lint will burn very easily, and for a long time when packed tightly. All you need to add is a little long-burning "fuel", and this can be in the form of petroleum jelly or — believe it or not — old melted crayons.
Petroleum jelly fire starters
To make the petroleum jelly fire starters, start by filling the egg carton compartments halfway full of dryer lint. Then grab a big glob of petroleum jelly (generic brands work just as well as Vaseline
, and are cheaper!), measuring about 1 tsp or so.
Put the petroleum jelly in the middle of the lint then pack the carton tightly with more dryer lint.
Finally, cut the twelve compartments of the egg carton apart with scissors.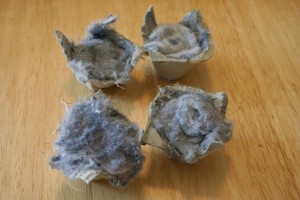 Melted crayon fire starters
To make the melted crayon fire starters, I start with some old broken bits of crayons. You may remember in my post titled "Recycling old broken crayons into fun new shapes", when I melted down a bunch of my niece's old broken crayons to make new rainbow crayons for her. When I did that project, I only used the pretty colors, and did not use the blacks, grays, or browns. Those leftover bits were perfect for fire starters, though, because I don't care what color they turn out to be!
Start by packing the egg carton tightly with dryer lint.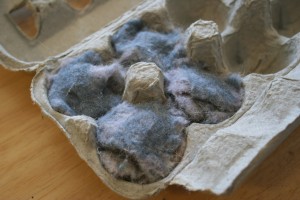 Then melt the crayons in a aluminum can placed in a pan full of simmering water until the wax is fully melted. Wait a minute for the can to be cool enough to touch, then carefully and SLOWLY pour the melted wax onto the lint, giving it time to soak in.
Leave the wax to cool and then cut the twelve compartments apart with scissors.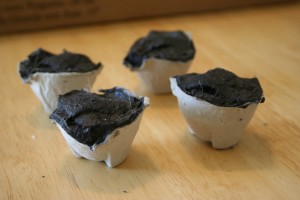 Using the fire starters
Whichever technique you use to make your fire starter, be sure to store them in a zip-top plastic bag so that they stay dry. When it comes time to start a campfire, just place the fire starter under the kindling and light it.
Once the fuel (petroleum jelly or wax) lights, it will burn steady and strong for at least 5 minutes, which is plenty of time for your kindling to light and for your campfire to develop.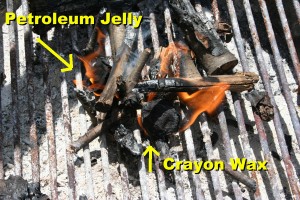 Choosing a technique
To help you decide whether to use the petroleum jelly or wax for your fire starters, here are some pros and cons:
The petroleum jelly approach is great for kids to help with, because there is no heat involved, and petroleum jelly is easy to acquire. However, it is messy and the dryer lint on top of the fire starter may come off in your hands as you handle it.
The melted crayon approach makes a nice sealed fire starter that is not messy at all once cooled, but the hot wax is not kid-friendly and your supply of old crayons may be limited.
Both methods burn equally well, though, and I suggest you just choose the style based on what you have on hand!
My husband and I always keep a few of these fire starters in with our camping supplies. Whether we're in the middle of the woods or at a campsite, we're always ready for a quick fire at any time. We even keep a bag of them at home under the kitchen sink, for those impromptu fires in our patio patio fire pit
. Our friends are always amazed at how well they work!

similar projects

leave a comment: