Hotel baskets for out-of-town guests
by: Jo
Summer is approaching and that usually means a lot more travel for everyone once the kids are out of school. It's the time of year for family reunions, weddings, graduations and vacationing. If you have out-of-town guests coming and they are either staying in a hotel or staying in your guest room, it would be a nice gesture to provide a welcome basket when they arrive. This will let them know you are excited that they have made the trek to visit you and want their visit to be memorable. I've tried to pull together some ideas of items I would love to have as a guest visiting a different town. I put this basket together to give to my sister-in-law and nieces when they come to visit. Let me know if you have any other suggestions.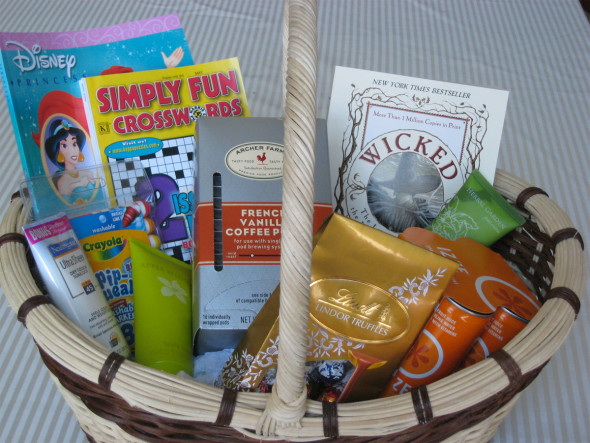 Drinks: juice boxes, soda cans, bottled water
Snacks: locally made chocolates, fresh fruit, gourmet chips, kid snacks if applicable (gummy fruit snacks, raisins, cracker packages)
Breath mints, gum
Deck of playing cards, travel Scrabble or other travel games
Toys for the kids. Include some age appropriate toys. If the hotel has a pool, put some water toys in the basket. Coloring books with crayons, puzzles, reading books, vinyl sticker sets or a game are all good ideas. If you are at the beach, pack all of the basket contents in a sand bucket.
Fast food gift certificates
Coupons or tickets to area amusements, restaurants or events
Menus to local eateries noting which ones offer delivery and pick-up service
Calendar of events while they are in town including local events they might want to check out when they aren't visiting with you.
Map of the area with directions to key places they will want or need to go to
Mini first aid kit
Sewing kit
Phone list of local friends and family as well as restaurants, amusement parks, movie theaters, etc.
Public transportation information, whether it is a bus schedule or a map to the closest subway stop
Welcome note from you
As far as the container goes, you could use a standard basket but that might be difficult for the travelers to cart home. Try using one of the Envirosax to be eco-friendly, a sand bucket or beach bag
for beach visitors, a laundry bag
that they can then use for their dirty clothes, a disposable large paper gift bag or a collapsible cooler
.

similar projects