Recycle broken crayons into fun new shapes
by: Chica
Like most kids, my niece loves to color. She has a seemingly endless supply of crayons
but whenever they get broken or worn down into small bits, she doesn't want to use them anymore. I've tried melting them down into new shapes before, but the colors would always get muddled and she'd be left with a bunch of new brown crayons. So I brainstormed a bit and came up with new solution, with results that I believe are even better than the original crayons!
The key to my solution is sorting the crayons into color families and melting them separately. The result is a beautiful, layered, rainbow crayon that isn't muddled and is a joy to color with.
Step 1: Prepare the crayons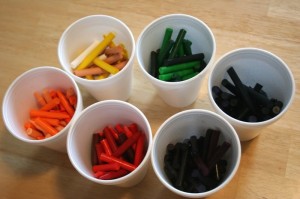 First, take all of the crayons and peel off any remaining paper (check out our crayon peeling tips for help). Then separate them into color families. I put all shades of red together in one cup, and the same for orange, green, and blue. For yellow, I tossed in the white and tan crayons, which I knew would blend well into the yellow. The result was fun array of colors.
The way you sort and select the crayons can vary depending on the design you want. I went for a rainbow approach, but you could easily adapt this to whatever colors your child likes. For example:
shades of blue (for coloring skies)
red, white, and blue (for the 4th of July)
pinks and purples (for a little girl)
red and green (for Christmas stocking stuffers)
Step 2: Select the mold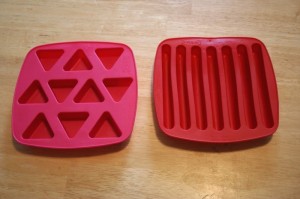 Next I selected the forms that I would use for my new crayons. I find that the best thing to use is a silicone ice cube tray
. These come in numerous shapes and sizes, which makes for very fun crayons. The flexible silicone makes it so easy to pop the crayons out when you're done. They are also totally non-stick and can handle the heat from the melted wax, so they are perfect. (Please do NOT use them for food after you've used them for crayons!). I got my trays at IKEA, which sells them in many different shapes. If you don't have an IKEA near you, you can find these trays on eBay

too.
Step 3: Melt the wax
Now dump one cup of crayons into an old food can that has been washed and dried. You'll need something metal that can handle the heat as you can melt the crayons. Use a new can for each color. You can melt the crayons using one of the following two methods: Place the can on the rack in the oven and heat until melted or boil some water in a pan on the stove and then set the can inside until melted. With either method, please be sure to use an oven mitt because the can will get hot.
Use disposable plastic spoons to stir the wax until all chunks are melted and the wax is totally liquid. The spoons will also come in handy for filling the molds in a minute.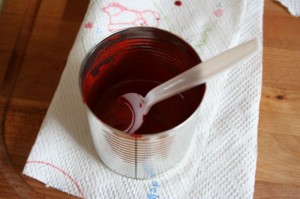 Step 5: Layer the wax in the molds
Wait until the can is just cool enough to touch, but the wax is still hot and thin. Do not let the wax cool, or you'll have trouble working with it. Then use the spoon to carefully ladle wax into the molds. For my rainbow effect, I started with a thin layer of red then let it cool completely while I melted the orange wax. I then ladled in a thin layer of orange. I repeated these steps with yellow, green, and blue. (I had planned to use purple, too, but I ran out of room!)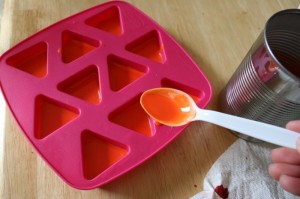 After each layer, you may have some spills and drips. For best results, try to clean those out before you add the next color.
Step 6: Clean up the edges
Once you've added layers of color as you wish and your molds are full, let them cool and then flip them out onto the table. If you have any rough edges, you can smooth them down by coloring on a scrap piece of paper.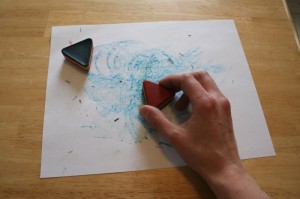 The result
I found that the triangle shapes are ideal for something like this because of the corners, which offer the best rainbows. They are also nice and chunky, which makes them very easy for toddlers to hold onto. What's more, the flat edges keep them from rolling away on the tabletop, like regular crayons! This helps to avoid lost crayons and keeps the child's play area neater.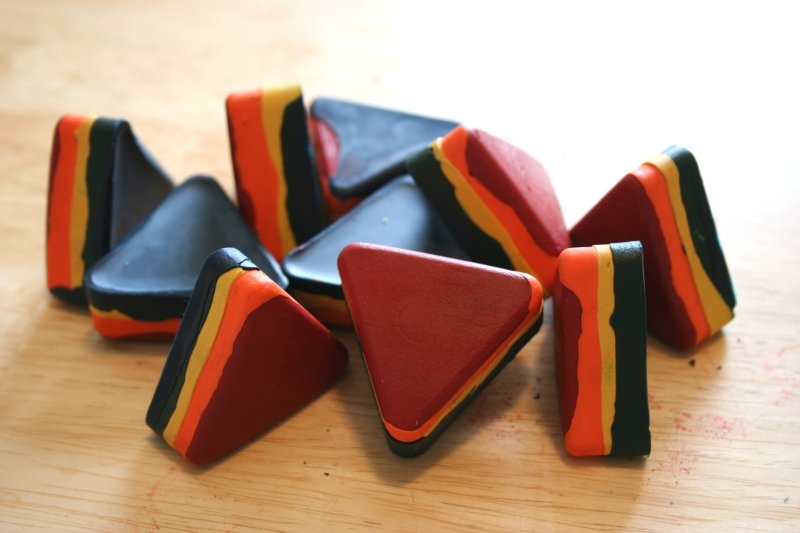 Now hand these little beauties to the kids and watch them have fun making rainbows!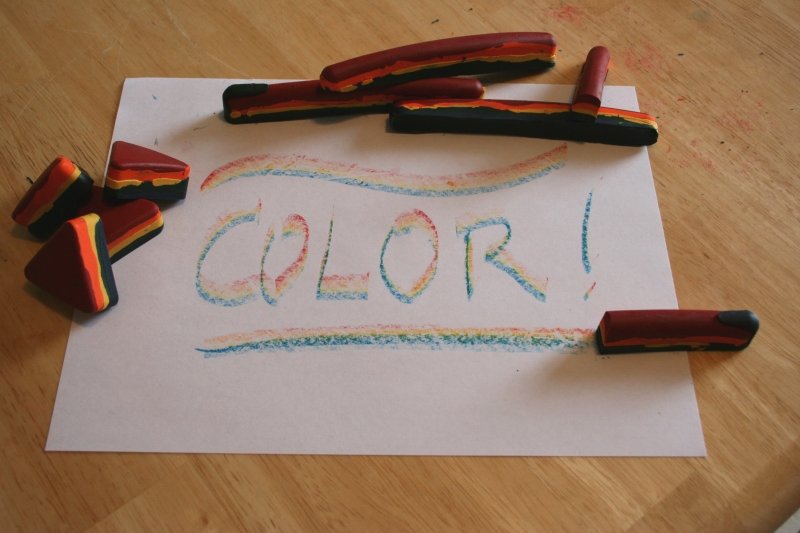 similar projects

leave a comment: