One of our readers, Kim, sent us a great a question. Kim writes:
I love to knit and I love to buy yarn even more, so I have quite a stash of it. I am having a problem finding a good storage solution that puts all my yarn in view without taking up tons of space. I've tried plastic tubs, but I can't see what's what. Right now I've got them in the plastic bags that comforters come in, but I can't see what's in the middle. Do you have any ideas for a solution that won't take over a whole closet?
I can totally appreciate your dilemma, Kim. Many hobbies leave you with an unending need for storage and organization, and I run into that every day with all of my craft supplies. Organizing yarn can be tricky because you really do need it all to be visible at all times. However, you have the benefit of most of the skeins being the same size and shape, which makes it a little easier. I've got a few ideas that might help you out.
The first thing that comes to mind for me is shoe organizers. Shoes are about the same size as skeins of yarn, so anything that will hold a shoe will hold yarn just as well. Because there are so many varieties, they offer a lot of options.
My favorite type of organizer to use for hidden storage would be a hanging or over-the-door pocket shoe organizer
that could hold a couple dozen skeins of yarn. You could even devote one pocket to your knitting needles, giving them a great storage solution as well. (By the way, if you have a lot of wool yarns, be sure to put some cedar moth disks
over the hanger to protect the yarn from pesky moths!) This solution would work really well for keeping yarn organized, easily accessible, and in a protected location. The catch is that you need to have ample closet space, which you said you did not!
So the takes us to storage furniture.
A stackable 15-cube organizer shelf
offers neat and organized storage that looks colorful along a wall, when filled with beautiful yarns. You could easily stack them from floor to the ceiling in a corner for maximum storage with minimal footprint (but if you do so, please use some L-brackets to secure the higher ones to the wall!).

But what if you want to store your yarn without having to SEE it? Then you might opt for an enclosed storage system like a tilt-out shoe cabinet
. This kind of organizer offers full view of your yarn when you tilt the door, but keeps everything hidden and clean when not in use.
Now what other solutions are there besides shoe organizers? Well, your current storage method keeps your yard safe and clean, but you can't see it, which is a problem. So I've got one more suggestion, and it lets you keep your current storage but still be able to know what's in it. Get yourself a binder (you know how I love binders!)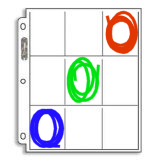 and fill it with inexpensive plastic trading card protector pockets
. Now take about 2-3 feet of one of your yarns and loop it around your fingers into a small circle. Place the spiral of yard inside one of the pockets, perhaps with a little card that says how many skeins you have and which bag they are in. Then go through all the yarn in one of your giant plastic bags like this (and label the bag!) and move on through your stash until everything is cataloged. You can then organize your pages of samples by color, by type of yard, or however you like. The next time you want to look through your yarn, you only have to pull down your binder full of samples and choose the perfect match for your project. It also makes it really easy to take your yarn with you if you ever need to visit the store or want to show your collection to friends.
I hope these ideas help to inspire you to organize your yarn collection. Please let us know how it works out!
If you liked this, check out these similar projects: