Fall and book themed bridal shower
by: Jo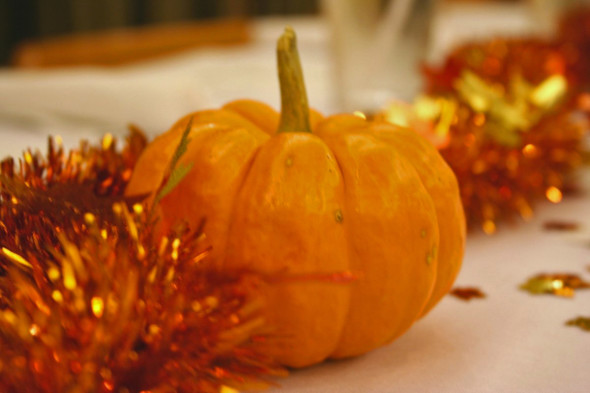 A close friend of ours decided she wanted a fall wedding and thus a fall shower was in order. Chica and I decided to stick with the fall color scheme for the shower but wanted to add a more personal spin on it to better reflect the bride. The bride is an avid reader and happened to have her first date with her future husband at a cafe in a local bookstore. We decided to combine the two ideas into a fall colored inspired book theme!
Invitations
For this shower, we altered inexpensive, small, paperback books to create the invites. Read our entry about these invitations for step-by-step details to make your own.
Favors
We made a large batch of mulling spices to hand out as the shower favor. We put 1/2 cup of the mix into 4 ounce jelly jars
and attached the directions for mixing.

We then cut circles of fall colored fabric with pinking shears
to decorate the lid. These also make great gifts for teachers or co-workers during the holidays when coupled with a nice mug in a basket. Here's the recipe that we used:
6 cups brown sugar
3 tbsp ground cinnamon
2 tbsp ground orange peel
2 tbsp ground cloves
2 tbsp ground allspice
1 tbsp ground nutmeg
Mix all ingredients together well.
We filled each 4oz jar with the mixture and then attached a tag with the following instructions: "Add entire jar of mix to 2 cups juice/cider/wine and 1 cup water."
Food
For dessert, we served Buckeye Cake. We found the recipe at VeryBestBaking.com and it has now become a decadent favorite. How can you go wrong with chocolate, peanut butter and ganache? We made three of the cakes for our crowd and had some left over to share with our nice waiters.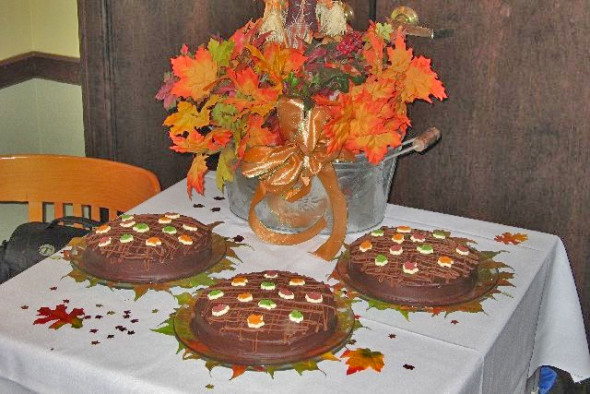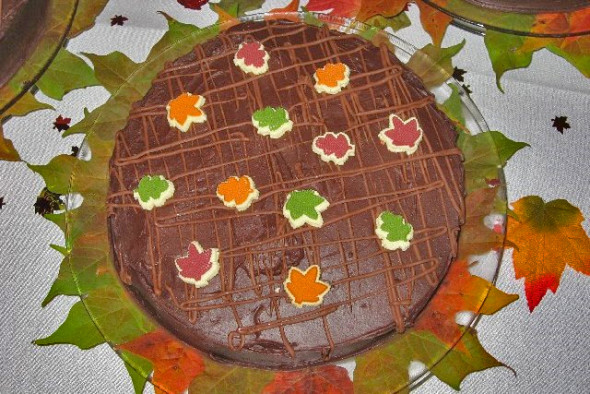 The rest of the menu consisted of selections offered by the Cafe: soups, wrap sandwiches, and salads.
Decorations
Since it was prime foliage season in our area, we were actually able to use real, fall-colored leaves to decorate a lot, and we scattered them on the gift table, and prize table. For the cakes shown above, we took two clear glass plates and sandwiched lots of colorful leaves between them, then placed the cakes on the top plate. The clear glass helped the leaves show through, but kept them out of the cake.
We also scattered metallic leaf confetti
all over the table. The prizes, ceramic leaf candy dishes
filled with chocolate, also decorated the tables.
For unique centerpieces, we kept with the book theme by spray painting used hardback books with copper metallic spray paint
and stacked them in the middle of the table. On top, we place an orange hurricane vase with a candle inside.
As a final touch, we scattered more leaves all over the dining tables and used a fall garland
to go down the middle of the long tables with pumpkins nestled amongst the garland.
Check out Oriental Trading Company for lots of fall decorations.
Games
Match the literary couples: To go with the book theme, I created a game that let the guests match famous literary couples together (think Romeo and Juliet). It was fun and easy to play. You can download my printable Match the Literary Couples Game to use at your own party, and test your guests' knowledge of famous couples in literature.
Shopping race: Since the shower was in a bookstore, we decided to have a shopping game. We split the guests into 5 teams of 4 members each. We gave each team $10 and told them they had 15 minutes to go and find the bride a present she would like for under $10, including tax. The teams had a great time running around the store and then we all enjoyed seeing what you could buy for $10! The bride picked her favorite and got to keep it, the other gifts were given to the winning team!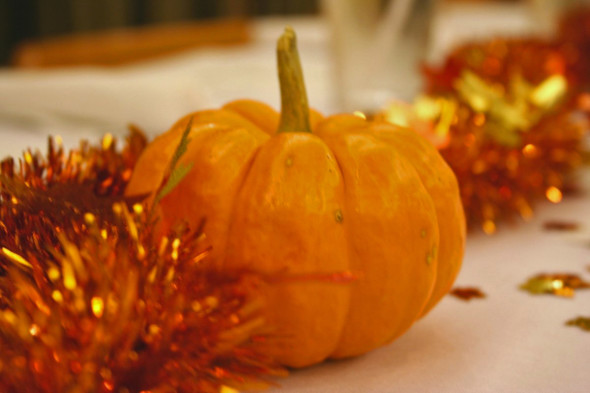 leave a comment: