Make kettle corn at home
by: Chica
I remember the first time I tasted kettle corn. It was at a local art fair in the park and I saw the booth where they were using the giant copper kettle to make popcorn and I thought they were crazy… that is, until I tasted a free sample. I was instantly hooked and bought the largest bag they had. Since then, I simply can not pass a kettle corn booth without buying some. Fairs don't happen every day, though, and sometimes I need some perfectly sweet and salty popcorn at home, so I learned how to make my own, and for mere pennies a batch!
You'll start with a simple hand-cranked stovetop popcorn popper, such as a Whirley-Pop
. These guys have been all the rage over the last few years, and lots of people have one, but now you've got a reason to actually use it! What's great about these (and key to making kettle corn) is the fact that there's a little stirring blade inside that you can turn with the crank on the handle. This lets you keep the popcorn moving and evenly coat it with sugar as it cooks (and you don't have to shake the pan at all while it's popping).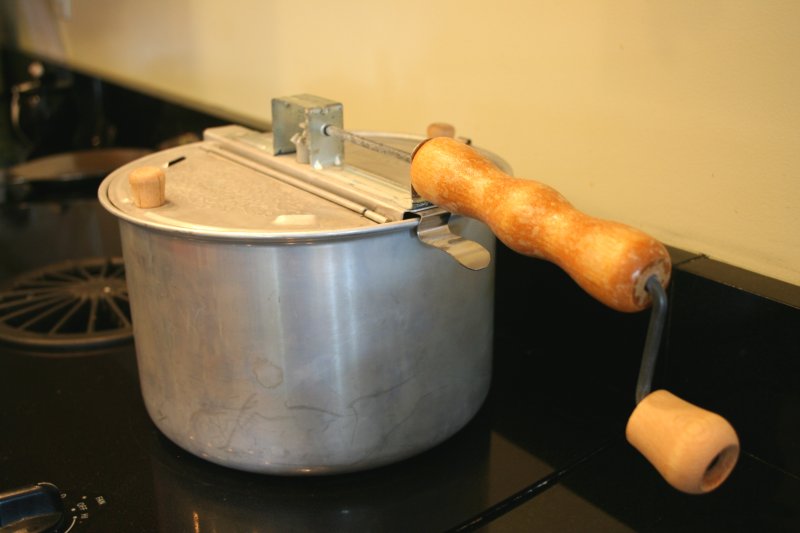 The next thing you'll need is some ordinary popcorn. Forget those bags of microwave stuff that cost a fortune and contain more calories than you should probably eat in a day. Just buy a jar or bag of regular popcorn kernels. Jo happens to prefer the Orville Redenbacher White Popping Corn
, but I insist that there's no difference between that and a $1.35 bag of generic popcorn from the local grocery store.
Now you need to get everything prepped and ready. When the popcorn starts popping, you'll have to move fast, so get it all together now:
Measure out 1/4 cup of popcorn kernels and dump it into the popper (don't put it on the burner yet!)

Add 3 tbsp of vegetable oil to the kernels.

Measure out 1/4 cup of sugar and have it ready next to the stove.

Have a large bowl ready nearby.
Get the salt shaker and have it ready.
All set and ready? Let's make some kettle corn:
Put the popper on the burner on medium-high heat.
Start turning the crank on the popper somewhat slowly (take about 1-2 seconds per rotation) and wait while the oil and popcorn heat up.

As soon as you hear one or two kernels pop, QUICKLY open the lid, dump in the sugar, and close the lid back up. Do this fast so you don't end up with popcorn all over your kitchen!
Continue to turn the crank on the popper, at the same rate. You'll notice that the popping slows down, because the sugar has cooled the oil slightly. Keep turning the crank and soon you'll hear the popping start up again.
As soon as the popping starts again, increase your speed on the crank to about 3 turns per second. You've got to keep it all moving so that the sugar doesn't burn and the popcorn is evenly coated.
When the popping reaches its peak, remove the popper from the burner but KEEP turning the crank! Do not stop until the popping has almost stopped.
Dump the popcorn into a bowl.

Immediately sprinkle the popcorn with salt.

You'll see that the popcorn is sticking together and may be one giant clump. Turn it over and over in your hands and add more salt, as desired. You don't want to put too much salt on, but you want to get it on all the kernels.
As the popcorn cools, the clump will break apart easily with a quick stir.
Now you've got yourself a yummy, sweet and salty snack to enjoy, and it's low-calorie and inexpensive to boot. And it was so easy!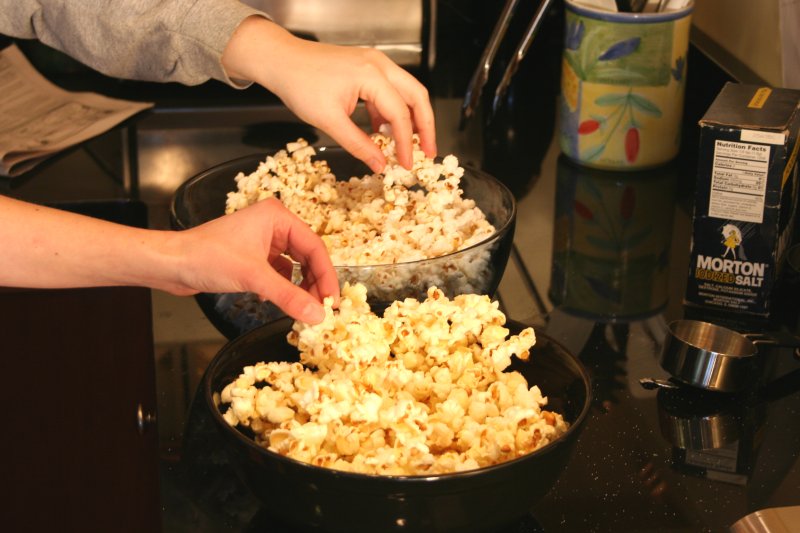 Right about now is when you'll look at the popper and wonder how you'll ever get it clean. It's easy — just put it in the sink and fill it with hot water. Come back an hour later and all the sugar will have dissolved and it will rinse clean.
Some final tips:
If you want to make more popcorn in a single batch, you can try increasing your quantities of kernels and sugar to 1/2 cup of each, but be careful not to do too much at once, or it won't fit in the popper! I prefer smaller batches, which gives me control over the sugar and prevents burning.
If you want to make a second batch after the first one, you can do so without cleaning the popper in between uses. Anything more than twice, though, and you'll have too much sugar build-up in the popper and it'll burn.
Kettle corn will stay fresh and crispy in an air-tight container for several days. If you set it out for a party or outdoor event, keep in mind that humidity will cause the popcorn to lose its crunch and stick together (I learned that lesson the hard way!)
You can also add extra flavor to kettle corn if you want to punch it up. I recently got some Sweet Sensations popcorn seasoning in cinnamon and peppermint, and sprinkled it on instead of salt in a batch of kettle corn. The peppermint is an unusual, fun, and tasty flavor twist. The cinnamon was amazing, and Jo went nuts over it!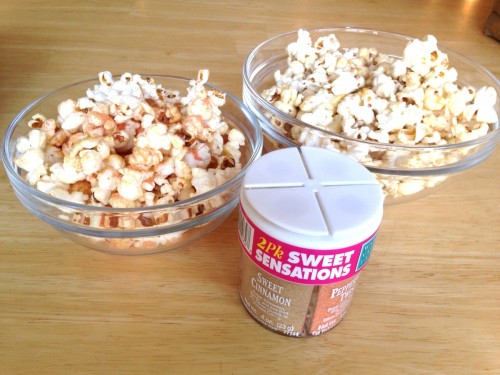 similar projects

leave a comment: