Recycle towels to make a beach blanket
by: Jo
Chica and I travel to Sanibel Island, Florida every year with a group of friends for a week of relaxation on the beach. We pack our swimsuits, shelling bags, pails and shovels, and our beach towels and head for the sand. However, it seems no matter how many towels we bring, we never have enough room for everyone to stretch out on the sand.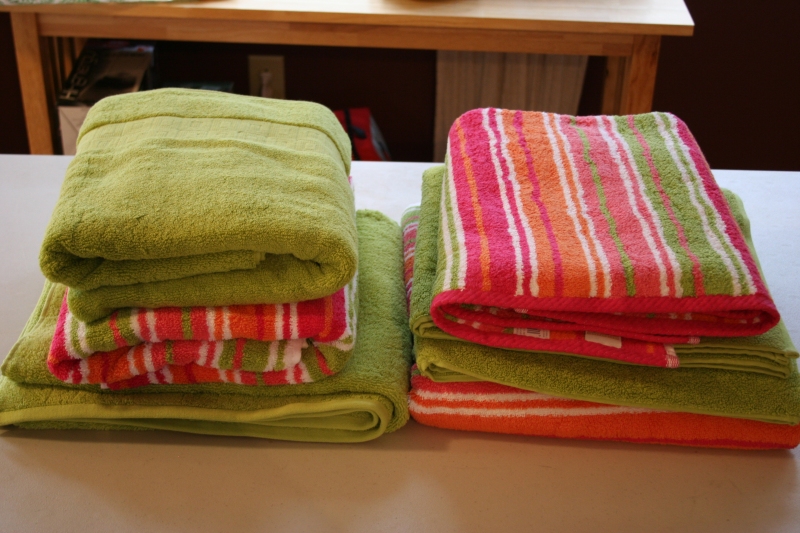 I've bought the beach blankets before and we use two of them and they still have you hanging with body parts off the edge. Then, it hit me, we could just use oversized towels
to make our own beach blanket!
I started out looking at using beach towels to make up my quilt and quickly decided the price just wasn't quite right. I then moved on to regular sized bath towels and those were a bit too small. I finally settled on some towels that were on the large side, 30″ x 60″ (the same size as a beach towel but half the price) and used six of them to make up the blanket for a final measurement of 90″ x 120″.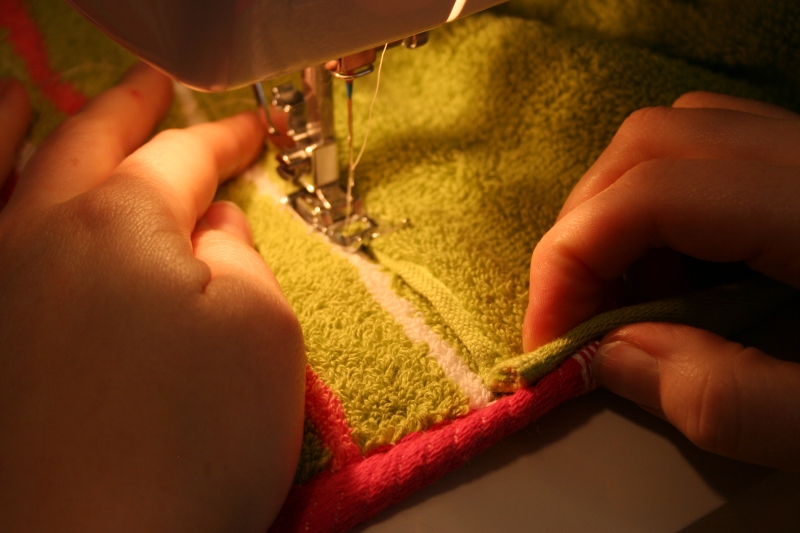 I was now set with the towels and ready to move on to the scary part — the sewing! Of the duo, Chica & Jo, I am not the sewer. I barely know how to sew on a button and a sewing machine is a huge mystery to me. How the heck does that bobbin thing work, anyhow? So, I drove over to Chica's with my pile of towels and plopped them down in front of her with a huge grin on my face. I told her what I wanted to do and she said, "no problem, have a seat." What? Me sitting at the sewing machine? Is she kidding me? She was quite serious and told me this would be the perfect project for me to learn on because the terry cloth fabric would hide my mistakes. I hate it when Chica is right but she certainly was. With a quick tutorial on how to thread the machine and use that mysterious bobbin, I was sewing away! Yep, that's right, I was sewing with a machine!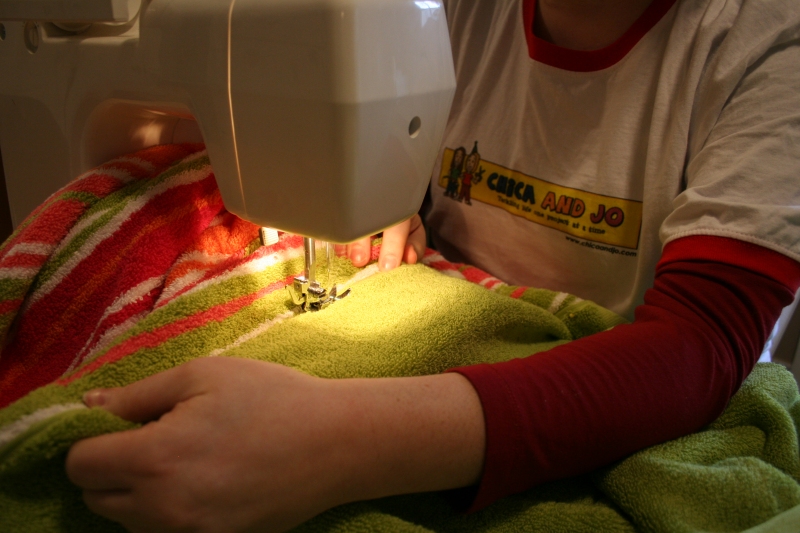 There isn't a lot to explaining how to sew together six towels but I do have a few tips for you. First, lay out your pattern on the floor. The striped towels made it easy to line up and pin the towels together. We overlapped the towels by about an inch, putting the middle towel on top of the two outer towels each time. Then, we pinned two towels together and sewed a relatively straight line down the one side of the overlapped fabric and then back on the other side. Since the rolled edges of the towel were so thick, we didn't use the machine to sew the edges, we hand stitched them. After sewing the three top towels together and the three bottom towels together, we sewed the two pieces together. The hardest part was shoving all of that material through the right side of the machine! That was it, project finished.
I couldn't believe I had used a sewing machine to actually make something usable! We can't wait to use our new beach blanket at the beach this summer. There should be plenty of room for everyone to sit and have lunch or just bask in the sun. I will make sure to post a picture of the blanket in use on the sand.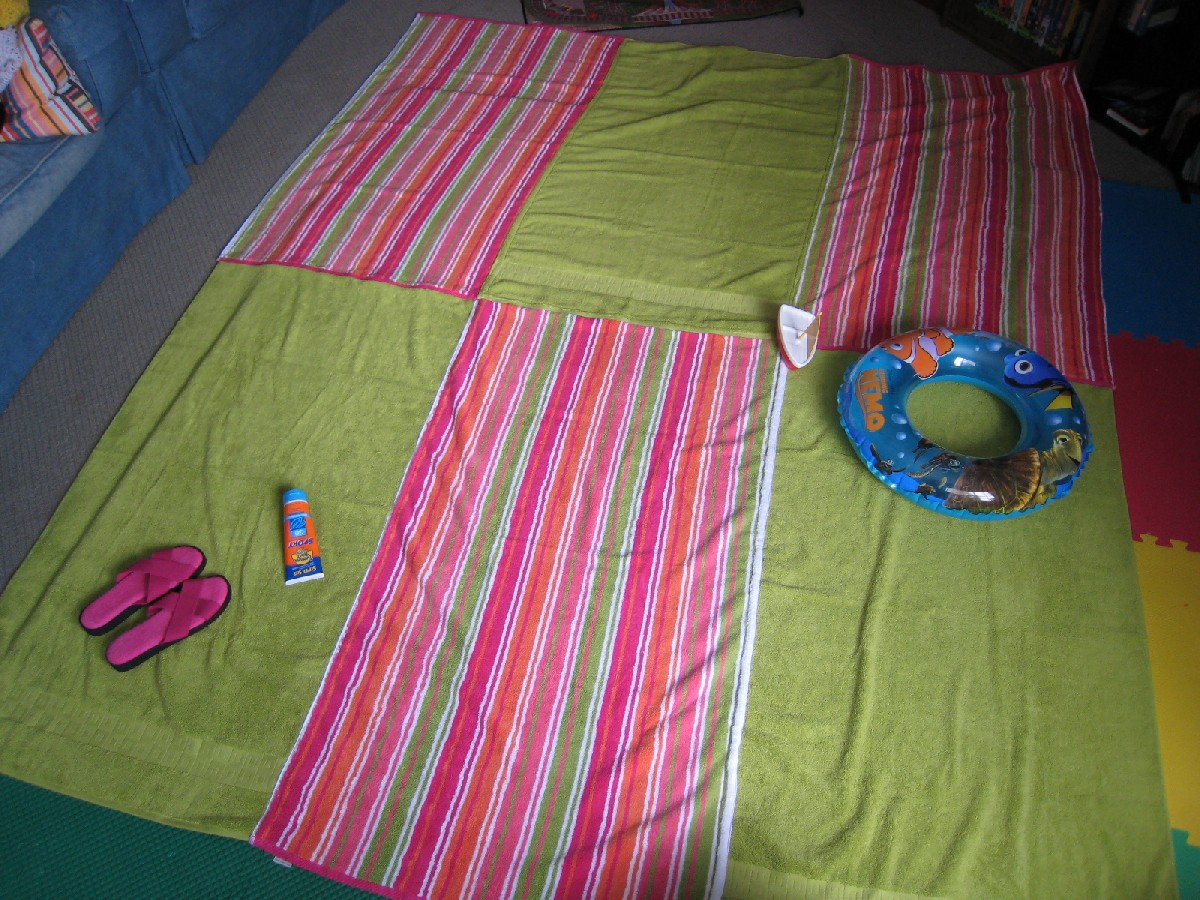 Some other ideas:
If you want to put a back on the beach blanket, buy an inexpensive fabric shower curtain liner. We looked at backing my blanket with some outdoor fabric but the cost was way too much!
Cut up your towels to make a unique pattern. We didn't do this because I wanted to do the sewing and show how even a novice could do this project. I could see how using blocks of the material would make a neat design though. Maybe after I master sewing a bit more, I will try it out.
Use old towels to make covers for pillows. My grandmother lived in the California desert for awhile and she covered her pillows with old towels since the dust and heat ruined things so quickly. She slipped the covers off and threw them in the wash whenever needed.
Related favorite beach products: spring floats
, Patricia Sprinkle mystery novel
, sand toys
, perfect beach bag
, sunscreen,
and a beach umbrella
— Jo burns easily!
Update!
Here's a picture of two of our giant beach towel blankets on the actual beach in Sanibel. They worked great! UPDATE: We have been using these every year for the past 7 years and they are still in great shape! They wash fine in the machine and we use them all the time for picnics as well!

similar projects

leave a comment: