Candyland party ideas
by: Jo
When Little Jo turned one year old, I wanted a birthday theme that would be fun, colorful and classic. I went into her room seeking inspiration and found it in a board game she had recently been given, Candy Land®. What a fun way to decorate for a kid's party, and it would be appropriate for many ages because of its classic appeal. I could see this being a great theme for a kid's Christmas party as well. (Perhaps I should do a Chutes and Ladders themed party at some point in the future?)  Once the theme was picked, it was time to start thinking about invitations, decorations, and most importantly, the cake!
The Invitations
When I am having a smaller party, I like to be a little extravagant with making the invitations. And since this was her first birthday party, I wanted to make it even more special for her as well as the guests, so I knew I couldn't just make a standard card. It took a lot of searching but I finally got my starting point when I found some cute gingerbread man paper mache boxes that reminded me of the game board pieces. I covered the lids with Candy Land® scrapbook paper (now discontinued but sometimes available on eBay), and attached some tiny Candy Land® stickers. If you can't find the paper or stickers, you can print photos of the actual game board, or search for images on the internet.
I painted the entire box the same color blue as the back of the Candy Land® board, then painted the inside of the bigger part a coordinating red. I used white puffy paint to draw an outline on the inside, then varnished the whole thing to give it a glossy finish and to seal the paint. Then I made a small printout with party information and taped in side, decorating with some small candy stickers. Lastly, I filled the boxes with assorted candies and then hand-delivered them to the guests.
The Decorations
I found all sorts of great Candy Land themed party supplies and decorations at Shindigz, including cardboard stand-ups, custom stickers, and lots more.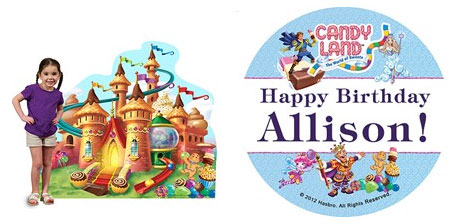 You can also do a lot with Candy land fabrics that can be found online these days. I really wish they had had them when I planned this party. Think of all the things you could do!  It would be great for tablecloths, or to make fabric pouches for Candy land treat bags. (See Chica's simple pouch tutorial.)
The Candy
This party just had to have candy, candy, candy everywhere to look at and to eat! Decorating with candy is easy, colorful, and delicious. I filled vases I already owned with different types of candy and used sugar sticks and large swirled lollipops as "flowers" in the vases. I made sure the kids took home sacks full of the decorative candy after the party and even allowed them to eat the centerpieces during the festivities.
Foam Core Characters
I wanted to include the characters from the game in the decor so I decided to make large images of them on foam core. This was a fun project and if your kids are older, they can help color in the images once you have them drawn. I am not an artist who can draw well, so I used my laptop and a projector to project the images onto white foam core. I outlined the projected picture with pencil and then used markers to color in the images. I hung the finished pieces on the walls around teh party.
Giant Foam Lollipops
I thought some giant candy decorations would add some whimsy to the party. For these, I decided to use foam as my medium. I cut 2-inch-wide strips out of 2-inch foam slabs. I spray painted the foam in bright colors (red, yellow, blue, and green). After the painted foam thoroughly dried, I sprayed the edges with spray glue and then rolled the foam up in a flat spiral to look like a giant lollipop. I used a white dowel rod as the stick, then wrapped the whole thing in clear cellophane to make it look more realistic. I made eight of these and lined my walkway with them.
Candy Land® Path
To mimic the trails on the Candy Land board, use brightly colored squares to make a path throughout your living room or up your walkway. I used the foam floor mats that I already owned to make a path along the walkways in our living room. You can even make this into a fun party game for the kids by having them play Follow the Leader along the path, or have them find Candy Land® pictures along the pathway.
The Cake
Chica decorated the top of the cake with a simplified version of the board and added lots of candy and the actual plastic playing pieces from the game. I bought a Candy Land® rug to put under the cake on the table instead of using a traditional table cloth.
You could also use a gingerbread man cookie cutter to make individual cookies for everyone and then decorate them with icing and candy.
The Cupcakes
Kids (and adults too) are big fans of cupcakes so you could make some Candyland cupcakes using our Candyland Cupcake Collars, then top them with your own chocolate Candy Land pawns, made with our tutorial.
Party favors
This one was easy! I bought each child a Candy Land® game to take home. I also found Candy Land® coloring books for a good price, so I gave them each a book as well. Make sure the kids take home a lot of the candy you used to decorate as well. The giant lollipops were a big hit with the little kids.
We also designed a Candy Land bag tag for favor bags. Visit our Candy Land bag tag post for more information and a free download. These toppers are perfect for adding to plastic baggies or brown lunch sacks.
For more ideas, look for CandyLand® items on eBay.

similar projects

leave a comment: