When Jo celebrated her husband's birthday by making him a Giant Risk® game, I contributed to the party by making a birthday cake to match.
I started with a regular sheet cake that I iced smooth with decorator's icing (see recipe below). I then used a toothpick to draw the outline of the countries I wanted. The beauty of using a toothpick to draw the design (rather than drawing directly with colored icing) is that if you mess up your design, you can easily smooth the icing back out with a spatula
and start again.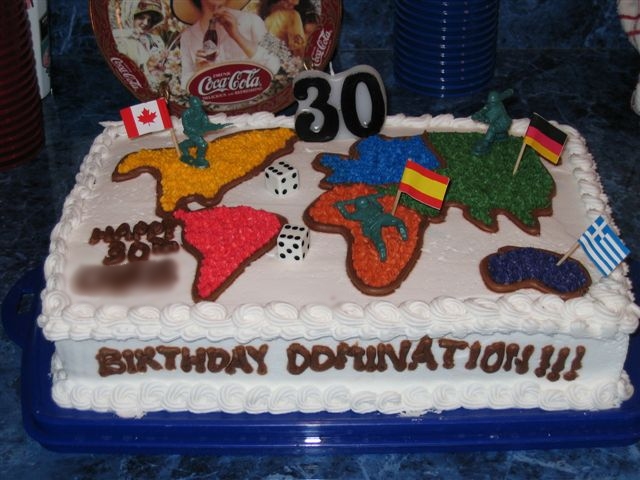 Once the design was the way I liked it, I outlined it with black icing using a disposable decorating bag
and a #6 icing tip. I then filled in the countries using a #16 tip
and different colors of icing. When coloring your icing, I strongly recommend using paste food coloring
, rather than those crazy little drops you get in the grocery store. The paste food coloring allows you to create most colors with just a tiny bit of paste, but when you need bold or dark colors that require adding more coloring, the paste doesn't thin out the icing like drops do. Toothpicks come in handy again here, as I use them to get the paste coloring out of the little jar. Remember, you usually just need a tiny bit!
I used tip #6 again to write a "Happy Birthday" message on top and — since Risk® is a game of "world domination" — put "Birthday domination!" on the front. I finished the cake off with a few of the extra army men Jo got for the game, some country flags toothpicks that we found at the party store, a pair of dice, and a big "30″ candle.
The cake had a very simple design, but it had a great impact, especially because it matched the theme of the party so well. Everyone loved it — especially the birthday boy!
Chica's decorator's icing recipe:
One 2lb bag of confectioner's sugar
2/3 cup shortening
1 tsp vanilla
approx 3/4 cup water
Add sugar, shortening, and vanilla to the bowl of a stand mixer (I absolutely can not live without my KitchenAid
– especially for icing!). Add about 1/2 cup of water and begin mixing on slow speed. Add additional water as needed until the icing is the texture you like. Be careful not to add too much at once! (If you do, just add more sugar). Finding the right texture takes a little practice; too thin and your decorations won't be firm, but too thick and you won't be able to squeeze it out of the bag.
If you liked this, check out these similar projects: